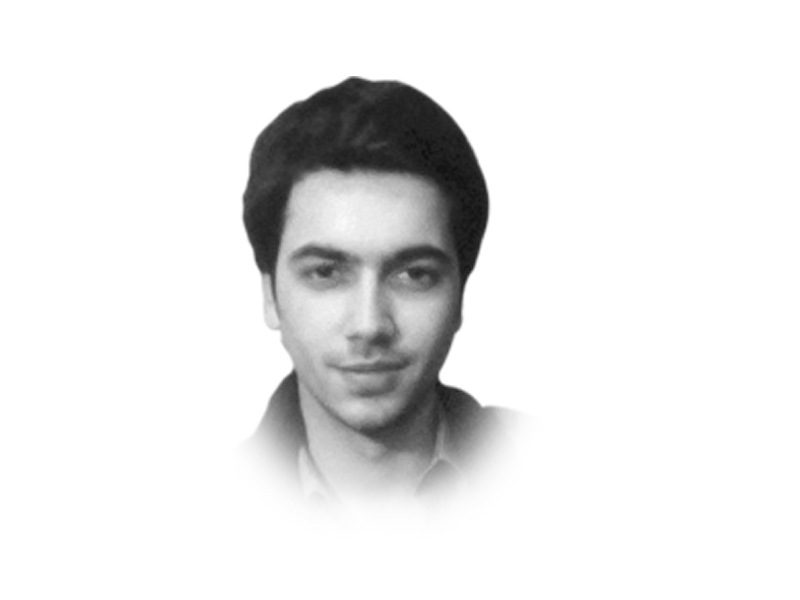 ---
He was landing, and then he wasn't. Then he was landing again, but wasn't again. Then he re-re-scheduled, touched the ground this time, and was out again. But for all the difference his visit to Pakistan made, John Kerry may as well have spared himself the headache. Hopes were raised that the secretary of state, with his sleepy eyes and slow voice, would mark a gentler time for Islamabad.

Granted, not the easiest of tasks — a Times of India report already blathered how Mr Kerry's rescheduling was prompted by those Pakistanis 'spitefully' leaking details of his visit beforehand. In the Times's defence, it was always better at using adverbs than reporting with substance. But despite our sly motives, Mr. Kerry somehow managed to make it to our part of the world … only to dash whatever hopes we had in person. Not that the broader trend suggested otherwise.

Year five into Obama's sad little term, and the president has yet to visit this loyal republic of ours, besides that one trip in '81 he refuses to talk about anymore. Visits from Air Force One have been getting rarer anyway, and we might just be blessed for it. When George Bush did swagger in some years ago, Islamabad went into lockdown, forcing General Musharraf to the edge. Fresh from clinching a nuclear deal with Delhi, Bush mumbled his way out of anything similar for us, baseball-pitched cricket balls at kids, and tiptoed out (a teensy improvement on Bill Clinton, who refused to be photographed with the general).

Gone, it seems, are the days Lyndon Johnson would throw himself into random crowds at Karachi Airport, giving out pens, hugs and handshakes as if he were back in the Deep South. Today's Pakistan makes do with being vital enough to merit multiple visits from the Secretary of State, just not respectable enough for any by the president. Part of this is down to the smoldering volcano next door: Afghanistan and the masochists destined to sink in it till the end of time.

The other part is about as subtle: the Obama Administration's plainly obvious contempt for Pakistan. The Abbottabad Commission Report redefines 'intelligence failure', while the 24 soldiers killed at Salala wounded the Pakistani consciousness forever. But as former ambassador Cameron Munter's soul-baring makes clear, the Urdu press was actually right. Washington has squeezed and strong-armed Pakistan with awesome stupidity, against the better judgment of diplomats like Munter. "When I get calls from the White House, they say, 'Dial up the pain,'" he said. "In Islamabad, they don't respond well to dialling up the pain."

In one sickening incident, Munter tried to stop then-CIA director Leon Panetta ordering a strike into North Waziristan in 2011. "It was in retaliation for Davis", one Munter aide told the Associated Press. Angered by the imprisonment of Raymond Davis, the thug who gunned down two citizens in the streets of Lahore, Panetta dismissed Munter's request. The strike went ahead. Ten reported militants were killed, and 19 more civilians with them. By the time the strikes slammed into innocent people, Davis was safely back home, in no small part to the efforts of Senator John Kerry.

The now-Secretary Kerry returns once more for that bit of journalese that never quite happens: 'to smooth ties' with Islamabad. And so Mr Kerry, a gentleman best-known back home as an also-ran, was attended by our foreign affairs adviser, prime minister, president and army chief. He declared drones would end "very, very soon", and was rebuffed by a prissy press release by the State Department moments later. Not done yet, Mr Kerry fudged the US position on Egypt as well, appearing a tad too enthusiastic about the generals hauling the Brotherhood away.

And there lies the problem with the Kerry-as-game-changer theory: he's not that great a diplomat. Unlike hard-nosed Richard Holbrooke types, Mr Kerry is a throwback to a Brylcreemed White America. Also unlike Holbrooke, he lacks the imagination to think out-of-the-box for a place as hard as this. Making matters worse is that the policy he's dispensing is ill-considered to begin with. And as a mover of men, Mr Kerry was drab enough to have lost the White House to George Bush and, unlike with most of Junior's fights, without Bush cheating. He is a walking fossil among the Democrats: another rich WASP with big hair and bad ties.

And yet an American personnel change, one that may empathise with Pakistani interests, is wishful thinking. For the time being, Washington has toned down its rhetoric, and the opportunity is meant to be seized. The new government's harder stance on drones has yielded returns, helped by America's crawling out of Afghanistan. As drones taper off, the PML-N and the PTI, though seldom praised in the same sentence, deserve nothing less.

Imran Khan has cried himself hoarse over drones at every forum, and his protest march to Waziristan was big, brave and risky. Towards the centre, Nawaz Sharif has come down on drone strikes with the weight of a man with a hundred-plus seats in parliament. Since May's election, firing into the tribal areas has gotten all that much harder. Without the army's silence, it could have grown all but impossible. In any event, it's an improvement from the days of craven old People's Party. But precisely because of those days, there's a long way to go before Islamabad's outrage can be deemed authentic.

And besides drones, Pakistan must bury the term 'Af-Pak', re-engaging with the world in a way that shreds the hyphen once and for all. That means a fresh charm offensive (and yes, a fully functional foreign minister please). Recalling his last National Security Council meeting, Munter confessed, "The president says, 'It's an hour meeting, and we're going to talk about Afghanistan for 30 minutes and then Pakistan for 30 minutes'. Seventy-five minutes later, we still haven't talked about Pakistan. Why? Because Pakistan is too ******* hard." It's time we make ourselves easier to talk about, less for their future than for ours.

Published in The Express Tribune, August 6th, 2013.

Like Opinion & Editorial on Facebook, follow @ETOpEd on Twitter to receive all updates on all our daily pieces.
COMMENTS (40)
Comments are moderated and generally will be posted if they are on-topic and not abusive.
For more information, please see our Comments FAQ