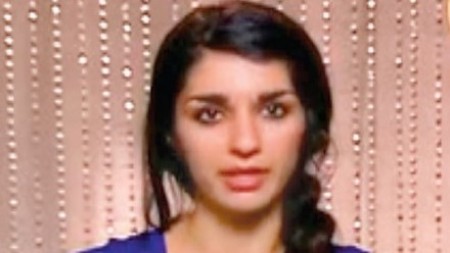 ---
KARACHI: Tyra Banks' edicts of being 'fierce' and 'smiling with your eyes' seemed to have struck a chord with Nida, an 18-year-old Pakistani girl who auditioned to be a part of "America's Next Top Model".

Given that girls from the land of the pure have rarely been featured on a modelling show abroad, Nida's appearance on the latest season of "America's Next Top Model" was both novel and entertaining. "America's Next Top Model" is one the most popular American reality shows and has spawned local versions in Russia and the UK, garnered its judges worldwide fame and turned 'smiling with your eyes' into a catchphrase.

So did Nida meet Tyra Banks' 'fierce' quota? Sadly not, since she didn't make the cut and was eliminated in the first round. But her audition was truly one of the highlights of a show filled with the usual manic behaviour, brilliant oneliners and tantrums.

Nida, who auditioned for judges Tyra Banks, J. Alexander (Miss Jay) and Jay Manuel, was first impersonated by Miss Jay and then asked by Banks about her background.

"I hear your mother is overprotective of you," the ex-supermodel said. "If your mother was in this room right now, what would she be saying?" In answer to Banks' question, Nida mimicked her mother, putting on an exaggerated accent: "Nida, this is just not a right opportunity for you! Short skirts, not for you!" The accent was reminiscent more of Apu from "The Simpsons" than an expat mother, so one can't imagine what her mother's reaction was when she saw the show.

After all, who likes being parodied by their daughter on national television? But that wasn't a concern for the Texas-based Nida. During the on-camera scenes, Nida said she auditioned to prove a point. "Growing up in a Pakistani family I had a lot of restrictions." (The producers then cut to a shot of her modelling a bikini.) "It's kinda not culturally accepted to use your sexual appeal to make money." Nida hoped that her audition would encourage Pakistani girls.

"This is a really big opportunity for me to show other Pakistani girls that, you know, I'm here and if I can do this, you can too!" She also seemed fairly matterof- fact about being rejected. "I got declined," Nida said. "I was a little shocked but, you know ... things happen for a reason." Viewers who were live-blogging and tweeting the premiere were surprised that she was rejected, and one expects that she would have become quite a hit with the South Asian demographic.

Model exports

While every year sees new models enter the local fashion industry, few have made it big abroad. In 2009, the Lahore-based model Rabia Butt was featured on the cover of the Norwegian magazine Vixen, and the editorial shoot in the issue featured Butt with models Vaneeza Ahmed and Fayeza Ansari. However, there hasn't been another Yasmeen Ghauri.

The Pakistani-German model was the first to put Pakistani modelling on the global radar. Ghauri modelled for YSL, Christian Dior, Valentino, Victoria's Secret, Versace and Lanvin and was a muse for designer Azzedine Alaia. She featured on the cover of Italian Vogue and in editorial shoots for British Vogue, Harper's Bazaar and Marie Claire before she retired in 1997. One may see more Pakistani girls making it big soon. A beauty pageant is held every year in Canada called Miss Pakistan World. The event ropes in expats and winners are sent to compete in pageants around the world.
COMMENTS (5)
Comments are moderated and generally will be posted if they are on-topic and not abusive.
For more information, please see our Comments FAQ