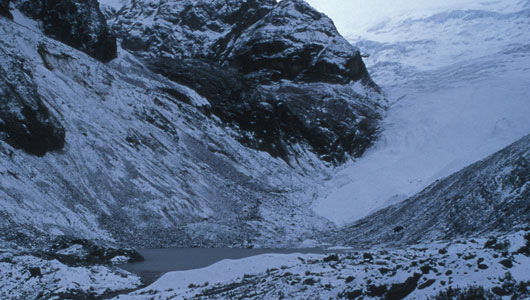 ---
ISLAMABAD: While scientists believe Pakistan's glaciers, despite being at risk, are stable and will not recede anytime soon, a hypothetical scenario where these glaciers disappear due to climate change is, nevertheless, scary.

"Just take the case where the glaciers disappear and you have a summer where there are two months without rainfall, what will happen?" said Christoph Mayer, a glaciologist from Germany's Bavarian Academy of Sciences and Humanities.

"Everything will dry up in the area, because the only water you get here in summer, if there is no rain, is from the glaciers and the high snowfields."

Mayer and his team of researchers have been studying the Karakoram glaciers on and off since 2004. They returned this June to Baltoro – a 60-kilometre glacier in Gilgit-Baltistan's Central Karakoram National Park (CKNP) – to advance their 2011 study to measure the glacier's debris cover, ice melt, velocity of the glacier's movement and snow thickness.




Pakistan has around 5,218 glaciers, according to a 2005 International Centre for Integrated Mountain Development (ICIMOD) survey based on remote sensing satellite data, but little research is available pertaining to the dynamics of Karakoram's glaciers.

Some studies have shown that overall the Karakoram glaciers are more stable compared to the Himalayan glaciers, which are believed to be receding due to rising temperatures.

But with 50% to 80% of water in the Indus River fed by glacial melt – water that sustains life and agriculture across Pakistan – the importance of in-depth studies of glaciers becomes critical.

One hurdle, however, is that understanding glacier behaviour takes time because glaciers usually react rather slowly.

"A glacier is not like a landslide that comes in seconds or minutes or an earthquake where in four, five minutes everything is destroyed; a glacier reacts over years and sometimes decades," Mayer said. "If you go to a glacier for one year, you might find some interesting issues. But really, to understand the glacier, you have to go there for many years."

He said they have established a monitoring system at the Baltoro glacier since 2011, and will continue to work on it for two more years. The project, he added, can later be taken over by Pakistani experts.




"In the long-run, we can hand the system over to Pakistan so that Pakistani people are responsible for monitoring a glacier which can answer fundamental questions about the Karakoram Range," Mayer said.

Pakistan might not have the financial capacity at the moment to fund expensive research on glaciers but the country does have the personnel capacity.

The Pakistan Meteorological Department and the Global Change Impact Study Centre (GCISC), which was given autonomous status by parliament in March, are currently studying glaciers as well. Two projects, the Social Economic Environmental Development (SEED) in the CKNP and the Pakistan Glacial Lake Outburst Project, are also separately trying to create an updated glacier database.

But the need for monitoring and data collection is becoming ever more urgent.

A 2011 study by Mayer and his team revealed that the Baltoro glacier is shrinking. Even though the pace of reduction is slow compared to other glaciers around the planet, such local-level changes in the Karakoram can only be identified with higher levels of monitoring.

Mayer thinks there is a point in time when these glacier observations would become too late because it takes time to populate data trends and analyse them for meaningful information.

"We still have time now to start a monitoring system to understand the variability of glaciers in this [Karakoram] area but looking at the current climate evolution patterns, I don't think this time window will be too long," he said.

"We cannot keep postponing these observations for a year and then another year and another… In another 15 years, it will already be too late," he stressed.

Published in The Express Tribune, August 5th, 2013.
COMMENTS
Comments are moderated and generally will be posted if they are on-topic and not abusive.
For more information, please see our Comments FAQ