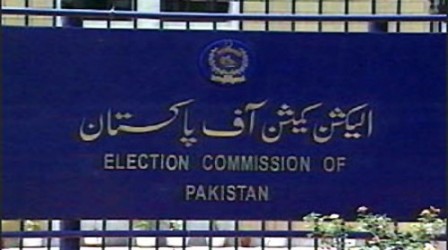 ---
ISLAMABAD: As the date for by-elections draws closer, the Election Commission of Pakistan moved its poll arrangements plans into higher gear on Sunday.

The electoral body has started the process of printing the ballot papers. "The process of printing of over 10 million ballot papers for 42 constituencies of both the National and provincial assemblies will be complete before Eid," a senior ECP official told The Express Tribune.

He said that the printing will be supervised by the army – like it had previously done before the May 11 general elections. The commission had deployed army troops at offices of the Printing Corporation Pakistan Press in Islamabad and Lahore and the Pakistan Security Printing Corporation in Karachi.

As per the procedure, the official added, that army personnel provide the security whereas officials from the ECP supervise the process of printing. The green ballot paper would be for the National Assembly constituencies whereas the white ballot papers would be for the provincial assemblies.




"The army will be stationed at sensitive polling stations," the official said, referring to possible army assistance for the commission during the polling.

He, however, was not sure of the number of 'sensitive' polling stations. "The exercise is likely to be completed by next week and then we will formally request the army for assistance," he added.

The poll body had earlier issued a notification to hold by-elections in 42 constitutions of National and provincial assemblies on August 22 in order to fill the seats vacated by winners of more than one seat in the May 11 general elections.

According to the ECP, there are 16 seats of the National Assembly and 19 provincial assembly seats where by-elections will be held on August 22.

When asked about the number of candidates contesting the by-election on August 22, the official said that "around 534 candidates belonging to all political parties and independent candidates would be contesting the elections."

Replying to a question whether it was necessary for the ECP to have a commissioner on the day of polling the official said, "Till a news chief election commissioner is appointed, a Supreme Court judge will have to be sworn in as an acting CEC".

Justice Fakhruddin G Ebrahim had resigned a day after the presidential elections, citing 'personal reasons' behind the move and President Asif Ali Zardari on August 3 had forwarded the resignation to Prime Minister Nawaz Sharif and the parliamentary committee for appointment of a chief election commissioner.

Published in The Express Tribune, August 5th, 2013.
COMMENTS
Comments are moderated and generally will be posted if they are on-topic and not abusive.
For more information, please see our Comments FAQ