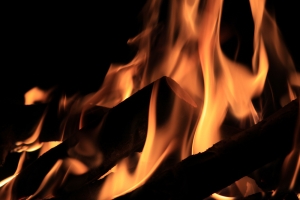 ---
RAWALPINDI: A married couple was killed after their house in Gaziabad Mohalla in Dhoke Syedan caught fire on Sunday due to a short circuit.

Investigation officer Mohsin Abbas told The Express Tribune that the fire erupted at a house owned by Muhammad Ijaz, 42, a painter.

The IO said that smoke and flames coming from the house caught the attention of neighbours and passersby who immediately informed the police and rescue service.

He said local residents tried to enter the house and rescue the couple, but the front door was locked from inside. Abbas said Ijaz and his wife Mazlooma, 34, initially tried to get out of the house but failed as the fire had surrounded them. "They tried to seal off a washroom to avoid the flames, but suffocated inside," the IO said.

A rescue official who participated in the effort said that when they reached the site, a large number of people already gathered around the house, desperately trying to rescue the stranded couple. However they failed to rescue them because the whole house was in flames. "The two-room house had cans of paints inside which caught fire due to the short circuit," he said.

He said they had to break down the door of the house to control the fire. "It took us 45 minutes to extinguish the flames," he said, adding that three vehicles and 12 staffers of the rescue department took part in dousing the flames.

Muhammad Ashraf, an eyewitness, said that after witnessing the house in flames, they tried their best to rescue the couple but could not due to limited water availability. "We could hear them cry for help, but we were helpless as the house was locked from inside," Ashraf said.

The burnt bodies were shifted to District Headquarters Hospital for medico-legal formalities.

Published in The Express Tribune, August 5th, 2013.