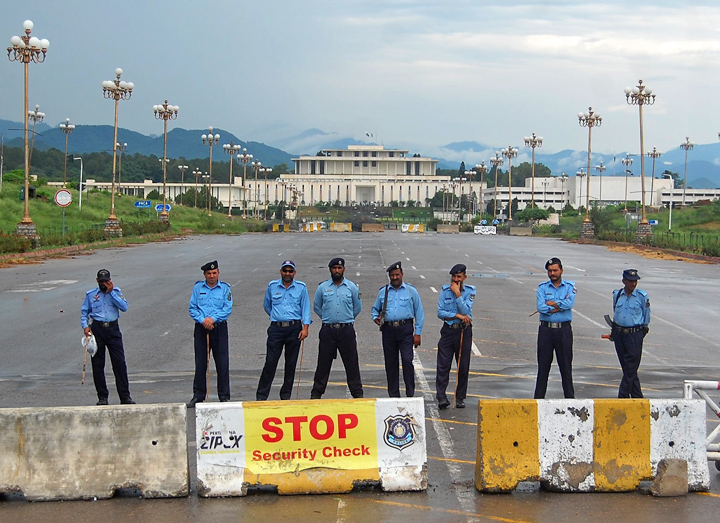 ---
ISLAMABAD:



Security in the capital was put on high alert on Sunday and 30 joint teams comprising of commandos from the Islamabad Police, Air Force and Navy were deployed in the Margalla Hills.




The police said the alert and deployment were to ensure "foolproof" security in Islamabad.

With the assistance of Navy and Air Force commandos, the police also combed the areas in and around Margalla Hills and conducted search operations there to seek out "suspected elements," a police spokesman said. Afterwards, 30 joint teams of Police, Navy and Air Force commandos were stationed in the hills.

The spokesman said the heads of all Islamabad police stations were also directed to maintain vigilance in their jurisdictions and screen markets and residential areas for suspected criminal activity.




The combing activity in the Margalla Hills was carried out on the directions of Senior Superintendent of Police Operations Muhammad Rizwan. Search operations were also conducted at slum areas, hotels, restaurants and Afghan slum dwellings, according to the police.

The police said the search operation would continue over the next few days and a complete combing of sensitive areas around Islamabad would be conducted.

On Saturday, two armed men escaped after a firing exchange with police at a check-post on Margalla Road near Fatima Jinnah Park. The incident occurred in close proximity to the Naval Complex, however, the police have denied that the gun battle was linked with a terrorist threat.

The two armed men are still on the run. Officers at the Margalla Police Station, which is dealing with the case, said they are searching for the men. They added they are focusing on private clinics and hospitals during their search since one of the two men was injured during the firing exchange.

Security has also been on high alert at Benazir Bhutto International Airport for the past week, amid reports of a terrorist threat. Intelligence agencies had cautioned airport security agencies and other law enforcement that the Tehreek-e-Taliban Pakistan is planning to carry out attacks on the airport and the nearby PAF Chaklala Air Base.

Army and Rangers have been deployed inside the airport and are assisting the Airport Security Force in guarding the Islamabad airport.

Since the Dera Ismail Khan jailbreak — in which over 200 Taliban were freed— on July 31, security agencies have been on high alert in various parts of the country.

Interpol also issued a global security alert on Saturday, advising its members to increase vigilance after prison breaks similar to the one in Pakistan also occurred in Libya and Iraq in July. Interpol said al Qaeda was suspected to be behind some of these prison breaks.

The United States has also closed 21 of its embassies and consulates in the Muslim world amid reports of a possible al Qaeda attacks in August in the Middle East and North Africa, and issued a worldwide travel alert to Americans.

Published in The Express Tribune, August 5th, 2013.