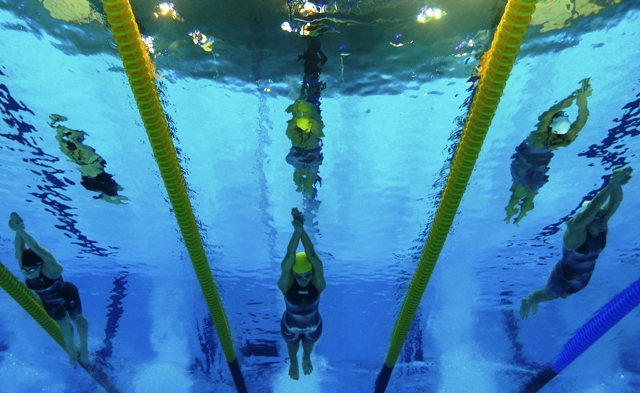 ---
KARACHI: Mohammad Maroof, a Subedar in the army and a former athlete whose national records in swimming remain unbroken since 1991, believes Pakistan is hanging by its threads to produce results.

Maroof has remained the fastest swimmer in the freestyle 100-metre and 50m events and despite the Pakistan Swimming Federation's (PSF) attempts to promote the sport through foreign-based athletes or local ones in international events, his records remain intact.

Even after two decades, Maroof holds the best time of clocking 25.06 seconds in 50m and 55.60 seconds in 100m freestyle events at the National Games in 1991 in Islamabad.




While the PSF fielded young talent at the Fina World Championships in Barcelona this month, neither of the male participants, Haris Bandey or Syed Mazhar Naqvi, managed to perform up to par of international standards, let alone break any national records.

Naqvi, who competed in the 100m freestyle event, finished in the bottom five. Maroof loathed that Pakistan was not producing world class swimmers, a fact he was not proud of.

He said that the gradual decline in the quality of Pakistan swimmers was a result of inadequate policies and a lack of funds.

"I'm not proud of my national records anymore since they only show that Pakistan never produced a better swimmer since I've left," Maroof told The Express Tribune.

"The level of international swimming is a lot more competitive today. My records are not good enough if we compare them to the records now.

"But at least our swimmers used to win the regional championships. I have won gold medals in the South Asian Federation (SAF) Games, and other Pakistan swimmers were fast enough, but now we can't even win SAF medals."

Lack of funds hindering growth, says Maroof

Maroof quit swimming altogether five years ago, stating that he competed in national events till 2005 after which he decided to become a coach and mentor upcoming talent.

He said that the lack of swimming pools and facilities were the biggest setback for the talented swimmers in Pakistan, especially since there was only one swimming pool in the entire country of international standard.

And since the PSF cannot function without funds, they turned their eye to swimmers who could finance themselves.

"I managed to create two records because I got very good facilities and coaches from abroad, thanks to the SAF Games that Pakistan held in 1989," explained Maroof. "We would get proper diets and training — it was another lifestyle when I was preparing for the SAF Games.

"The PSF really invested in us, but the downfall started after 1994. I see swimmers breaking records every day in our lakes and rivers, they are fast but they don't have the resources."

Published in The Express Tribune, August 5th, 2013.

Like Sports on Facebook, follow @ETribuneSports on Twitter to stay informed and join in the conversation.