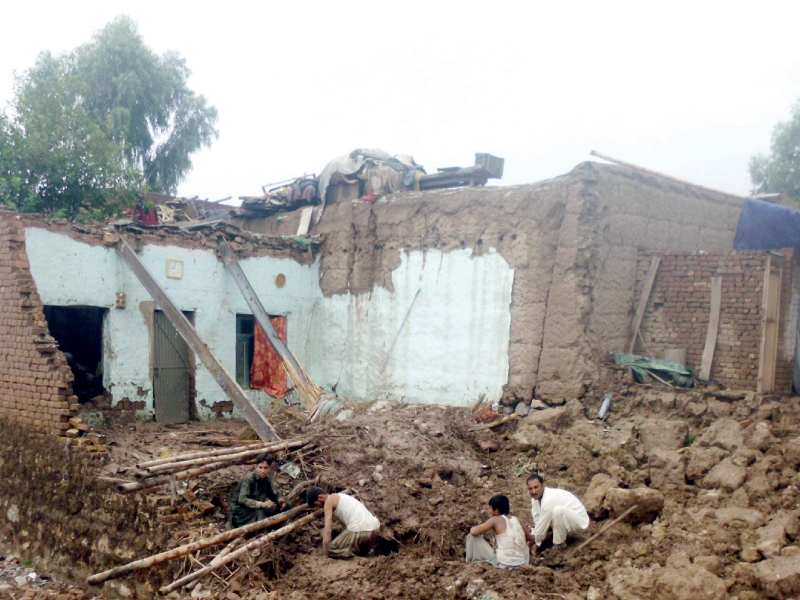 ---
PESHAWAR:

At least 19 people were killed and dozens injured on Saturday as torrential rains continued to flood rivers and streams in Khyber Pakhtunkhwa.


According to Provincial Disaster Management Authority (PDMA), Chitral district was the worst affected area, where flash floods in streams caused damage to property and lives alike. Apart from the loss of seven lives in two days, at least 116 houses were damaged out of which 62 were destroyed.

"We are expecting further information from the remote areas of Chitral about flood devastation," the Provincial Emergency Operation Centre (PEOC) official Adnan Khan told The Express Tribune.

In Peshawar, heavy rain water from Khyber Agency flooded Budhni stream, killing at least three people. In Bannu one person lost his life and four others were injured.

In Tank, three union councils, Warsponn, Pai and Gullam Imam went under flood water. In the Kari Wam area of Frontier Region Tank, a vehicle slipped into a flooded water channel resulting in five deaths, while 11 people went missing. In Northern Waziristan three people died, according to a report.

In Lakki Marwat, a girl was swept away by flood water, while in Southern Waziristan life came to a standstill due to heavy and continuous rain. In Kurram Agency, four members of a family died and one injured in a roof collapse following thunderstorms.

According to Flood Control Cell, most of the rivers in Khyber-Pakhtunkhwa were flowing at normal or medium level flood condition except Kurram River and Gambela River in Bannu region, which were releasing high level floodwater.

In DI Khan, there was a medium level flood releasing 3,00,000 cusecs water. While due to flood water flow from Chitral into river Kabul at Nowshera and Warsak there is medium level flood.

The Met Office has predicted more rains in the next 24 hours in upper areas including Chitral, Dir and Khyber Agency; however floods have not been predicted.

Published in The Express Tribune, August 4th, 2013.