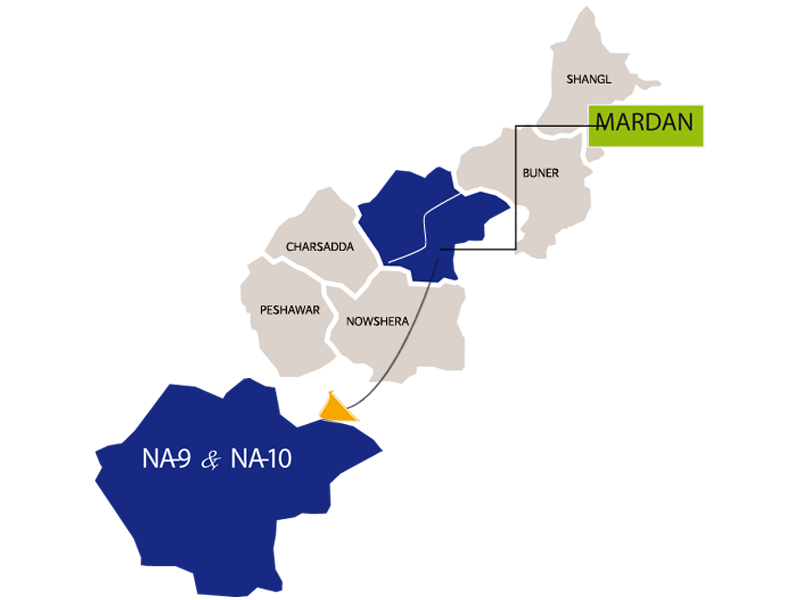 ---
MARDAN:



A tough contest is expected between candidates of the ruling Pakistan Tehreek-e-Insaf (PTI) and the Awami National Party on one of Mardan's constituencies in the by-polls scheduled for August 22.




On the other hand, Jamiat Ulema-e-Islam (JUI-F) workers are faced with internal wrangling that is likely to yield detrimental results for the party's political status.

These internal differences were exacerbated when the JUI-F entered a coalition with the ANP for by-polls on the provincial level, something which party workers of the former had earlier expressed deep reservations on. Despite this, JUI-F leaders withdrew from the race with the polls just around the corner.

Six candidates make up the electoral fray that is vying for two vacant constituencies in Mardan. Three candidates are contesting for PK-23 and the remaining three are fighting for PK-27.

PK-27 fell vacant after a targeted suicide attack on MPA Imran Khan Mohmand at a funeral in Shergarh. In addition to killing the lawmaker, the attack also claimed the lives of 37 people and injured around 60 others. As for PK-23, the seat fell vacant when former Khyber-Pakhtunkhwa (K-P) chief minister Ameer Haider Khan Hoti chose to avail his NA-9 win and sit in the National Assembly.




PK 23,

Hoti won the PK-23 seat in the 2008 general elections by gaining 11,009 votes. He won again on May 11 this year with 16,081 votes against PTI candidate Umer Farooq Kakakhel, who received 11,571. Hoti's popularity stems from the number of development schemes he launched in almost every nook and cranny of the district in areas such as health, education, business and infrastructural development.

On August 22, ANP stalwart from the district and former MPA Ahmad Khan Bahadur, Syed Umer Farooq of the PTI, and former provincial deputy speaker of the Jamiat Ulema-e-Islam-Sami Ikramullah Shahid will go head to head for PK-23.

On August 1, the scenario took a sudden turn when JUI-F Qari Niaz Ali along with a large number of activists held a press conference at Mardan Press Club and announced their support for the ANP candidate. Addressing the press conference, JUI-F district ameer Shajaul Mulk said the chapter respected the decision of senior party leaders and had withdrawn Niaz from the race. "We will give a tough time to the PTI candidate," asserted Mulk.

"The Pakistan Peoples Party (PPP) has also extended support to the ANP and withdrawn its nomination papers in our favour," said Bahadur. He added the ANP was not fielding a candidate on PK-27 in favour of Jamshed Khan, the brother of slain MPA Imran Mohmand.

In the 2008 elections Bahadur gained 11,806 votes in PK-24. The ANP stalwart was about to take his loyalties elsewhere due to differences over ticket allocation when he was pacified by the senior leadership and convinced to return to the party's fold.

The total registered number of voters in PK-23 is 112,346. Of these, 46% polled during the May 11 elections.

Political and religious parties have expedited their campaigns across the district by arranging Iftar dinners, with several political heavyweights making considerable efforts to take the lead in the electoral arena.

Qari Niaz of the JUI-F claimed the PTI did not meet its promise of ending corruption in 90 days. He also blamed the party for failing to halt Nato supplies and drone attacks in addition to providing relief to people by ending load-shedding.




This, claims Niaz, will ensure the PTI does not emerge victorious as it did on May 11 this year. "There was a specific environment in place before the 2002 elections which allowed religious parties to win," he added, referring to the Muttahida Majlis-e-Amal alliance. "This atmosphere resurfaced in 2013 in favour of the PTI, but this time the party will not be able to take advantage of it in K-P."

PTI's candidate Umar Farooq Kakakhel, on the other hand, believes JUI-F's internal differences over the ANP coalition will go in favour of secular parties. "People consider the ANP's alliance with the JUI-F unfitting, as the latter always asked for votes in the name of religion but has now formed an alliance with a party that promotes a secular agenda."

PK 27,

Slain MPA Imran Mohmand's brother, Jamshed Khan, has emerged as a strong candidate as the ANP, Pakistan Muslim League-Nawaz, Pakhtunkhwa Milli Awami Party, Pakistan Peoples Party and Qaumi Watan Party have all extended their support. According to Jamshed, all these parties have decided not to field candidates in PK-27 in his favour.

His rival, Zakaullah of the JUI-F, who is fighting solo, is considered a weak candidate. Maulana Qasim, who is also a senior and influential candidate of the JUI-F in the area, refused to contest the election due to party differences with former MNA Maulana Shujaul Mulk.

While talking to The Express Tribune, Zakaullah claimed the JUI-F's silent majority would cast their vote in his favour. However, party insiders refuted these claims and said the so-called majority was not ready to vote for Zakaullah despite support announced by former MPA Maulana Qasim.

Meanwhile, the PTI will support Jamaat-e-Islami's (JI) candidate Fazal Rabbani as per a supposed agreement between the two.

PTI leader Adil Nawaz, who received 10,104 votes and was the runner-up on May 11, said party rules and directives issued by senior leaders will be followed in supporting the JI candidate. "Our central leaders will hold public gatherings after Eid in support of the JI leader," he added. Rabbani has also claimed the PTI will back him.

The constituency is composed of nine union councils with 127,825 registered voters, of which 8,772 polled in favour of Rabbani on May 11. "We are preparing a joint strategy to run our election drive immediately after Eid," he added.

Local political observers said there is no clear winner in this constituency yet as the PTI and JI have not formally declared any alliance to the public. On the other hand, while Jamshed Khan may have the support of a number of mainstream political parties, he is considered unable to run an election drive like his late brother.

Published in The Express Tribune, August 4th, 2013.