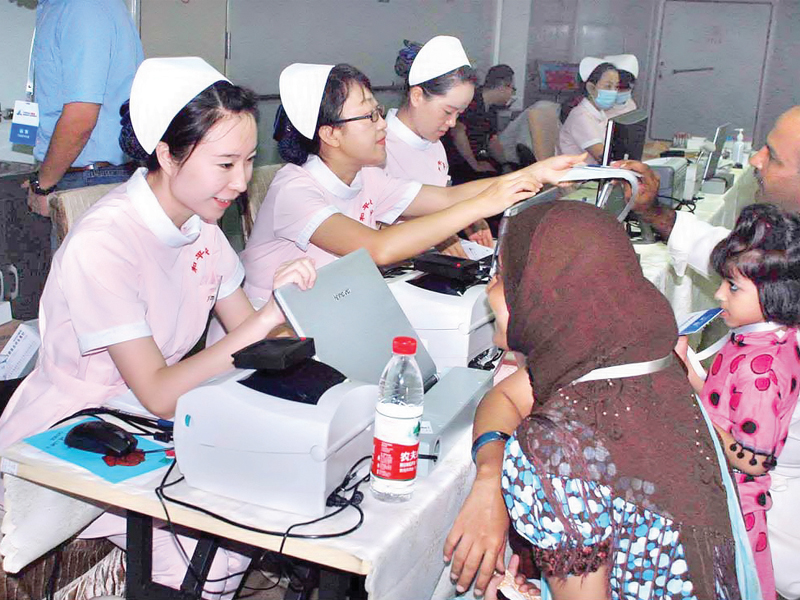 ---
KARACHI: Nearly 1,800 residents of Karachi have made their way to the Chinese Navy floating hospital docked at Karachi  harbour since Monday.

On its seven-day visit, the crew has impressed the patients with their medical procedures. Number of patients visiting the hospital is increasing every day even though Pakistan Navy set up limited camps.

"I had normal pain in my chest and was using medication for the last several months," said a patient, Noreen Victor. "My father brought me here on Thursday and the doctors told me that I have a tumour." The Chinese doctors took her into emergency surgery and now she is feeling quite well. "It is a miracle," her proud father, Victor George, said. "The treatment at the ship is more than we expected. I have no words to thank the Chinese doctors."




Rafia, another patient, admitted in the ICU, came to the ship via Jinnah Postgraduate Medical Centre. "I had a problem in my gallbladder and they operated on the first visit," she said. Rafia complained about the pain to several doctors but had found no relief until she visited the floating medical facility.

Despite the language barriers, the patients were satisfied with the doctors' attitudes. "Though I don't understand their language, they are so humble," said an attendant, Ashraf Khan. "Half your pain goes away when the doctors treat you politely." Khan felt the doctors treat them as if it is their own pain.

Registration

All those patients who seek treatment by the Chinese doctors can visit Karachi Harbour and PNS Shifa or PNS Rahat, where camps have been set up. The patients are guided by the Chinese and Pakistani staff and are referred to the relevant specialist for further treatment after the registration process.

"I have come here for just one treatment," admitted Bashir Mai, who is suffering from multiples health issues, such as diabetes, asthma, high blood pressure and kidney pain. "My daughter brought me here and we're hoping I will feel fine soon."

The'Peace Ark' is a 300-bed hospital ship with a medical crew of 100 Chinese experts. The ship is fully equipped with the latest machinery, including ultrasound, automatic biochemical analysers, anaesthesia, breathing machines and a high pressure sterilisation disinfection machine. The hospital comprises 30 specialised medical departments, including cardiovascular, medicine, general surgery, orthopaedics, neurosurgery, dental and blood transfusion. The Peace Ark has 20 intensive care units and eight operation theatres with capacity to perform 40 surgeries simultaneously.

Media briefing

Briefing the media persons, ship commander Shen Hao said that both the countries had long-standing friendly ties and the navies of Pakistan and China also enjoy deep-rooted cooperation. "The friendship between the two counties is 62 years old," he said. "This goodwill visit will also strengthen friendship." The Ark planned to carry out its harmony mission in eight Asian countries. "It hopes to strength ties with neighbouring countries," he explained. "Our current visit will also strengthen cooperation and ties between the two nations and navies."

Paying thanks to their Chinese counterpart, PNS Shifa Commander Ayub Sabir said that the arrival of the Peace Ark was a noble mission. "It is very commendable gesture and the people in Pakistan are very happy," he said. "It is a unique kind of opportunity for the residents of this area."

Sabir said that his staff had learnt two things during the visit. "We are learning how our friends have progressed in medical sciences and the second, most important one, is the positive attitude of the Chinese staff," he said. "They are very humble. They have no difference for the first and the last patient."

Published in The Express Tribune, August 3rd, 2013.
COMMENTS (10)
Comments are moderated and generally will be posted if they are on-topic and not abusive.
For more information, please see our Comments FAQ