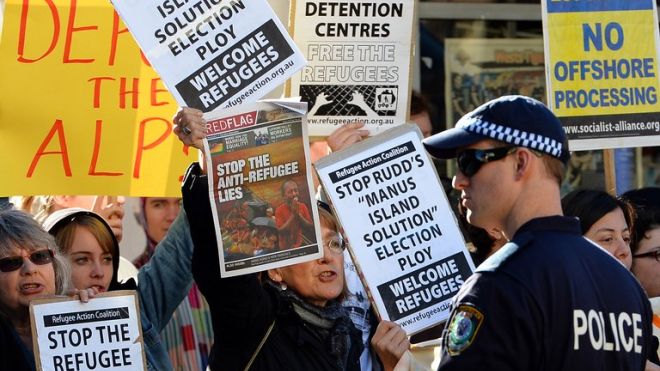 ---
SYDNEY: Australia's decision to send asylum-seekers to its struggling Pacific neighbour Papua New Guinea will cost the government about US$980 million over four years, a budget statement released Friday showed.

So far only two groups of male boatpeople have been sent to PNG's Manus Island since Prime Minister Kevin Rudd announced the new policy, which has been criticised by refugee advocates, two weeks ago.

But under the directive designed to deter people from making the dangerous boat journey to Australia, all asylum-seekers will be processed in PNG and ultimately resettled there even if found to be genuine refugees.

"The total estimated operating cost of the arrangement is $175 million in 2013-14, and $1.1 billion over four years," the government said in an economic statement ahead of elections later this year.

The statement said this would be partially funded from a $423 million reduction over the four years to 2016-17 in the operating costs of the Australian onshore detention centres asylum-seekers have previously been sent to.

"Capital costs of $194 million are included in 2013-14 to expand Manus Island facilities," it added, with the camp's current capacity of around 500 expected to be expanded to house at least 3,000.

Canberra will also give an extra $420 million in aid to PNG over four years as part of the deal, with $207 million towards rebuilding a hospital in the second largest city Lae and $62 million for the University of PNG.

Australia will also spend $19 million on deployments to the Pacific nation's prison and police services, $800,000 on scoping and design for the Madang-Ramu highway and send some 50 Australian police to local stations to help in tackling chronic law and order problems.

The government said the aid was in addition to the existing $500 million a year delivered to PNG and would be funded from within existing aid budgets.

PNG is Australia's closest neighbour and despite positive economic growth rates in recent years, about 85 percent of the country's mainly rural population is poor with high unemployment and rampant crime.

Australia announced the new policy on asylum-seekers last month after a record number of boatpeople arrived in 2013 - more than 17,300 - and a spate of drownings.

Since the policy was announced, more than 1,500 asylum-seekers have arrived by boat.