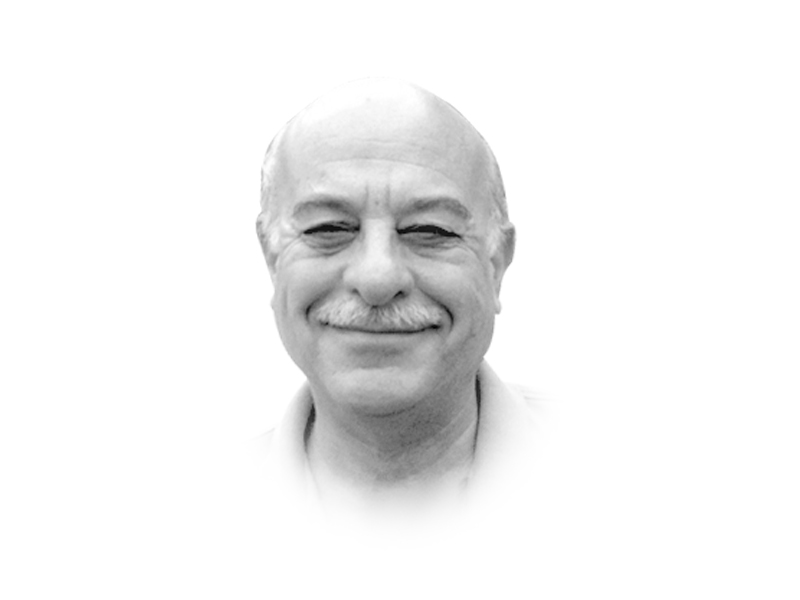 ---
It is quite incredible that though we are in our late-ish sixties, both our country and its people are still casting about looking for bogeymen and scapegoats and men in black trench-coats out to do the country harm: foreign agents, spies, Mata Haris, you name it.

Just so long as we can deflect attention away from ourselves, the real perpetrators of all that is wrong with us, we are fine, no matter that in the next day or two all our home-spun tales come back to haunt us, making us look like utter fools.

Whether it was the shame and the embarrassment of the attack on GHQ itself; attacks on our ISI's buses and offices in three (now four, cities); the Parade Lane Mosque massacre; the OBL raid deep into Pakistan; the Mehran Naval Base attack; or the Kamra airbase attack, we always have someone else to blame. We never look within ourselves: no one gets fired, even disciplined.

Take the DI Khan jailbreak about which the K-P government was duly informed a full 24 hours before it happened. The response from the government was zero as could be expected from a stultified bureaucracy, but which has defended itself well by referring to the PTI government not making up its mind whether the TTP is friend or foe.

I must here add that it was astonishing to read the remarks of a minister of the K-P government, Ali Amin Gandapur, actually calling K-P police officers and constables 'cowards' who 'hid in sewers' as the attack progressed. Could it be that the PTI government's own policy of making appeasing noises about the terrorists took away whatever remained of the K-P police's spine?

But back to the main story of the latest in the saga of poor old Pakistan at the cruel mercy of no-good spies and agents and saboteurs.

The latest to get some of my course-mate's (36th PMA) knickers in a twist is a post someone saw on a site out of Canada and which when I could not find it was kindly sent to me by Mr Zafar Bangash who runs the website. Before you go to the story please note that it was picked up from a local paper, the Ummat of January 16, 2013, a full six months ago and was printed nowhere else in the press. Yet, our warriors took note of it a week ago with indignant, frothing-at-the-mouth emails, hurling wild accusations at everyone, particularly yours truly; yes, being a paid spy myself just because I said that if the man was roaming around the country doing so much damage, the blame lay on us!

The story in short goes something like this according to my friends:

"Recently a local, spying for Mossad, the Israeli intelligence agency, was arrested from the posh DHA locality of Lahore who has spilled some alarming facts which led to unearthing an elaborate network working against the country. He was a jihadi who had been handed over to the Americans during the early Musharraf years and was held at Gitmo where the Israelis got him and after two years of indoctrination, rich inducements and final training at an American base in Afghanistan was finally released into Balochistan."

And on and on it goes, telling us how the Baloch insurgent Sardars are being paid from across the borders; how our young soldiers are being killed by subsonic weapons in Tirah, etcetera. But where is the great mystery where the Baloch Sardars are concerned? Those that are in exile, when asked by our own TV channels many years ago if they were getting help from foreign sources have said in so many words that they will take aid from any country that offers it to them. Where is the secret then?

As for this 'local' who is now a Mossad agent, he must be Superman himself, now supplying 'subsonic' weapons to the TTP, now flying to Balochistan to equip the rebellious Sardars there; then whizzing to Kamra and Mehran and Abbottabad and GHQ and even the Chenab river near Gujrat!

But who in heaven's name is this Superman? If he has been 'arrested' and his 'elaborate network unearthed' why are he and his fellow spies/suppliers of 'sub-sonic-weapons' not paraded on television in handcuffs and shackles; court-martialled; and locked up in Macchh jail for 399 years?

When, for God's sake will we grow up, have faith in ourselves as a self-reliant and confident and alive and fearless nation? When, for heaven's sake, will we stop looking for bug-bears and vampires and the walking dead out to haunt us? When will we face our real enemies who have just destroyed DI Khan jail?

Enough! I must here felicitate Mr Mamnoon Hussain for getting elected as the next President of Pakistan in an election that could have been better managed but which nonetheless is another step by our dear country on the path of unadulterated democracy. May he remain safe; and may he do good for the country.

A rap on the knuckles now for those elitists who look down upon him as the ordinary Pakistani that he is: well, the pox on you, and good for him, specially when we hear that he is a good man and a responsible member of society. More power to you, Mr President-elect.

In the end, the unseemly discussion on the next army chief that is raging in the press. All I will say is that, 1) names should not be named, and 2), that the principle of seniority for promotion to the highest ranks is not a cardinal principle in any country of the world. Yes, it is wrong to promote a mediocre because he cringes before you; yes, it is wrong to promote someone on parochial basis.

But there is nothing in the world wrong with promoting someone junior by a few numbers who has an excellent record of service; and who has shown that he is brave and courageous. Remember, a brave man will always be an honourable man!

Published in The Express Tribune, August 2nd, 2013.

Like Opinion & Editorial on Facebook, follow @ETOpEd on Twitter to receive all updates on all our daily pieces.