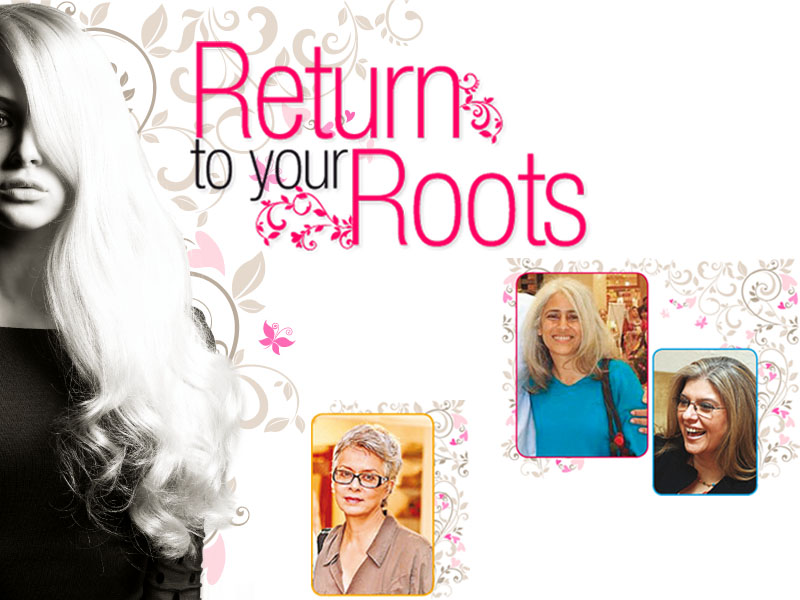 ---
I didn't panic when I saw my first white hair. When the lone white strand sprouted into view one morning, I felt mellow with the realisation that I had attained wisdom in the manner of oracles, and goddesses. As I took a moment to celebrate this newfound maturity, I had no doubt that I would age only in small, graceful increments, spreading light and serenity as I blossomed.

No, I panicked only when the next week I found half a dozen more white hairs. WHAT in blue blazes was THAT? I was hardly 30, and that was definitely too young to be going grey. Suddenly I began to wonder if I was really going to turn into a serene sari-clad matriarch with a steel grey bun and impeccable styling. It began to seem increasingly likely that in a few years I might be rocking a rather different look — the unkempt old hag look. Perhaps artful highlights/lowlights could help the stark whites blend in and disguise my aging? Or a natural mix of mehndi and coffee could give my hair an auburn tint, though I ran the risk of ending up with 'laal baal', not in a Florence Welch kind of way but in a mohallay ka chowkidaar kind of way.




Do or Dye

The about-turn from going gracefully grey to "Which hair colour should I use?" did not take long for me. And so is the case with most women.

The well-documented risks of hair colourants are not enough to deter women from turning to dyes. For the most part, vanity trumps any concerns about noxious fumes and cancerous agents. And the fear of aging means that when a woman reaches out for that tube on the supermarket aisle, the only question on her mind will be, "Will this suit me?" But while women don't think twice about colouring their hair to look young, grey hair on a man is considered attractive. When we see silver foxes like George Clooney or Eric Dane from Grey's Anatomy, we think 'hot,' not 'grandpa'.

Many women declare they don't "feel fresh" when they see their white hair in the mirror. Others say that their spouses or mothers insist that they cover their greys. You might start dyeing your hair just because of a few grey strands that feel out of place but by the time a woman is in her 50s, she has often been dying her hair for so long and so scrupulously that she has no idea what her natural hair colour is like!




More and more celebrities and public figures are now showing their greys proudly, from Camilla, Duchess of Cornwall to Helen Mirren and Jamie Lee Curtis. You know grey is hot when it's Rihanna's choice of hair colour after that famous flaming red coif. Nearer home, style icon Maheen Khan's elegant white crop is an essential part of her signature look. "Dark dyed hair on a middle-aged or ageing face is harsh, unattractive and unnatural," says Maheen Khan, and looking at her sophisticated, polished look, one can't help but become a fan of white/grey hair.

"Coloured hair can be ageing, not grey hair," adds Maheen.




It's not that black and white

Actor and producer Nausheen Masud has a vibrant, natural look and her beautiful hair ripples down to her shoulders — her beautiful, grey hair. "I do believe that this notion of white hair being a sign of old age is a myth," says the actor who started going grey in her 20s. In photos of social events she stands out with her strikingly bare face and natural hair in a sea of women with long brown tresses and similar make up.

But the decision to go grey was not an easy one. Twice she stopped dyeing her hair, reverting to colour because of TV assignments. Friends and family were discouraging. "They thought I was mad, that I was going through a midlife crisis," she recalls with a laugh. But in the end, dyeing had become too much of an inconvenience and she hated how it left her hair crinkly and coarse. "I didn't like the whole deal of being forced to go to the hairdresser every few weeks for three hours. It was cramping my lifestyle," says Nausheen.

The compulsion to get the roots done again and again is what motivates women to go back to their natural hair colour. "I did colour my hair for a good 13 or 14 years," says Maheen Khan. "Eventually I tired of being a slave to constant touching up of my grey roots. More than that the harsh look of over-dyed hair was beginning to disturb me; I made up my mind I would not enter my 60's with dyed hair."

Zofeen Ebrahim, a journalist, who sports a thick silvery mane went through a similar phase. Travelling extensively on assignments, she had to worry about going to the salon before going on a journey. Her hair didn't take well to dyes and her roots would start showing soon after. Eventually, she stopped dyeing her hair. Her mother, who had discouraged her to do so, stopped after her daughter did. "Once you leave it, you love the feeling of liberation that comes with it. I used to be so bothered about the chemicals on my scalp and hair!" says Zofeen.

The pay off is often better hair. "What matters to me is that my hair should feel good, soft and clean .. and I'm so grateful to have nice, thick hair!" says Zofeen.

"I do like this look," says Nausheen, about her hair. "It feels natural to me — it feels like me."

But not everyone may be down with your look, sometimes, not even yourself. "When I look at photos, it shocks me. Oh God, so much white hair!" says Zofeen.

And you're likely to get all kinds of comments, many loaded with judgment. Be prepared to be bestowed adjectives like 'distinguished', 'dignified' and even 'brave' though you might think these words don't really describe you. "People compliment me on my grey hair but they don't do it themselves," observes Zofeen wryly.

So are you ready to let your precious metals show?

Despite all the points in favour of grey hair, letting go of hair dye is a huge step. The nastiest bit is actually waiting for the dyed hair to grow out. "I looked like a fading zebra!" says Maheen Khan. Nausheen concurs: "I went through a very painful period of growing out my hair. I had to streak it to make it less shocking."

That pain can be well worth it and many women are pleasantly surprised at the range of metallic tones that emerges. "I felt I was reborn. I've never looked back since that life changing day," says Maheen.

Be warned though that letting go of the hair dye is not equivalent to 'letting yourself go' or 'giving up'. This is not an excuse to indulge your inner crone or give up taking care of your appearance. If anything, this should be an opportunity to experiment with a new look, and tell a new story about yourself, or as Maheen says, "The semiotics of a woman's hair are complex and inextricably linked with the story she wants to tell about herself."

Steely resolve: Tips for those who want to stay away from hair colourants

- Transition gradually. "I would advise that rather than using harsh dyes, go for a streaked look and gently slide into a full grey," says Maheen Khan

- Opt for warmer tones in make ups, like peaches and apricots.

- Define your brows so they frame your face properly.

- Find out what colours work for you. "The color and style of a woman's hair does influence the way she dresses," says Maheen. "Have you ever wondered why some colours don't suit you and others make you glow?"

Survey about hair dying 


Published in The Express Tribune, Ms T, August 4th, 2013.
Like 
MsT on Facebook
, follow
@TribmagMsT
on Twitter for your dose of girl talk.