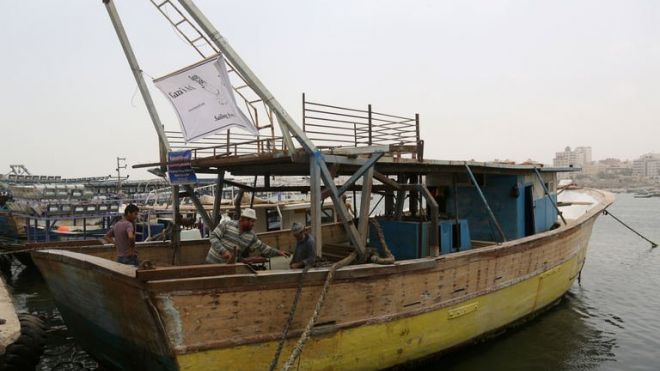 ---
GAZA CITY: Palestinian labourers and foreign activists are working tirelessly to transform a large fishing boat into "Gaza's Ark" with the aim of exporting local produce in the latest bid to break Israel's blockade on the coastal strip.

The Ark, which is being fitted out to carry goods and more than 100 passengers, is near completion and is expected to set sail for Europe in the latest high-profile attempt to challenge Israel's maritime lockdown on the tiny Hamas-run territory.

If they are successful, this will be the first time goods from Gaza have been exported by sea since the signing of the 1994 Oslo Peace Accords.

Significantly, this attempt to alleviate the effects of the seven-year blockade comes from within Gaza, where locals refurbishing the 24-metre-long (78 feet) vessel want to take matters into their own hands, rather than waiting for help from the outside world.

"This will help fishermen, farmers and factory workers in Gaza to market their products," said Abu Ammar Bakr, who was a fisherman for 40 years before turning his hand to repairing boats.

Mohammed Abu Salmi, who owns a furniture shop, was equally buoyed by the prospect of shipping products overseas.

"Export by sea will resuscitate farming and light industry in Gaza and will ease unemployment... and help to lift this oppressive blockade," he told AFP.

"We have great experience and produce great furniture," Abu Salmi boasted.

"We exported to Israel and from there to Europe before the blockade, and people abroad are asking for our products," he said, pointing proudly at the dining tables and chairs fashioned in his workshop.

Among the items which are to be carried on board for export are fruit and farm produce, furniture, embroidery and other crafts, organisers say.

"The aim is not aid or humanitarian like the boats that were coming to Gaza, it's a commercial venture to support the Palestinian economy and pave the way to exporting Palestinian products," project manager Mahfouz Kabariti said.

But a sense of apprehension marks the preparations.

A plaque at the entrance to the quay on which the Ark is being built remembers the nine Turkish activists who were killed in May 2010 during an Israeli raid on a six-ship flotilla trying to reach Gaza in defiance of the blockade.

Although the international outcry which followed the deadly raid forced Israel to significantly ease the terms of its blockade on Gaza, which was first imposed in 2006, tight curbs remain in place on exports and travel.

Breaking the siege 'from within'

Under the terms of the current restrictions, Gaza fishermen are not allowed to enter waters more than six nautical miles (11 kilometres) from the shore, with naval patrol boats known to fire on those who step out of line.

It is the prospect of a confrontation with Israeli forces that is worrying some of those planning to join the boat on its blockade-breaking mission, with Abu Salmi afraid the navy might "open fire and sink the Ark, or arrest those on board like they did in 2010 and seize the goods".

Organisers of the project are unsure what action Israel might take.

"I hope Israel won't stop the boat from sailing to European countries," said Kabariti.

"It is natural that the Israeli authorities might not allow a boat to set sail from Gaza. But we want to send our message to the world, whether the occupation allows it to sail or not," he said.

"We want to draw attention to the blockade which is preventing Palestinian products from being exported, and we have an ark that we can use to do it."

Among those planning to join the Ark on its maiden voyage are a number of foreign activists, who include Swedish national Charlie Andreasson who also took part in the ill-fated Freedom Flotilla of 2010.

The aim, said Andreasson, is "to break the siege".

"Why would they stop it?" he asked, somewhat naively.

"We've been sending ships to Gaza to try to break the siege, and this time we are turning it around and sending a ship from Gaza out to Europe with goods -- so we're trying to break the siege from within," he told AFP.

Andreasson has been working on the project since early June, when activists managed to raise enough money from European donors to buy up the old fishing boat.

From its purchase to completion, including labour, Gaza's Ark will have cost an estimated $150,000 (114,000 euros), with its website showing that so far, $110,000 has been raised.

Dozens of people are working to restore the Ark, with local fishermen receiving a salary for their labour and foreign activists volunteering.

The project's mission statement, according to the website, is to "challenge the illegal and inhuman Israeli blockade".

For fisherman Bakr, it would be a huge blow if the Ark -- which will sail under the Palestinian flag as well as several international ones -- never left port.

Fisherman and factory workers would have to watch their goods "festering in warehouses because they're unable to export them", he said.