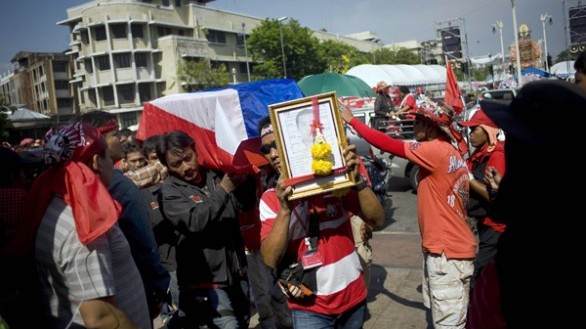 ---
BANGKOK: Thailand's embattled premier on Monday accused 'terrorists' of inciting the country's bloodiest civil violence in almost two decades as protesters paraded their dead through the tense streets of Bangkok.

With no sign of an end to the deep political turmoil, Prime Minister Abhisit Vejjajiva insisted the government remained united in how to tackle the crisis but the defiant 'Red Shirt' protesters said the time for negotiation was over.

"From the overall picture we clearly found that terrorists used pro-democracy protesters to incite the unrest, hoping for total change in our country," Abhisit said in a nationally televised address.

"The government is unified and determined to solve this problem."

Both sides appeared more deeply entrenched than ever following Saturday's violence in the heart of the capital that killed 21 people and left a trail of destruction through popular tourist areas.

Seventeen civilians, including a Japanese cameraman, and four soldiers were killed after the army launched a crackdown on the supporters of fugitive ex-premier Thaksin Shinawatra who have staged weeks of mass demonstrations.

Pick-up trucks carrying two slain protesters and 14 empty caskets draped with Thai flags and flowers paraded through Bangkok Monday and thousands of protesters later massed outside Abhisit's house, guarded by hundreds of police.

The Red Shirts, who hail from mainly poor and rural areas of Thailand, insist they will not end their campaign until the government calls fresh polls immediately and Abhisit stands down.

"There will be no talks with the government. We will not talk with killers," said Reds leader Jatuporn Prompan. "What else is there to talk about?" Army chief Anupong Paojinda said he supported early elections to end the crisis that has gripped Thailand since Thaksin was ousted in 2006.

"We must return to politics to solve the problem. It must be ended by political means," Anupong told reporters, suggesting that he was reluctant to use force again to put down the protests.

Abhisit offered during talks last month to hold elections by the end of 2010, one year ahead of schedule, but protest leaders insist they want immediate polls.

The government on Monday also played down local media reports that Abhisit might offer to bring forward the election to October. "There was no talk of elections in October yet," government spokesman Panitan Wattanayagorn told AFP.

The Reds, accusing the government of being elitist and ignoring their concerns, have staged a month of mass rallies in Bangkok, dealing a heavy blow to the vital tourist sector.

Deepening fears about the impact of the crisis on the economy sent Thai stocks plunging more than five percent at one point on Monday, as Thailand's neighbours voiced their concern about the turmoil.
COMMENTS
Comments are moderated and generally will be posted if they are on-topic and not abusive.
For more information, please see our Comments FAQ