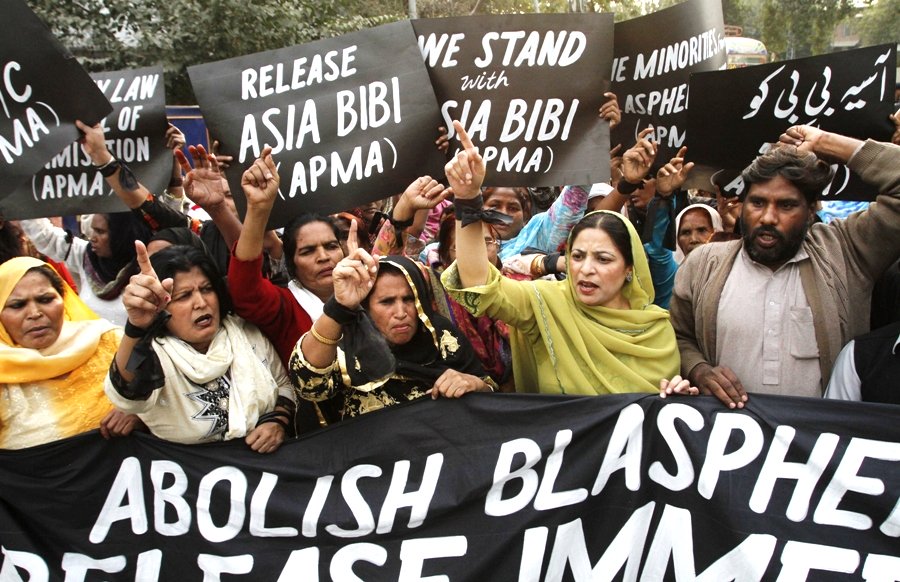 ---
LAHORE:



Aasia Bibi, the Christian woman on death row whose blasphemy conviction was decried as unjust by slain former governor Salmaan Taseer, faces a wait of at least another two years behind bars before her appeal is likely to come up before the Lahore High Court.




Bibi, 45, has been jailed since June 19, 2009, when her neighbours in a village near Nankana Sahib accused her of making derogatory remarks about the Holy Prophet (peace be upon him). An additional district and sessions judge convicted and sentenced her to death in November 2010, pending confirmation of the decision by the LHC.

The case attracted the attention of then Punjab Governor Salmaan Taseer, who visited Bibi in jail and denounced her conviction as well as the blasphemy law. A couple of months later, Taseer – and any hope Aasia Bibi had of a quick release   was killed in a hail of bullets fired by his own bodyguard.

Some two-and-a-half years later, Bibi is waiting for a date to be fixed for the hearing of her appeal. The court has a large backlog of cases and is currently hearing appeals filed at the end of 2008 and beginning of 2009. Appeals filed at the end of 2010 are due to come up in 2015.




A court staffer told The Express Tribune that the LHC, for the last 10 months, has prioritised the disposal of murder cases and capital sentence cases, fixing them before eight division benches. He said that there was a large backlog of such cases because of a shortage of judges.

The head of the court does have the power to hear cases out of turn. Under Article 561-A of the Code of Criminal Procedure, the chief justice of the LHC can fix any case before a bench out of turn upon an application from an aggrieved party, according to Advocate Aftab Ahmed Bajwa.

The LHC cause list shows that some cases from 2010, 2011 and 2012 are being heard out of turn by the court. The converse is also true: some murder and capital sentence cases from 2005 are still pending.

Aslam Pervez Sahotra, the chairman of the Human Liberation Commission Pakistan, a group that lobbies for greater awareness of human rights, said that he had sent a request to the chief justice of Pakistan that Bibi's appeal be heard as soon as possible, but had received no response.

He said that Aasia Bibi faced threats from fellow inmates and her jailers at Sheikhupura Jail. She was reported to have been badly beaten by a jail staffer in October 2011. "For her safety, and because of the many lacunae in her conviction, her appeal should be heard immediately. We are hopeful she would be acquitted by the High Court," he said.

According to the FIR of the case, registered at Saddar Nankana Sahib police station on June 19, 2009, on the complaint of Qari Muhammad Salam, Aasia Bibi had made blasphemous remarks after getting into an argument with Asma Bibi, her sister Mafia Bibi, and Yasmin on June 14.

The complainant said that he had summoned the witnesses and the accused and heard their stories, after which Aasia Bibi had apologised.

Nankana Sahib Additional District and Sessions Judge Muhammad Naveed Iqbal presided over her trial, hearing eight prosecution witnesses, but none in defence of Aasia Bibi. On November 8, 2010, he sentenced her to hang to death.

Published in The Express Tribune, June 29th, 2013.
COMMENTS (41)
Comments are moderated and generally will be posted if they are on-topic and not abusive.
For more information, please see our Comments FAQ