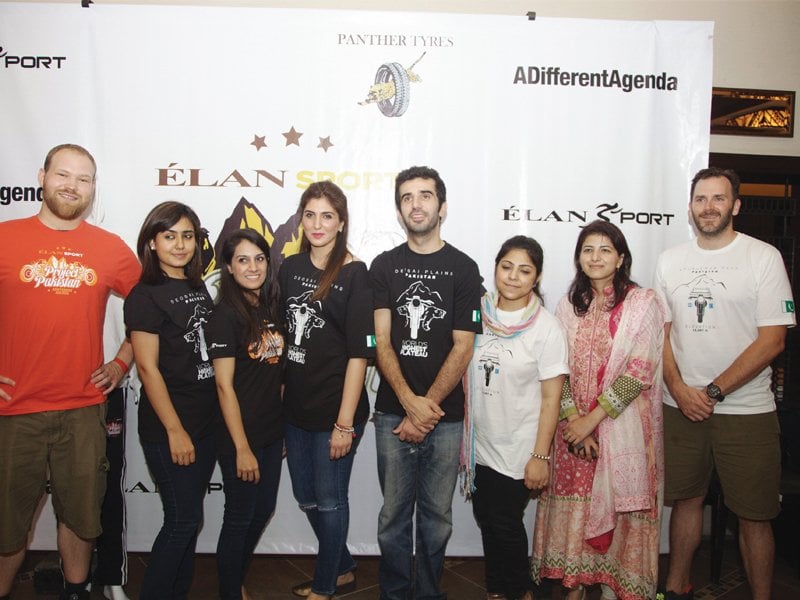 ---
LAHORE: Elan has recently started partaking in sporting activities. With the Elan Cup being sponsored by the brand during the Polo season, it has now geared up for its latest venture with Moin Khan. Moin, a renowned biking enthusiast, embarks on his latest project called Project Pakistan along with two other international bikers. He is now on a motorbike journey across Pakistan to discover the beauty and heritage of the country and to disseminate a positive image of his fellow countrymen.

Speaking about her brand's involvement in Project Pakistan, creative director of Elan, Khadijah Shah said, "The brand is defined by me and I love sports. All civilised nations promote sports and I want to be a part of this change." Khadijah feels that we need to encourage such projects because the world needs to see the beauty this country has.

Since the tragedy at Nanga Parbat, one feels remorse for the consequences the people of Pakistan have had to face. "The northern areas of Pakistan have been a neglected territory by bikers," said Moin. "When I decided to launch Project Pakistan, I wanted people to see the beauty of the country." Initially, 10 bikers were interested and applied for visas, but as bad news kept coming out of Pakistan, bikers kept dropping out. Eventually, four bikers made it to London en route Lahore, but when the calamity at Nanga Parbat struck, it resulted in the loss of two more bikers.

Now, with two brave bikers from California, Michael Phillip Stewart and Kyle James Haggmark, Moin is set to embark on his journey to explore the Himalayas. "I have always wanted to ride up into the Himalayas and I immediately jumped at the chance to go," said Stewart. "Some of my friends visited Hunza years ago and still talk about it being the best spot in the world; I want to explore these remote areas and help motivate people to come check these areas out."

"I am going to Pakistan because this is the trip of a lifetime. I have no reservations whatsoever," said Haggmark. "I am excited about this trip which marks the beginning of a new chapter in my life — a fresh start and a new adventure. My family is understandably worried, but I would be crazy not to go."

Published in The Express Tribune, June 28th, 2013.

Like Life & Style on Facebook, follow @ETLifeandStyle on Twitter for the latest in fashion, gossip and entertainment.