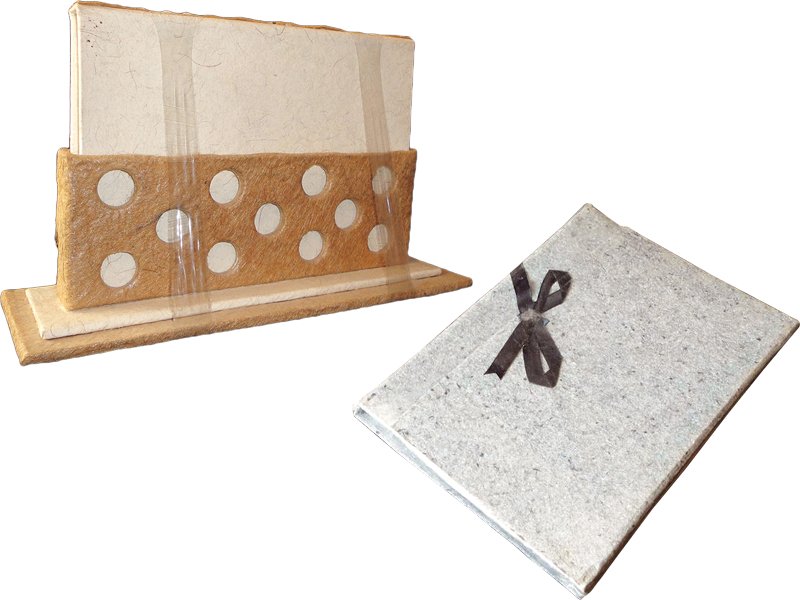 ---
Putting pen to paper can be exciting if the paper is handmade and embossed with dainty, pink flowers. It was for me at least when I received a diary as a gift from Nepal. That is a country that takes pride in greener papermaking — a process that Pakistan would do good to explore for the sake of preserving its forests.

The production of handmade paper is all the rage in South Asian countries such as India and Nepal. It is exquisite, different for its unique strength and durability and most importantly, it's eco-friendly. The paper is made from natural fibre and does not require the sacrifice of trees or the use of chemicals.

In Nepal, handmade paper is made from the fibres of the Lokta (Daphne), a shrub species, and other natural fibres. For the Lokta paper, the fibrous inner bark of the high-elevation, forest shrub, also found in Pakistan's northern areas, is used. The plant is harvested without damaging the main roots so it regenerates naturally every two to three years.

The catchphrase 'Handmade in Nepal' therefore speaks of humanitarianism, social responsibility, social ethics and resource sustainability. The state has turned this centuries-old craft into a national art, by reviving the indigenous skill that now supports thousands of poor families. The international demand for this quality paper has soared since, making it a sustainable industry in Nepal.

Unlike in Nepal, only the environment-conscious people in Pakistan know about the boons of handmade paper. The industry here continues to make paper from the pulp of wood, persistently ignoring the fundamental economic problem of scarce resources. And despite its market potential, handmade paper has failed to garner support for the green process in the country.

However, for all the eco-conscious consumers in Pakistan, there is now a ray of hope — handmade paper has made its eco-friendly debut in Lahore with Paper Zone. The company has been supporting eco-friendly paper for 15 years and has established its production unit in Gujranwala with the aim of empowering low-income and disadvantaged communities in the process.




"My workforce is very passionate. They put their hearts and souls into making the paper and this shows through our product quality," says the owner of Paper Zone, Mumtaz Ahmad Baig. By introducing new technology and reviving the indigenous skill, the company hopes to boost the self-esteem of the workers which is successfully reflected in their attractive gift boxes, baskets, notebooks, home decor crafts and other paper-based items.

The process of handmade papermaking involves industrial and agriculture waste being turned into
exquisite sheets of paper. Paper Zone produces a large collection of homemade paper in cotton, jute, silk and plant recycled forms. They purchase cotton recyclables (tailor cutting) from scavengers, around 500kg to make 10,000 sheets of paper, and sugarcane waste directly from juice shops. Other recyclable items used are old gunny bags, rice and wheat straw, rice paddy husk, hemp bush, silk waste and corn and onion skin. Basically anything that has fibre.

"I'm honoured to be part of this eco-friendly way of producing paper that is tree free. I began by learning how to crush cotton recyclables to make the cotton-based paper," says Naeem Butt, who has been working for Paper Zone for the past 13 years.

First the rags or cloth fibre are compressed and converted into fine pulp using a blending machine. Dyes and textured materials such as straw, hemp, silk and  jute fibre are  then added to produce different kinds of paper.




Interestingly enough, biodegradable paper can also be made using kitchen waste. To explain the process, several individuals have come forward to post useful online tutorials in a bid to support globally growing environmental responsibility. In Pakistan, however, homemade paper is appreciated more for its aesthetic value and less for its eco-friendliness. Previously when Paper Zone was promoting its stationery and handicrafts for their ethical value, very few showed
support. They then turned to aesthetics instead to promote their products, creating a niche market for themselves.

But since homemade paper is expensive to produce as opposed to the conventional method, it hasn't been able to root itself in the papermaking industry.



Incapable of producing paper on a large scale, the eco-friendly technique requires one sheet to be produced at a time, making the process time consuming, labour intensive and consequently more expensive. It is therefore unlikely that the fledgling industry will take off any time soon.

Published in The Express Tribune, Sunday Magazine, June 30th, 2013. Like Express Tribune Magazine on Facebook, follow @ETribuneMag on Twitter to stay informed and join the conversation.