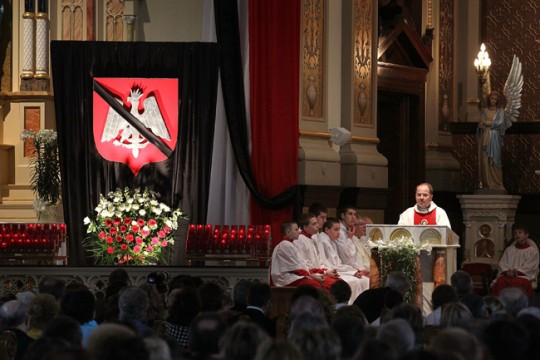 ---
WARSAW: Polish President Lech Kaczynski will be laid to rest on Saturday, a week after he died in an air crash in Russia along with his wife and dozens of top officials, a newspaper reported on Monday.

The leading Polish daily Gazeta Wyborcza said on its website that the government expected Kaczynski's state funeral on Saturday would draw high-level mourners from around the world.

"Russian President Dmitry Medvedev wants to take part in the funeral of his Polish opposite number," Poland's Foreign Minister Radoslaw Sikorski told the the radio station TOK FM, without confirming the planned date.

Asked if US President Barack Obama was also likely to attend, Sikorski said: "I wouldn't even rule that out."

"I'm expecting the whole world to come to Warsaw," he said. Former presidential aide Elzbieta Jakubiak told AFP that ceremonies for Kaczynski and the 95 other victims of Saturday's crash could last two days.

"There are three potential resting places for the president: Saint John's cathedral in Warsaw, the city's historic Powazki cemetery, or the Wawel cathedral in Krakow, where the kings and other presidents of Poland lie," Jakubiak added.

"But the final decision hasn't been taken. The president's family has the final say. We're still waiting for all the bodies to be brought back to Poland," she said.

Staff from the offices of Kaczynski and Prime Minister Donald Tusk were meeting Monday to discuss funeral plans. Kaczynski's is the only body to have been identified and brought back to Poland so far, being flown into Warsaw on Sunday afternoon.

The president is due to lie in state Tuesday to allow Poles to pay personal tribute.

On Sunday tens of thousands lined the streets of Warsaw to mourn him, as a hearse carrying his coffin wound its way slowly from a military airport to the presidential palace in the heart of the capital.

Huge crowds have been gathering since the president's aircraft crashed Saturday in the western Russian city of Smolensk.

There were no survivors. Besides the president and his wife Maria Kaczynska, dozens of other senior Polish political figures and military top brass also perished.

The delegation had been due to attend a ceremony commemorating a 1940 Soviet massacre in the nearby Katyn forest of thousands of Poles captured in World War II.