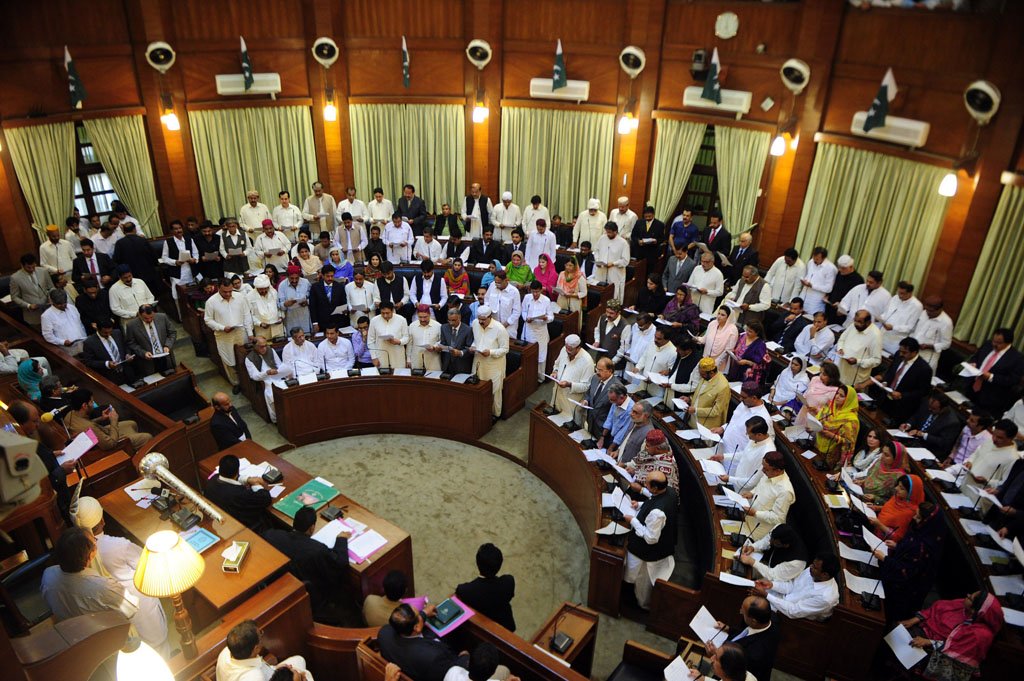 ---
KARACHI: Following the murder of their comrade Sajid Qureshi in Karachi on Friday, Muttahida Qaumi Movement (MQM) lawmakers took the floor in the SIndh Assembly on Saturday in Karachi expressed their "dismay" over Sindh government's performance, terming it "incompetent" in its ability to control the law and order situation in the megalopolis.

Lawmakers during Saturday's morbid session demanded that a comprehensive policy be formulated to deal with law and order and said that the "terrorists are more powerful" than the state machinery.

Pushed, provincial ministers belonging to ruling Pakistan Peoples Party (PPP) offered to convene an "All Parties Conference" (APC) on Karachi law and order issue as a means to defend themselves.

"Sindh government alone cannot only be held responsible for Karachi situation. Federal agencies and other institutions are equally responsible for it," provincial information minister Sharjeel Inam Memon rebutted. He alleged that terrorist camps are operating in Punjab, and that criminals from these camps have infiltrated into Sindh and other provinces.

"Punjab government should take strict measures at its border and take action."

Earlier, MQM members with black arm-bands expressed their anger and frustration through emotional speeches.

"We have lost three members of this august house in just three years. When will the government get up and make security measures for us and other citizens?" MQM's deputy parliamentary leader Khawaja Izhaarul Hasan said. "It looks like the government has bowed down before the terrorists and has given a free hand to criminal elements to kill our people and other innocent citizens."

Irfanullah Marwat was of the view that while criminals are apprehended, but alleged that the police under a "reconciliation policy" fails to disclose their identity. "Why is the government mum on Karachi killings. No result will yield by only offering fateha."

Members also proposed a security breifing for the house.

No home minister

Opposition members of the house were unanimous in criticising the performance of police, Rangers and other law enforcement agencies in Karachi.

Pakistan Muslim League-Functional MPA Nusrat Seher Abbasi raised the question of a dedicated home minister in the province. "Everyday 10 to 15 people are being killed in Karachi while the rural areas of the province have turned into no-go areas, but the government has not yet appointed a home minister to deal with the situation."

Abbassi claimed that while the portfolio lies with the chief minister, he cannot properly handle the situation because of his other responsibilities. "Looking at this pathetic situation, I think the federal government will intervene and handle the situation."

Shutdown not a solution

Mehtab Akbar Rashdi of PML-F questioned why Karachi, the economic hub of Pakistan, is being shut amid fear after such incidents. "The markets are closed and roads are giving deserted look. This does not happen in Khyber-Pakhtunkhwa or other places."

Rashidi was of the view that shutting down the city was not the solution. "This is not a solution to the problem. We should consider it and discourage this practice."

Later the information minister diverted the speaker's attention towards Sindh Assembly practice of not taking any business after the death of a sitting MPA and urged that the session be adjourned. "There has been practice and we do not take the business soon after the death of sitting MPA. Please adjourn the session."

Later the speaker adjourned the session till Monday 9.30 am.