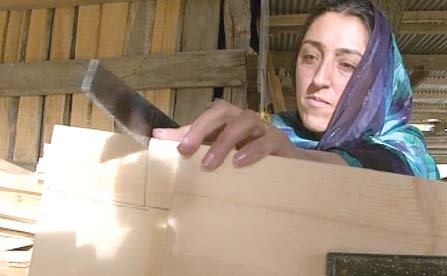 ---
GILGIT:



Nestled under the mountains of the scenic Hunza valley – a rare, utopic area in Gilgit-Baltistan that boasts a near perfect literacy rate – are two neat workshops, spread over two and a half canals of land.




This is the workspace Rubina turned to after completing her twelfth year of education and finding a severe lack of job opportunities. On her sister-in-law's advice, she joined the 58 women that make up a carpentry group – one that has already produced orders worth Rs5 million during the last 6 months.

"Because of my work, I now have a sense of responsibility," says the young Rubina. "I am happy."

Carving out productive spaces

It was in 2003 that a pilot project known as Women Social Enterprise (WSE) was launched in Hunza. Under the Aga Khan Development Network (AKDN), it aimed to provide poor families income opportunities by professionally engaging young girls.  With the passage of time, the WSE has expanded considerably and now employs over 110 women, between 19 and 35 years of age.

In the carpentry section, launched in 2008, most women earn around Rs8,000 per month, whereas the six master trainers get Rs20,000. The salary is in addition to the free pick-and-drop facility provided by the organization.




The larger of the two carpentry workshops has three rooms and some sheds, while the other one has six rooms, one being used as a 'design lab' with fully functional laptops.

"At any time, almost all 58 women are at work in the shops," says Safiullah, a senior manager who heads Aga Khan Cultural Service Pakistan's (AKCSP) Hunza office. "We are very organised. We have a good attendance system in place."

Investing in women and sustainability

According to Salman Beg, the country head of the AKSCP, women development has long been an institutional priority for the AKDN.

"Today, we are seeing many women from G-B emerging as leaders in their respective fields," remarks Beg. "The WSE is a unique attempt at providing marginalised women with what is considered non-traditional skills and trades."

WSE was later named Ciqam, a word that translates to green in the local language and means 'well-being' across Hunza.

The partners who have assisted with the implementation of the project include the embassies of Norway, Finland and New Zealand in Islamabad, the World Bank and Jubilee General Insurance.

For girls like Rubina, this project has been life changing.

"It is a great pleasure to work with other colleagues, including the male trainers," she exclaims. "Usually, I am home by 5 pm, although I can do overtime. From my work, I am able to contribute to my parents. My family members are very supportive, they've never discouraged me from working."

Although Rubina is still an intern and not earning much as yet, she is more than satisfied with the opportunity.

"I am sure I can earn more money soon," she says. "Right now, the experience and exposure is invaluable."

Published in The Express Tribune, June 22nd, 2013.