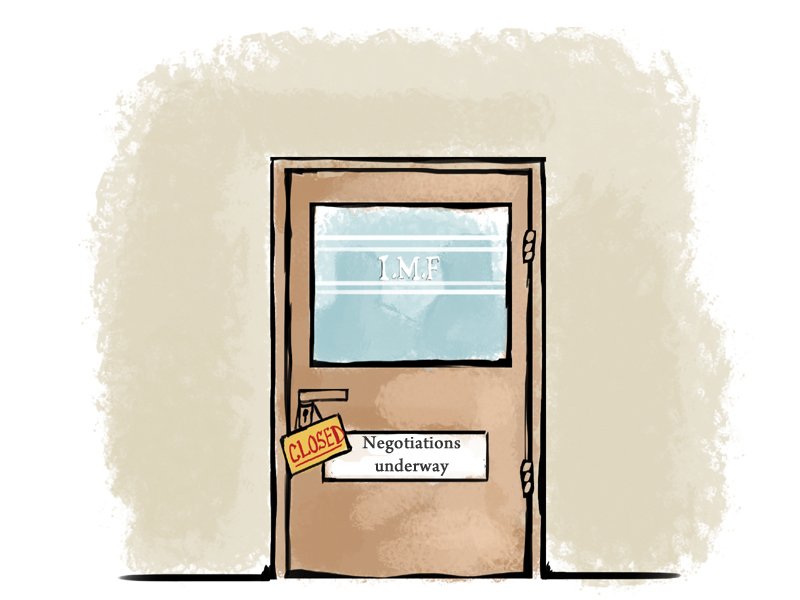 ---
As the negotiations with the International Monetary Fund (IMF) begin, the bureaucrats in the finance ministry appear rather comfortable that they will be able to secure a loan from the Washington-based lender on relatively favourable terms. They would do well to revise those estimations. The IMF is supremely annoyed at the incompetence and dishonesty of the previous administration in fulfilling the promises it made with regards to bringing its financial house in order. The IMF's board of directors is unlikely to be quite so kind this time around — particularly with European nations needing far more assistance than in 2008 — as compared with the last time Pakistan got a bailout.




Negotiations with the IMF often tend to be somewhat uncomfortable moments for the government since it is the only institution to publicly question the pie-in-the-sky assumptions about revenues. For instance, for the past seven years in a row, the federal government has been listing $800 million from Etisalat as revenue expected in the coming year, on account of the $2.6 billion acquisition of its management control in the Pakistan Telecommunications Company. The previous government had been doing so without doing anything to resolve the differences between it and Etisalat that caused that amount to be withheld in the first place.

In addition, for four years, the government has been assuming close to $1 billion in revenue from auctioning 3G mobile telecommunications spectrum in the country, again without having done any homework on actually making that auction a reality. It would have been embarrassing enough had it just been the IMF pointing out these mistakes but, they are so obvious and have been made so often that now, even the Senate finance committee has asked the government to stop deluding itself that this money will ever come in its coffers and come up with a budget that relies on more realistic expectations of revenue.

We would go one step further and argue that the government should stop overtaxing sectors that it finds easiest to tax. Why, for instance, is the telecommunications sector taxed so heavily and the export-oriented textile sector left completely untaxed? It is an unfairness that needs to be addressed.

Published in The Express Tribune, June 22nd,  2013.

Like Opinion & Editorial on Facebook, follow @ETOpEd on Twitter to receive all updates on all our daily pieces.