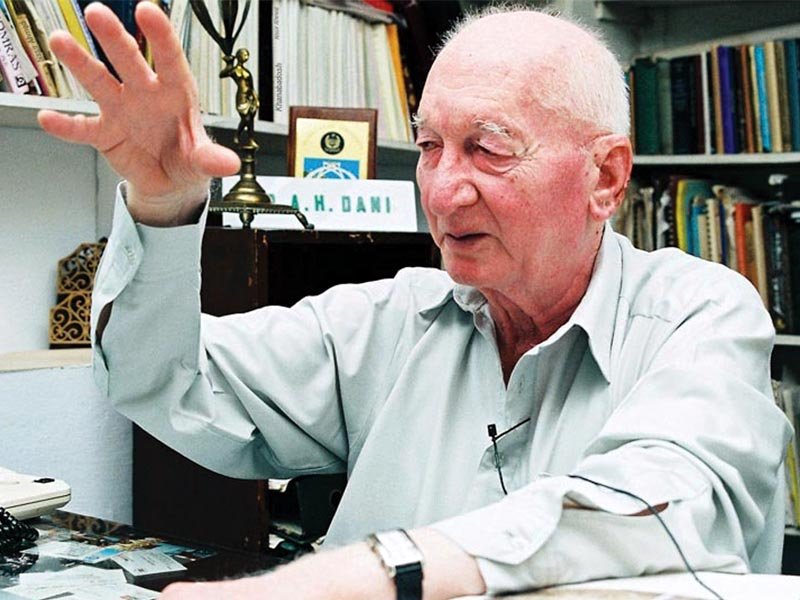 ---
ISLAMABAD:



Professor Ahmad Hasan Dani, one of Pakistan's finest social scientists, was a multi-dimensional scholar who inspired a generation of archaeologists, anthropologists and historians through his devotion to research in multiple fields.




University professors, professionals and students showered praise on Dani at a memorial seminar held at Quaid-e-Azam Univeristy (QAU) on Wednesday. The seminar, which marked Dani's 93rd birth anniversary, was organised by QAU's Taxila Institute of Asian Civilisations (TIAC).

An authority on South and Central Asian archaeology and history, Dani published over 30 books, taught as a professor of history and archaeology at different universities and made several archaeological discoveries including the excavation of a pre-Harappan site in Rehman Dheri and of Gandhara sites in Swat, Peshawar and Dir during his career. The government awarded Dani the Hilal-e-Imtiaz — Pakistan's second-highest civilian award — in 2000 for his achievements and contribution to the Humanities. He was serving as TIAC's honorary director at the time of his death. Dani was born in Chhattisgarh, in present-day India, on June 20, 1920. He died in Islamabad on January 26, 2009, at the age of 88.




TIAC lecturer Rafiullah Khan presented a paper on Dani's work towards popularisation of history — disseminating scientific knowledge to the common people in their languages in a relatable manner. "Dani popularised history through his writings and by using print and electronic media to educate people." Dani also worked towards the preservation of local culture, he said.

Ali Beg, a friend of Dani, said he was a well-known figure from Dushanbe, Tajikistan, to Tashkent, Uzbekistan, because of his extensive research in Central Asia. "Dani was like an ambassador of Pakistan in Central Asia," said Beg, who had travelled with Dani through Central Asia back in 1993.

TIAC Director Professor Dr Muhammad Ashraf Khan said the institute was trying to publish Dani's books that have gone out of print. At the ceremony's conclusion, faculty members and students cut a cake in the TIAC building's courtyard to celebrate Dani's birth anniversary.

Published in The Express Tribune, June 21st, 2013.