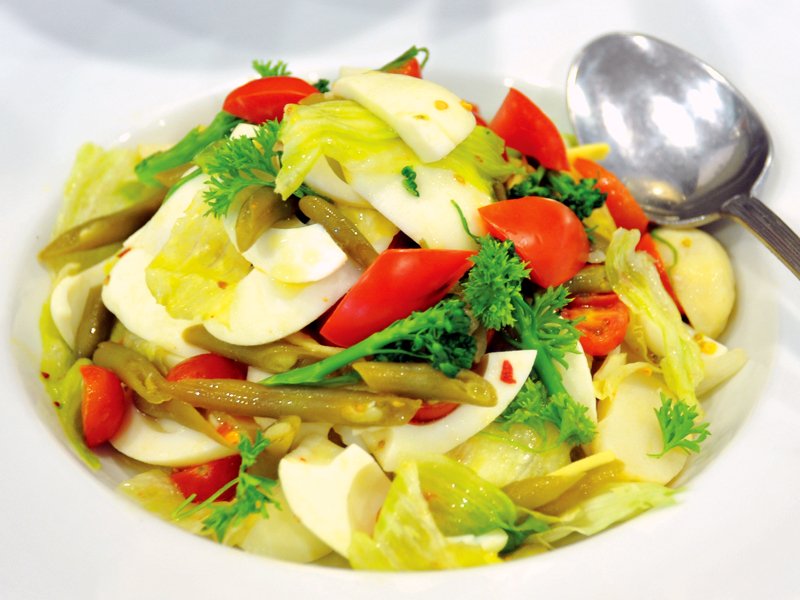 ---
The perfect tossed green salad is a mark of a great cook and a salad made of fresh greens can truly make a meal. Take a moment to learn this recipe for the ideal salad and push yourself a step further towards health and fitness!
Ingredients:
Eggs 2
Tomatoes 2
Broccoli 4 stalks
Cabbage leaves 3
French beans 3 stalks
Virgin oil 2 tbsp
Lemon juice to taste
Sugar to taste
Salt and pepper as desired
Method 
•  Dice the eggs and tomatoes.
•  Separate the broccoli flowers from the stalks.
•  Split the cabbage leaves into 2 pieces.
•  Slice the French beans and then cut them into two.
•  Toss all the vegetables in virgin oil.
•  Add the salt, pepper, lemon juice and sugar mixture and mix thoroughly.
Zeenat Iqbal is a stay-at-home mother of three. In her free time, she enjoys devising new recipes and writing short stories for children. Email her at
[email protected]
for some great cooking advice
Published in The Express Tribune, Ms T, June 23rd, 2013.
Like MsT on Facebook, follow
@TribmagMsT
on Twitter for your dose of girl talk.