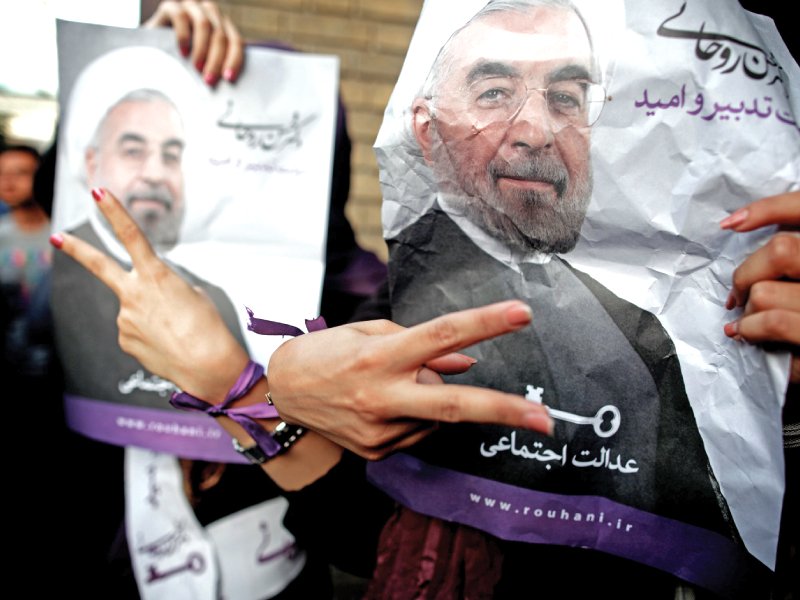 ---
TEHRAN:



Moderate cleric Hassan Rowhani was declared the winner of Iran's presidential vote by a large margin on Saturday after campaigning on a "hope and prudence" platform in which he appealed to traditional conservatives and reform-minded voters alike.




Rowhani won with 50.7 per cent of the more than 36 million votes cast, the interior ministry reported, well ahead of Tehran Mayor Mohammad Bagher Qalibaf with about 16.5 per cent. Hard-line nuclear negotiator Saeed Jalili — who said he was "100 per cent" against detente with Iran's foes — came in third with 11.3 per cent followed by conservative Mohsen Rezaei with 10.6 per cent.

Interior Minister Mostafa Mohammad Najjar said the turnout was 72.7 per cent, suggesting that liberals and others abandoned a planned boycott as the election was transformed into a showdown across the Islamic Republic's political divide. Iran has more than 50 million eligible voters.

Celebrations broke out across Tehran and other cities. Thousands of Rowhani supporters took to the streets leading to his campaign headquarters in Tehran before the final results were announced despite a statement from Rowhani urging his supporters to avoid street gatherings. There were no immediate reports of unrest or attempts by security forces to rein in the crowds — another sign of the sweeping scope of Rowhani's victory with more than three times as many votes as his nearest rival.

Rowhani hailed his victory as one of moderation over extremism, urging world powers to treat Iran with respect.

Published in The Express Tribune, June 16th, 2013.