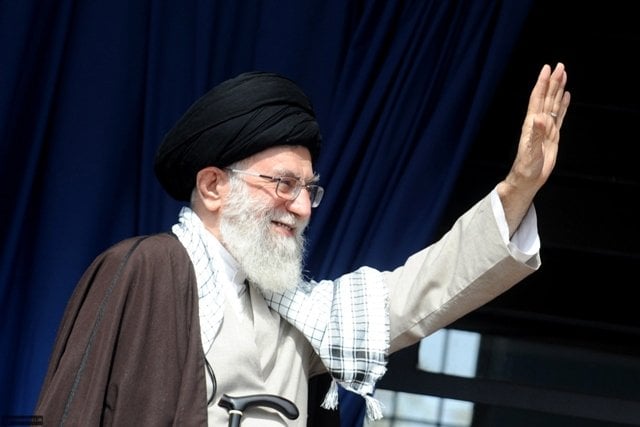 ---
TEHRAN: Iranians were Friday voting for a new president in an election reformists hope their sole candidate will win in the face of divided conservative ranks, four years after the disputed re-election of Mahmoud Ahmadinejad.

Dozens of men and women, in separate queues, were seen outside polling stations as they opened at 8:00 am local time. Voting continues until 6.00 pm but if there is a big turnout the interior ministry can issue an extension until midnight.

More than 50.5 million people are eligible to vote for the man - no women candidates were approved - to succeed Ahmadinejad, who is barred from standing for a third consecutive term under the constitution.

At the same time as choosing a new president from six candidates, voters will also pick municipal councillors.

Iran's supreme leader Ayatollah Ali Khamenei, who has called for a large turnout but not publicly stated his preference for any single candidate, voted early.

"Inshallah, the Iranian people will create a new political epic. I advise all people to vote and do so in the early hours of the morning," said the Iranian leader after casting his ballot.

He also attacked US criticism of the credibility of the presidential poll.

"The hell with you... " who do not agree with the way the election is being run, Khamenei said on national television. "The Iranian people... will do what is in their interest."

If no candidate secures 50.1 percent or more of the votes to win outright on Friday, a second round will be held a week later.

The first results are expected on Saturday.

With the conservative camp divided, reformists seem confident of a good showing by moderate cleric Hassan Rowhani, who has emerged as a frontrunner with a real chance of forcing a run-off, analysts say.

A pack of three heads the conservatives: former foreign minister Ali Akbar Velayati, Qalibaf and the Islamic republic's chief nuclear negotiator, Saeed Jalili.

Both sides, reformist and conservative, have appealed for the electorate to turn out in high numbers - the first hoping for change and the other to show the power of a regime accused of seeking to ensure victory for a Khamenei loyalist.

"It's a duty. I hope the next president can do something for us, and for the workers. I will vote for Qalibaf because he is a good mayor. I hope the promises he made will come true," said a 50-year-old woman in a voting queue.

Former president Akbar Hashemi Rafsanjani who was disqualified from running, urged a large turnout, which analysts say will increase the chances Rowhani putting up a credible fight against the conservatives.

"We hope the election result will lead to national cohesion ... since cohesion is a requirement for success against foreign and domestic dangers," said Rafsanjani, who has thrown his weight behind Rowhani.

For both reformists and conservatives, the key on Friday will be to mobilise abstentionists who demonstrated against Ahmadinejad's re-election in 2009, alleging massive electoral fraud.

The authorities cracked down hard on deadly street unrest sparked by that result, leading to the eventual detention under house arrest of two reformist candidates, Mir Hossein Mousavi and Mehdi Karroubi.

Campaigning this time has been dominated by two issues: Iran's controversial nuclear ambitions and a devastated economy hit hard by international sanctions because of those ambitions.

Inflation is raging at more than 30 percent, the rial has lost nearly 70 percent of its value, and unemployment is rising.

Both Western powers and Iran's arch-foe Israel accuse Tehran of seeking to develop atomic weapons under the guise of a civilian nuclear energy programme, a charge Iran vehemently denies.

Regional tensions have also soared over Iranian support for Syria's President Bashar al Assad, a key ally whose regime has faced an uprising for more than two years.

Rowhani, Iran's top nuclear negotiator under reformist president Mohammad Khatami, has a "softly softly" approach towards negotiations with world powers in the hope of reducing the impact of sanctions.

The conservative camp is split, with no single name to the fore.

Velayati says his foreign policy is to improve Iranian relations with the outside world, including talks with world powers, but Jalili sticks to a hardline policy that rules out making concessions.

Qalibaf - ahead in unofficial public opinion polls - has pledged total allegiance to Khamenei, and accuses Rowhani of wanting to make concessions to the West.

In 2003, when Rowhani was Iran's nuclear negotiator, Tehran agreed to suspend uranium enrichment. It was restarted after Ahmadinejad first became president in 2005.

Internet social networks blocked after they were used to rally protests against Ahmadinejad's re-election four years ago have urged abstentionists not to waste their votes this time around.

"I will vote because the consensus of those wanting to save Iran is on Rowhani," said a man named Ali on his Facebook page.
COMMENTS (1)
Comments are moderated and generally will be posted if they are on-topic and not abusive.
For more information, please see our Comments FAQ