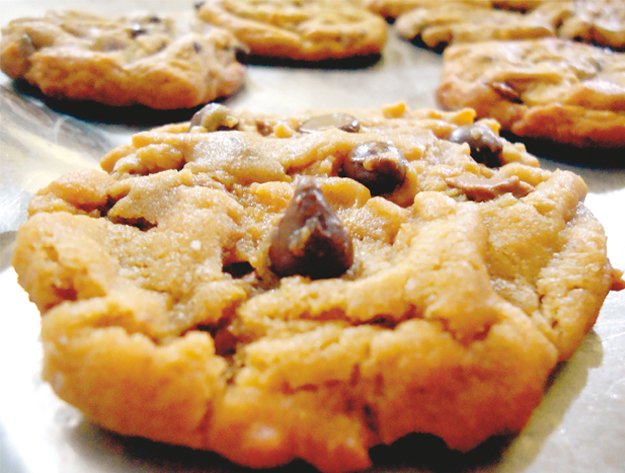 ---
KARACHI:



My family and I have a major sweet tooth and thanks to that, I have grown up watching my mother busy in the kitchen making baked goodies. I still remember how our kitchen would brim with the smell of freshly baked cookies and pound cakes.




Hence, I just could not keep myself from developing a love for these baked delights and desserts. Here are some easy-to-make dessert recipes you can try next time you have guests over.

Zafrani kheer (rice pudding with saffron)




This is my mother's easy-peasy recipe of the otherwise strenuous dessert.

Ingredients

Rice: one cup

Milk: one litre

Sugar: two cups

Cardamom: four to five pieces

Pure saffron: a few strands

Kewra essence (fragrant screw pine water): two teaspoons

Mixed nuts (pistachio, almonds and walnuts): half cup, crushed

Rose petals: dried and crushed for garnish

Silver varq: a few linings for garnish

Coconut shavings: for garnish

Method

Soak rice in water for half an hour. Then put the rice and the water it was soaked in, in a blender and mix until lightly crushed. Pour milk in a large cooking vessel and throw in the cardamom. Bring it to boil and add rice. At this point, you don't leave it unattended and keep stirring, or else, the rice will turn into lumps.

Next add sugar in four rounds, and then add saffron and kewra essence in the mixture. Once the mixture starts to condense, reduce the flame and let it cook for 10 minutes. Take it off the flame and let it cool and after sometime, dish it out and refrigerate it

Garnish with crushed nuts, coconut shavings and crushed rose petals. Serve chilled and enjoy the admiration!

Chocolate angel dessert




God knows who named it that, but I learnt this recipe when I was 18 years old and I have been in love with its simple method and great taste. This no-bake dessert barely takes 20 minutes for preparation and an hour to set.

Ingredients

Milk chocolate: 150gm

Fresh cream: one and a half cup

Marie biscuits: one family pack

Sugar: 12 tablespoons or 3/4 cup 

Method

Melt chocolate on a water bath (keep some for garnishing) and put it aside. In a mixer, whip cream with sugar until it's foamy and stiff. Then start layering all three ingredients in a glass dish. Start by crushing the biscuits to form a base, press it with your hands to make sure it's firm. Then pour 1/3 cup of cream and the melted chocolate in swirls. Repeat three times until you have the last layer of chocolate on top.

Pop it in the freezer for a good two hours until it's frozen. Cut into squares and serve with a scoop of vanilla ice cream and drizzle the remaining chocolate over it. Tada!

Peanut butter and chocolate chip cookies




Ingredients

Peanut butter: one cup

All-vegetable shortening (you can use butter too, but shortening works best to get softer cookies): 1/2 cup

Vanilla essence: one teaspoon

Eggs: two

White sugar: 3/4 cup

Brown sugar: one cup

All-purpose flour: one cup

Baking soda: one teaspoon

Chocolate chips (I prefer using Hershey's): 1/2 cup

Milk chocolate (you can substitute it with cooking chocolate, too): 100gm crushed

Salt: for sprinkling

Method

In a bowl, sift together flour and baking soda and put it aside. In another bowl, cream shortening and peanut butter well. When it's nicely mixed and fluffy, add both kinds of sugar and keep the beater on medium speed. When the mixture is blended well, add the eggs and vanilla extract and beat the mixture, until well-incorporated.

Turn your beater's speed down and add flour in gradually (make sure you don't put all of it in one go, otherwise the mixture will not blend well). At the end, add the chocolate chips and crushed chocolate. At this point, don't use a blender. Fold the chocolate in the dough with the help of a spatula.

Freeze the dough for at least an hour. Then scoop out small balls of the dough and place it on a baking tray (lined with parchment paper) and press your thumb on the ball in order to turn it into the shape of a cookie. Sprinkle some salt on top but make sure you go easy on it as you don't want to choke on the salt later (it does happen)!

Pop the tray into a pre-heated oven at 180 degrees for 14 minutes or until the crust turns light brown. Take out  the cookies and place them on a wire rack and let them set for two hours. Enjoy the gooey, chewy cookies.

Published in The Express Tribune, June 10th, 2013.                                                                                        

Like Life & Style on Facebook, follow @ETLifeandStyle on Twitter for the latest in fashion, gossip and entertainment.