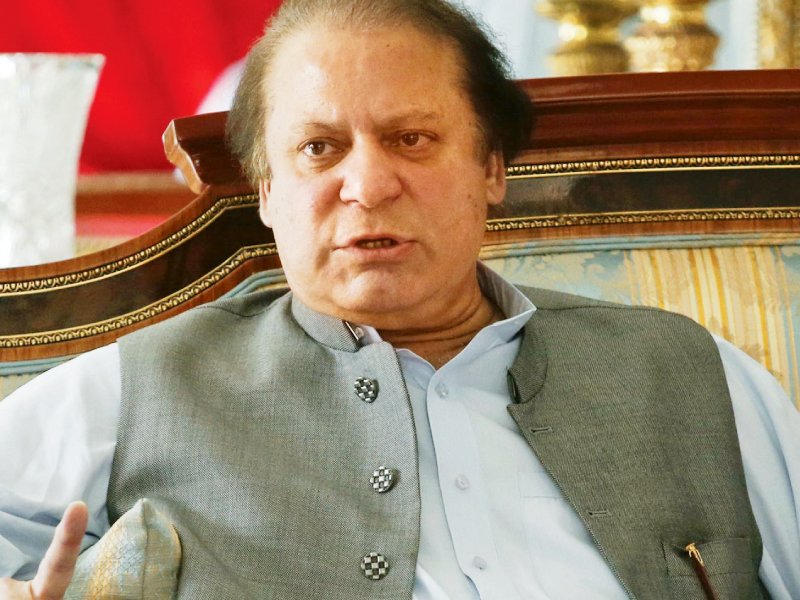 ---
ISLAMABAD:



Solemnly pledging to discharge their duties honestly and in accordance with the Constitution, the 25-member federal cabinet took oath on Friday two days after Prime Minister Nawaz Sharif assumed office as the country's chief executive.




Out of the 25 cabinet members, 16 took oath as federal ministers while nine were sworn in as ministers of state or junior ministers.

With the new prime minister by his side, President Asif Ali Zardari administered the oath to the new cabinet, signalling the culmination of the transition of power from one civilian government to another.

National Assembly Speaker Ayaz Sadiq, the services chiefs, parliamentarians, diplomats and senior officials witnessed the swearing in ceremony.

The federal ministers who took the oath of the office include Ishaq Dar, Chaudhry Nisar Ali Khan, Abdul Qadir Baloch, Shahid Khaqan Abbasi, Rana Tanvir, Khwaja Muhammad Asif, Saad Rafiq, Zahid Hamid, Sardar Yousuf, Pervez Rasheed, Kamran Michael, Sikandar Bosan, Sadruddin Rashdi, Ahsan Iqbal, Barjees Tahir and Murtaza Jatoi.




The ministers of state who took oath include Mian Balighur Rehman, Usman Ibrahim, Khurram Dastagir, Jam Kamal, Sheikh Aftab Ahmed, Abdul Haleem Baloch, Saira Afzal Tarar, Anusha Rehman and Pir Aminul Hasnat.

The portfolios of federal and state ministers were notified following their oath taking. Ishaq Dar was appointed as the Minister for Finance, Revenue, Economic Affairs, Statistics and Privatisation, Chaudhry Nisar Ali Khan as Minister for Interior and Narcotics Control, Abdul Qadir Baloch as Minister of States and Frontier Regions (SAFRON) and Shahid Khaqan Abbasi as Minister for Petroleum and Natural Resources. Rana Tanvir has been allotted the portfolio of defence production while Khwaja Muhammad Asif has received the most challenging portfolio – the Ministry of Water and Power. Saad Rafiq has been given charge of the Ministry of Railways while Zahid Hamid has been allotted the Ministry of Law, Justice and Human Rights.




Apart from Ishaq Dar, the two other senators who took oath as federal ministers were Pervez Rasheed (Minister of Information, Broadcasting and National Heritage) and Kamran Michael (Minister for Ports and Shipping). Sikandar Bosan has been inducted as Minister for National Food Security and Research, Pakistan Muslim League-Functional's Sadruddin Rashdi has been given the office of the Minister of Human Resource Development and Overseas Pakistanis, Ahsan Iqbal has been allotted the Ministry of Planning and Development and Sardar Yousaf has been appointed as the Minister of Religious Affairs and Interfaith Harmony. Barjees Tahir has been appointed as the Minister for Kashmir Affairs and Gilgit-Baltistan, and National Peoples Party's Murtaza Jatoi the Minister of Industries and Production.




The Ministers of State include Mian Balighur Rehman (education, training and standards in higher education), Usman Ibrahim (housing and works), Khurram Dastagir (science and technology), Jam Kamal (petroleum and natural resources), Sheikh Aftab Ahmed (parliamentary affairs), Abdul Haleem Baloch (railways) and Pir Aminul Hasnat (religious affairs and interfaith harmony).




Two women parliamentarians have been included as junior ministers, namely Saira Afzal Tarar (national health services, regulations and coordination) and Anoushey Rehman (IT and telecom).

Interestingly, Prime Minister Nawaz Sharif has kept two key portfolios, that of foreign affairs and defence, with himself.

Some political analysts believe the new premier took this step as an attempt to establish civilian supremacy over the affairs of these two crucial ministries, which have traditionally been the domain of the military establishment.




In addition to the federal and state ministers, Sartaj Aziz has been appointed as the Advisor to the Prime Minister on National Security. He has also been given the additional responsibility of the advisor on foreign affairs. Capt (retd) Shujaat Azeem has been appointed as the Advisor to the Prime Minister on Aviation.

Sanaullah Zehri has been appointed as a Special Assistant to the Prime Minister with the status of a federal minister, while Tariq Fatemi has also been appointed as Special Assistant to Prime Minister on Foreign Affairs with the status of a minister of state.

Of the cabinet members who took oath, 19 belong to Punjab, the stronghold of PML-Nawaz. Three members belong to Sindh – one each from PML-N's allied parties PML-F and the NPP. Two cabinet members hail from Balochistan and one belongs to Khyber-Pakhtunkhwa.




Three of Sharif's federal ministers Zahid Hamid, Sikandar Bosan and Sardar Yousuf have served as ministers between 2002 and 2007, when PML-N's breakaway faction PML-Quaid ruled the country with then president Pervez Musharraf.

Another probable name in the cabinet who reportedly could not reach the Presidency in time to take the oath, Riaz Pirzada. was a minister under the Pakistan Peoples Party-led government as a member of PML-Q.

Amir Muqam, who had joined PML-N but lost the 2013 elections, is likely to be appointed as the advisor to the prime minister on communications at a later stage. Shaukat Tareen may also be appointed as advisor at some later stage, sources said.

Although the size of the cabinet has far exceeded earlier projections – initial reports suggested the cabinet would not include more than a dozen or so members – it is still very much within the limit prescribed by article 92 of the Constitution.

Sartaj Aziz 




Aziz served as finance minister during both the first and second terms of Prime Minister Nawaz Sharif. In 1984, Aziz served Gen Ziaul Haq's govt as minister of state for food, agriculture and cooperatives. Aziz was appointed minister of finance, planning and economic affairs in Nawaz's cabinet from 1990 to 1993. After the PML-N's victory in the 1997 elections, Aziz was re-appointed finance minister. His last assignment was at the foreign ministry.

Kamran Michael 




Michael is a Christian businessman who served as a minister in the Punjab cabinet before his election as senator last year.  He has served as member of the Punjab Assembly during 2002-07. Michael returned to the Punjab Assembly for a second term in 2008 on one of the eight seats reserved for minorities.  He has also served as minister for human rights and minorities in the
Punjab Assembly.

Abdul Qadir Baloch 




General (retd) Abdul Qadir Baloch, who has been elected twice to the NA from his constituency in Quetta, holds the distinction of being the first ethnic Baloch general in Pakistan Army. He has also served as governor of Balochistan during Gen Musharraf's regime.  He served as the corps commander of Quetta before retiring prematurely to take up the  post of governor.

Zahid Hamid 




He is the son of Khawaja Rafiq, a Pakistan Muslim League leader, who was assassinated in the 1970s.

Zahid Hamid also served as Federal Minister for Privatisation and Investment and then as Law Minister in the Musharraf government, but joined the PML-N before the 2008 elections. A lawyer by profession, Hamid has extensively debated legal issues in the previous government. He is the principal drafter of Pakistan Environmental Protection Act 1997. 

Khawaja Saad Rafique




Saad Rafique is a senior politician and PML-N member, who has been winning National Assembly elections from Lahore for the last three general elections -- 2002, 2008 and 2013. Being a central leader of PML-N, he also served as Federal Minister for Culture, with the additional portfolio of Youth Affairs for four months in Prime Minister Yousaf Raza Gillani's first cabinet.

Anusha Rehman




State Minister Anusha Rehman is a lawyer by profession, a senior parliamentarian and old worker of the PML-N. In the previous assembly, she was a member of the National Assembly Standing Committee on Law and Justice. She served as the women wing leader of the PML-N in Lahore. Also, she has pleaded various cases in the superior courts.

Khawaja Asif 




In the 2013 general elections, he was elected for the fourth term as a member of the National Assembly on PML-N's ticket. He was elected as an MNA in the years 1993, 1997, 2002, 2008 and 2013. He also served as a senator during the years 1991–1993. In the Nawaz Sharif's cabinet of 1997–1999, Khawaja Asif held the portfolio of Chairman Privatisation Commission, with the status of a federal minister. 

Ahsan Iqbal 




PML-N deputy secretary general Ahsan Iqbal is also a member of the party's Central Executive Committee. After student politics in Lahore, he joined Pakistan Muslim League in 1988, which later went on to become PML-N.  Iqbal was elected for the first time from NA-90 in the 1993 elections, and later re-elected from the same constituency in 1997. He won his seat again in 2008 and 2013.

Shahid Khaqan Abbasi 




Abbasi, the founder and CEO of Airblue airlines, served as the minister for commerce in 2008 for a brief period. He has also served as chairman and CEO of PIA from 1997 to 1999. Abbasi obtained a Bachelor of Science in electrical engineering from University of California, Berkeley. He went on to study for a Masters degree in Electrical Engineering from George Washington University, Washington DC.

Ishaq Dar Finance minister 




Muhammad Ishaq Dar is a chartered accountant by profession and a leading financial-cum-economic expert. He has also served as leader of opposition in the Senate.  He was made finance minister for the first time in November 1998 in the second term of the Nawaz Sharif led PML-N government and was picked for the same office for a brief period by the short-lived PPP-PML-N coalition government in 2008.

Chaudhry Nisar Ali Khan 




Chaudhry Nisar started his political career in the 80s, and has won eight consecutive elections for the National Assembly from his Rawalpindi constituency. He has previously served as minister of science and technology and as the minister of petroleum and natural resources for two terms.  After the 2008 elections, Khan was appointed leader of the opposition and became chairman of the Public Accounts Committee. He later resigned.

Tariq Fatemi 




Tariq Fatemi, a former career diplomat, is a regular columnist for The Express Tribune. Besides numerous assignments in foreign missions abroad, Fatemi has served as High Commissioner to Zimbabwe, with concurrent accreditation to Angola, Botswana, Namibia and Zambia, and also as ambassador to the US for three months. Later, he served as envoy to Jordan, and was ambassador to Belgium and Luxembourg and Head of Mission to the EU.

Published in The Express Tribune, June 8th, 2013.
COMMENTS (12)
Comments are moderated and generally will be posted if they are on-topic and not abusive.
For more information, please see our Comments FAQ