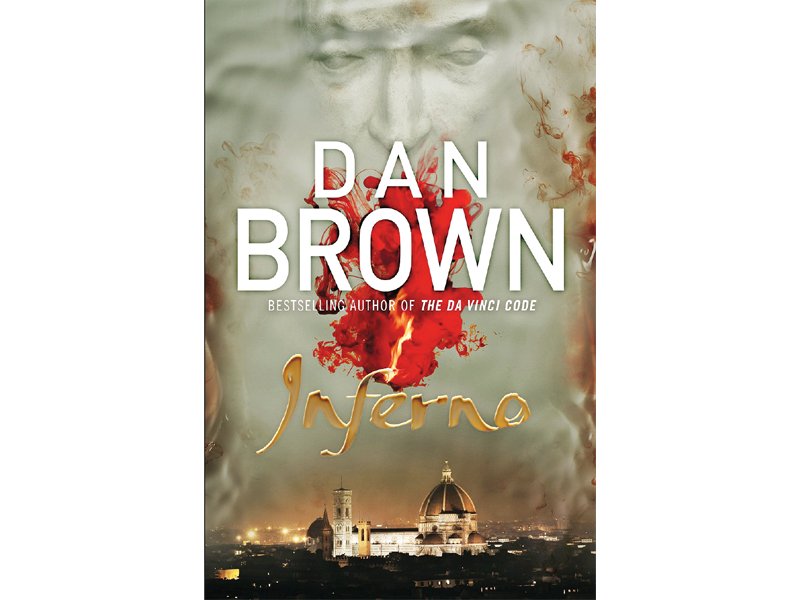 ---
Inferno is 461 pages of predictable, formulaic, unbelievable, breathless action that starts with Robert Langdon, our invincible Harris Tweed-clad academic, who sprints injured from a hospital bed in what he discovers is not New England but Florence, Italy. Only, this time he also has amnesia!

This book's plot is overly ambitious even by Brown's standards. Yet, more than 200 million copies of his books have already been sold. Indeed, the writer continues to command a fan-base for whom he is a demagogue. Hence, what critics think may be one of his worst works is already a chart-topper.

Brown's readership is already acquainted with Langdon, art historian cum symbologist cum iconographer cum world-saviour, all in one. He lands in the most unthinkable situations with the world's most gorgeous, brainy and spirited women (in Bond 007 fashion), and together they solve hidden mysteries, connecting the dots of symbology, just in the nick of time to ward off an apocalypse plotted by crazed men. With the blonde doctor, Sienna Brooks, the lucky-in-love Langdon finds himself racing through Florence, Venice and Istanbul. Istanbul clearly steals the show from Italy here.




Brown's books are inspired by some of the most influential individuals, cults or books of the past. This time, as the name suggests, it is part one: "Inferno" of Dante Alighieri's 14th century epic poem Divine Comedy.

In a standard Dan Brown 24-hour time limit, Langdon with his beautiful side-kick races to find a weapon of mass destruction created by a mad scientist as a solution to over-population in the world that is threatening the human species with extinction. This weapon is created to cut down a major chunk of the human population. Here, we see dark and twisted reflections of the neo-Malthusian theory at work.

Despite all the predictability, Brown's art reigns over boredom. He manages to keep the reader glued.

His earlier books brought to life the Illuminati and the Holy Grail. This time round, global interest in Dante's Inferno has re-surfaced. Dante has risen yet again, which more than the book itself, might be an off-shoot contribution from Brown. In a world that is quickly losing touch with epic poetry, the return of classics to the sphere inhabited by the mainstream reader is a good thing. It has certainly helped revive tourism in Florence, as Dante fever grips the city beside river Arno.

In Inferno, we see Brown struggling with his malapropistic tendencies, having fallen into the rut of predictability. But as long as Brown has a die-hard readership that enjoys the conspiracy theory formula, he is still in the running, and some of the flack he gets is a bit unfair, as his novels are fun reads.

The Divine Comedy by Dante Aligheiri




Divided into three Canticas (hymns), The Divine Comedy is a poem about Dante's journey through the three domains of the afterlife; Inferno (Hell), Purgatorio (Purgatory) and Paradiso (Paradise). The first Cantica, Inferno sees Dante descend into the depths of Hell. Guided by Virgil's ghost, he goes through nine circles of Hell. The poem is a literal and allegorical attempt to find God and seek redemption.

The Psalter by Galen Watson




An ancient manuscript, the Psalter, is discovered by Michael Romano, a sceptical custodian of the Vatican library. An ancient manuscript expert, he is known to be inquisitive and meddlesome, traits the Church Inquisitors do not appreciate and for good reason. The manuscript leads Father Romano down a path of secrets and betrayals. It also brings to light medieval secrets that have long been buried.

The prophetess by Barbara Wood




Set in the Sinai Desert at the onset of the millennium,
The prophetess, narrates the story of archaeologist Catherine Alexander who has just discovered six ancient scrolls. These scrolls contain secrets that governments desperately want to know. There is however a missing seventh scroll concealing an even more important secret. Catherine battles super powers and intelligence agencies to get her hands on this scroll before they do.

Published in The Express Tribune, Sunday Magazine, June 9th, 2013.

Like Express Tribune Magazine on Facebook, follow @ETribuneMag on Twitter to stay informed and join the conversation.