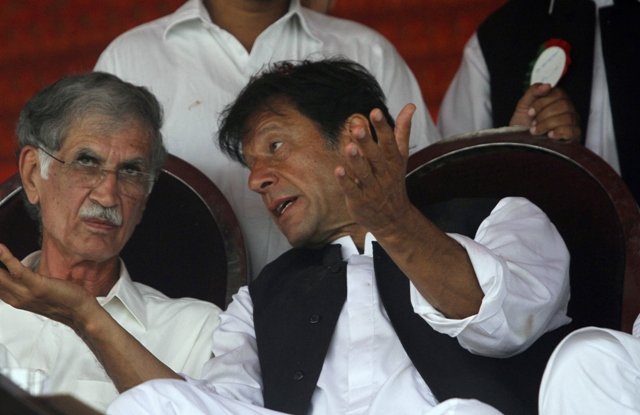 ---
PESHAWAR: Going one better on Pakistan Tehreek-e-Insaf (PTI) chairman Imran Khan's claim of ending corruption in 90 days, Khyber-Pakhtunkhwa chief minister Pervaiz Khattak claimed on Monday that he will end it in only 30 days.

Khattak was speaking to Shahzeb Khanzada on his show "To the point" on Monday.

Dilating his plans to tackle corruption, the new K-P CM said no development funds will be given to MPAs and all work will be done through open tenders.

"Once the local government will be in place, all the powers will be delegated to village level," he added.

Capital city

Responding to a comment comparing the capital cities of the four provinces, Khattak said Peshawar is K-P's face and sadly it is not in good condition.

He vowed to completely change the city for the better.

K-P vs Punjab

On a question regarding his competition with Punjab Chief Minister-elect Shahbaz Sharif, Khattak boasted that Shahbaz will be following him rather than the other way around.

"I'm more experienced in terms of politics," he claimed.

Education

Reiterating PTI's stance of declaring education emergency, Khattak lamented that multiple education systems have created class differences in the society.

Load shedding

On ending load shedding in the province, the K-P CM said the province has money for power generation and it will do so.

He, however, added that energy produced by the province goes to the national grid and the federal government is responsible for its distribution.

K-P committee

Clarifying how the PTI committee for K-P will work, Khattak said the committee members will advise Imran on issues related to the province, who in return will discuss them with us.

The committee is reported to be headed by the PTI chief and will consist of handpicked members including Asad Umar, Jahangir Tarren, Shah Mehmood Qureshi, Javed Hashmi, Asad Qaiser, Pervaiz Khattak and Atif Khan.

Nepotism

Responding to a question related to news making rounds on social media of him getting his family women on reserved seats, Khattak said all of the MPAs were selected for the seats on merit.

PTI's future

Admitting that PTI's future will be based on how the party will deliver in K-P, Khattak said he knew how big this challenge was and he accepted it because he knows things can be changed.