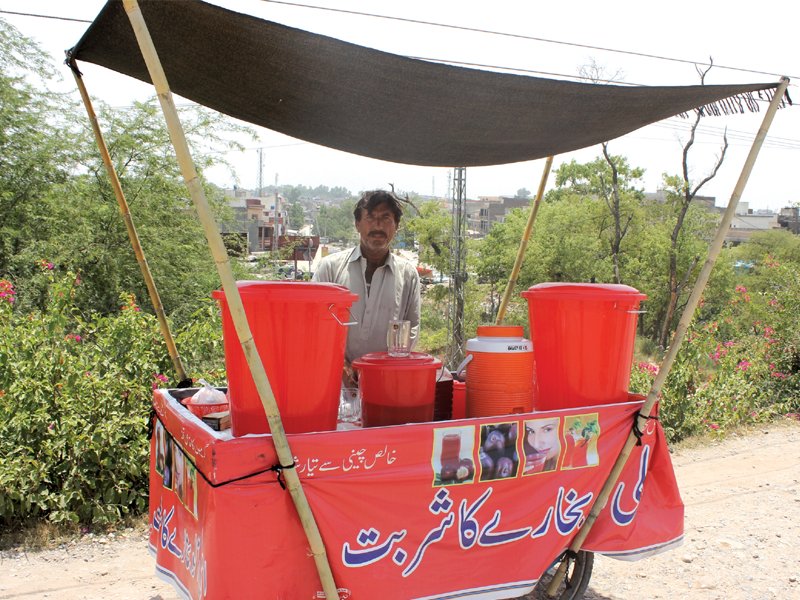 ---
ISLAMABAD: Under the shade of a tattered, makeshift tent, Fazal Ghafoor pours water from a steel glass into a blue jerry can tucked between two slightly larger water drums.

Thirty year-old Ghafoor is trying to melt a solid slab of ice — floating in the jerrycan — by pouring water on top of it. He wants the water to chill quickly, without consuming too much of his precious time.

With a steel jug clutched tightly in his other hand, Ghafoor is a modern-day maashki — or water carrier. He sells drinking water to people at the bustling Khanna Pul bus station on Islamabad Highway.

In the dry heat of summers, water carriers such as Ghafoor are a familiar sight at bus stops around the twin cities. Heat-stricken commuters, van conductors and drivers serve as their main customers. Even though the demand for cool drinks soars with the summer heat, water carriers — much like other sherbet and lemon soda vendors — continue struggling to make ends meet.

The going rate for a glass of soothing cold tap water is three to five rupees, but even that is negotiable, Ghafoor claims.

"If someone wants to pay more, they are obviously welcome," Ghafoor said, adding, "Even if they don't pay at all, we feel we have done a good deed by quenching people's thirst".




Ghafoor, a resident of the Zia Masjid area, termed his water-providing service a 'seasonal occupation'. During the rest of the year, he works as a daily-wage manual labourer.

Muhammad Irshad, another water carrier who works as a mechanic during the cooler months of the year, said he earns around Rs200-300 by the day's end.

"It is barely enough to keep my household afloat, but it is better than the daily wage work which cannot be relied upon," Irshad said.

Even vendors who sell lemon soda and other summer beverages such as tamarind-plum sherbet say the returns are barely enough to sustain their families.

In Aabpara Market, Muhammad Saeed, who sells lemon soda from a sidewalk stall, said the price of a five-kilo sack of lemons has doubled from Rs700 to around Rs1,400 in the last year.




The increased cost of production meant Saeed had to raise the prices of regular and disposable glasses of soda by Rs5 each, bringing it to Rs30 and Rs35 respectively. "I use around Rs2,000 worth of lemons in a day's work," he said, adding that he needs to set a price that gives him profit.

Heat cost and hygiene issue

The water carriers' most significant outlay is on large blocks of ice that costing around Rs100 and melt in just a couple of hours due to the blistering heat, Ghafoor informed.

The twin cities witnessed an unusual heat wave in mid-May, and despite occasional rains, temperature highs have remained in the 40s. The Pakistan Meteorological Department has predicted that the hot spell will continue in Islamabad, with only intermittent showers during the next week.

Irshad and Ghafoor both fetch water from nearby taps at a police check point and a compressed natural gas (CNG) station respectively. The quality of water is questionable — it might even put people at the risk of waterborne diseases — but in the intense summer heat, any water — especially chilled water —is a must have. It also serves a higher purpose, according to Ghafoor.

"If it were not for these water carriers, brawls would be breaking out at these bus stops every five minutes," said a smiling Muhammad Jamshed, a commuter who, before accepting his glass of water, told Ghafoor he will not pay for it.

Published in The Express Tribune, June 3rd, 2013.