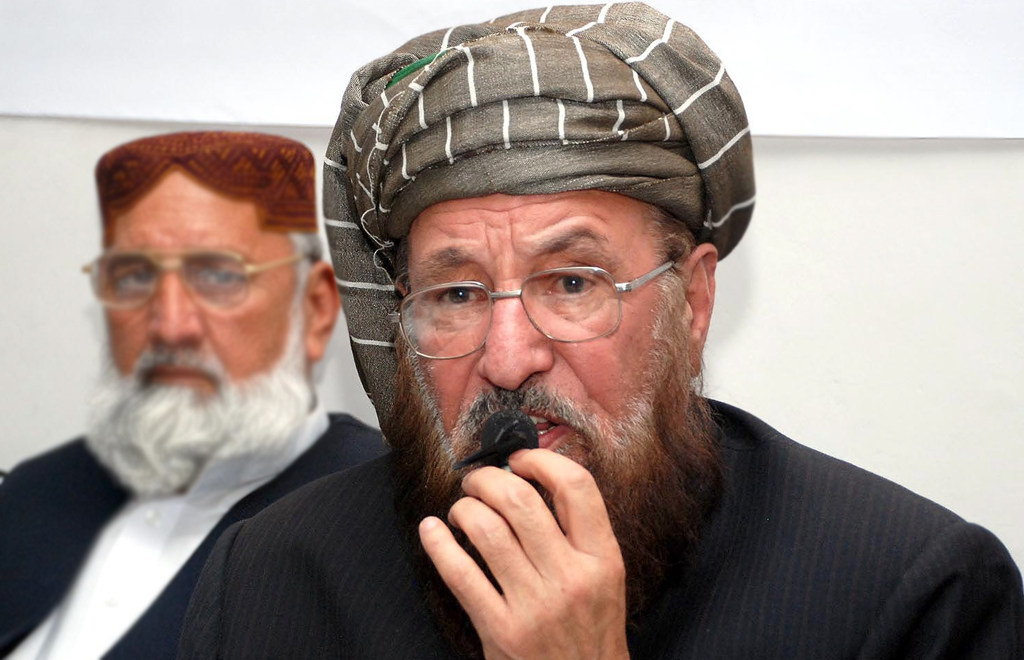 ---
ISLAMABAD:



Confirming the death of its deputy leader in a US drone strike a day earlier, the Tehreek-e-Taliban Pakistan has withdrawn its earlier offer for peace talks with the incoming government.




"I confirm the martyrdom of Waliur Rehman Mehsud in a drone strike on Wednesday. We are shocked and very sad at the martyrdom of our leader but are proud of his sacrifices," TTP spokesman Ehsanullah Ehsan told The Express Tribune via phone on Thursday. He said the Taliban consider the Pakistan government fully responsible for Rehman's death and believe it is complicit in the US drone campaign in the tribal areas.

"We believe all drone strikes are carried out with the consent of the Pakistani government and information is passed on to Americans by Pakistani authorities," he maintained. "The US is carrying out the strikes on the behest of the Pakistani establishment and Pakistani intelligence agencies are also partners in the drone campaign."




The TTP have already appointed a new deputy chief to replace Waliur Rehman. According to sources in North Waziristan, the group has appointed Khan Syed as his replacement.

Ehsan claimed that the drone strikes had rendered the dialogue offer useless. "That is why the Taliban central 'shura' has decided to completely cancel the offer, Ehsan added. "We had made a sincere offer of peace dialogue with the government but we strongly believe that the government has a role to play in the drone strikes."

He vowed that the TTP would avenge the killing of its deputy chief.

"Now we will take revenge… talks can not be held when our leaders are being killed in drone strikes with the help of Pakistani government," he added. Ruling out the possibility of reconsidering peace talks, the TTP spokesman issued a very typical threat.

"This is now a final decision… We will teach a lesson to Pakistan and United States for depriving us of our leader."




Waliur Rehman was killed along with several other militants in a US drone strike targeting a compound near Miranshah, the headquarters of North Waziristan Agency, on Wednesday.

Taliban circles say that Rehman, 42, was a strong supporter of dialogue to end the bloodshed in Pakistan and his death was believed to be a setback to the elusive peace process.

Tribal journalists, who had interviewed the slain TTP deputy commander, said he was a 'ray of hope' for the talks.

Sailab Mehsud, former president of the Tribal Journalists Association, said that Rehman's death has killed prospects for possible peace talks between the TTP and the new government.

The TTP founder Baitullah Mehsud, who was also killed in a US drone strike in August 2009, had named Waliur Rehman his successor in his will, Sailab told The Express Tribune.

Waliur Rehman's successor

Reportedly, the TTP have already appointed a new deputy chief to replace Waliur Rehman. According to sources in North Waziristan, the group has appointed Khan Syed as his replacement.

A TTP committee met late on Wednesday to choose a deputy after Rehman was buried in a low-key ceremony, three Taliban members told Reuters. According to sources, the slain deputy chief was buried at Khati Kaley near Miramshah.

"There was absolute consensus over Khan Syed [for deputy chief]," said one Taliban member said.

The new supposed number two, Khan Syed, 38, formerly served as Waliur Rehman's deputy. He was involved in planning the 2011 attack on PNS Mehran, in which 18 people were killed, and the 2012 Bannu jail break, where nearly 400 militant inmates escaped, the members said.

TTP spokesman Ehsanullah Ehsan did not confirm reports regarding the slain TTP deputy chief's successor.

Reactions

Condemning the drone strike that killed the TTP deputy chief, Pakistan Tehreek-e-Insaf chief Imran Khan has said that prime minister-in-waiting Nawaz Sharif should start his term by shooting down a US drone.

"The nation has given Nawaz Sharif a mandate against drone attacks. If the US cannot be convinced to stop the campaign, then the government should start shooting them [drones] down," he said in a statement on Thursday.

"We shall support Nawaz, but he should fulfill his responsibility… drone attacks cannot be tolerated at any cost," he added.

Jamiat Ulema-e-Islam-Samiul Haq (JUI-S) chief Maulana Samiul Haq, meanwhile, condemned Waliur Rehman's killing saying the incident had sabotaged the peace process between the militants and the Pakistani government.

In a telephonic interview on Express News, Haq claimed, "America sabotages the process, whenever peace talks are proposed."

The JUI-S leader also said that Pakistan must prove to the Taliban that it was not complicit in the killing of Rehman. "The first priority for Pakistan should be to launch an investigation into this incident. And Pakistan must prove that it was not complicit in this attack."

Chief of JUI-Fazl, Maulana Fazlur Rehman also expressed regret at Rehman's killing and the lost opportunity for peace talks.

"I regret the Taliban's withdrawal of their offer for talks, and I believe they did so in despair… International forces have lost an opportunity to see peace in Pakistan," Fazl said on Twitter.

"The next government has to evolve a coherent strategy on drones. We need to revisit our thinking and policies to bring peace and move forward," he added.



Published in The Express Tribune, May 31st, 2013.
COMMENTS (18)
Comments are moderated and generally will be posted if they are on-topic and not abusive.
For more information, please see our Comments FAQ