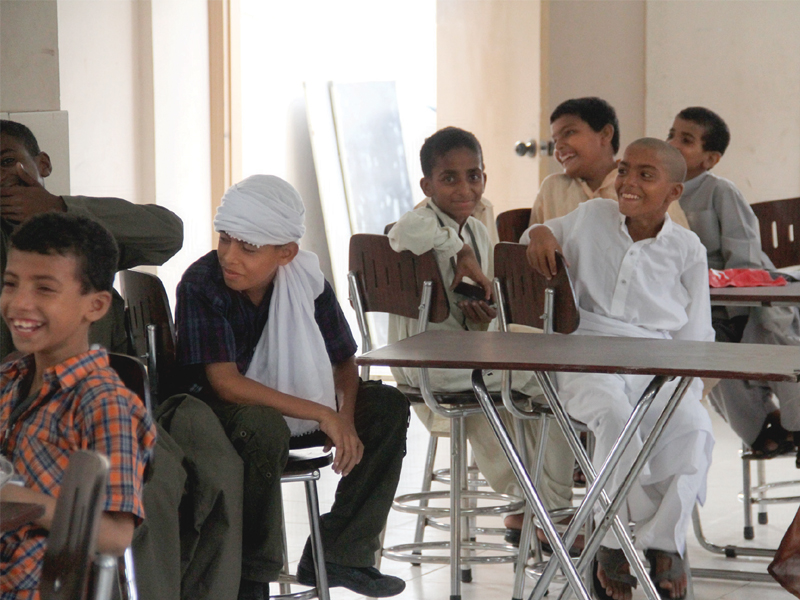 ---
KARACHI:



The streets of Paris are lined with cafes which were frequently visited by F Scott Fitzgerald and Ernest Hemingway while the subcontinent's literary giants Faiz Ahmed Faiz and Saadat Hasan Manto were regulars at the Pak Tea House in Lahore where they were known to spend long hours and brainstorm over a cup of tea. On Sunday, the neighbourhood of Karachi which has come to be known for its incessant gang wars hoped to raise its own breed of intellects and literati with the launch of the Lyari Youth Café.




The two-storey building tucked away in a narrow lane in Lyari does not resemble a jazzy café that can be found in other parts of the city - the entrance is small, the stairs leading up to the first floor have slogans which read 'Please do no spit here' with a smiley face and the first floor itself has been left bare with only few tables and chairs. The café aims to model itself after the thriving community space and café, T2F, according to one of the representatives of the Karachi Youth Initiative (KYI) - one of the brains behind the Lyari Youth Café along with ARM Child & Youth Welfare. The café in Lyari might have been missing the aroma of freshly brewed coffee and air conditioned rooms but the people there were just as excited about the possibility of art shows, musical evening and documentary screenings. "Even on our own we've been putting up plays and short skits for the people of the community of the roof," said a student of grade 10, Sameer Sabir. "But through this café, we hope that experienced people will come and train us so that we can perform better."

Artists in the making

The young boys and girls at the venue expressed their interest in a variety of disciplines of art - music, theatre, book readings and painting. "We have such expressive artists in Lyari, it is a place which inspires you and motivates you to pick up the paint brush. Unfortunately, we do not have enough options to exhibit our works," said Amber, a grade 11 student who was also a volunteer at the café. "We also have really good guitar players but they have no training. It would be wonderful if the café could host sessions by musicians who could help us polish our skills."


Lyari Youth Cafe, which opened on Sunday, plans to host reading sessions, guest speakers and professionals who will try to train young people in different forms of art. The main idea behind the cafe, which is a venture of the Karachi Youth Initiative and the ARM Child and Youth Welfare, is to combine entertainment with education and attract the youth. PHOTOS: AYESHA MIR/EXPRESS

Among the objectives listed by the management of the Lyari Youth Café for opening such a venue was to give the idle teenagers of the area a platform where they could indulge in productive activities. "I see hundreds of boys sitting at roadside chai stalls, wasting their time in useless discussions," said the general-secretary of ARM, Sohail Rahi. "We plan to bring these kids from the streets into this café so that even if they want to engage in debates, they'll be in an educational atmosphere where they are likely to pick up a thing or two."

Different shades of Lyari

Volunteers at the café are aware that the task to bring in people might not be an easy one but they are nevertheless optimistic. "The people of Lyari are interested in sports, politics and the art more than violence and gang wars. Once we start spreading the word, young men and women will automatically start coming in," said Dostain Rehan, a student of philosophy at the Karachi University. "We [youth of Lyari] want tabdeeli and that is why we will grab any opportunity we can get."

The café is also an attempt to shift the focus from Lyari as a hub for gang wars and bring to light a more positive side of the area. "The media constantly focuses on the violence and the bloodshed, giving the impression that people in Lyari are either walking around scared or with guns," said KYI's Farhan Iqbal. "Residents feel that they have been treated unjustly as no one talks about the sportsmen that have come out of this area or the budding talent among the youth."

The top floor will offer snacks and drinks at subsidised rates to the visitors of the café and once it is up and running, the cafe hopes to attract people from other areas. "We will approach the youth and we will make sure they make the most of this venue," said PS-109 winner Saniya Naz Baloch. "This is Lyari's chance to be more than the victim of gang wars."

Published in The Express Tribune, May 27th, 2013.
COMMENTS (6)
Comments are moderated and generally will be posted if they are on-topic and not abusive.
For more information, please see our Comments FAQ