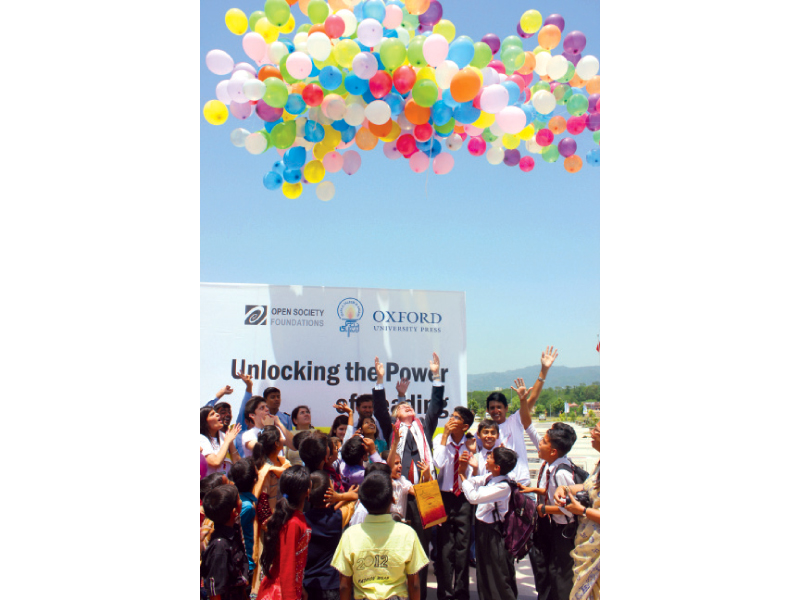 ---
ISLAMABAD:



Hundreds of children accompanied by their parents or teachers infused life into the capital's first ever Children's Literature Festival at the Pak-China Friendship Centre on Friday. They roamed around book stalls, literary discussions, reading sessions and interactive activities.




The festival, which has previously been held in Lahore, Peshawar and Quetta, is being organised by the Oxford University Press (OUP) and Idara-e-Taleem-o-Agahi (ITA) in collaboration with the Foundation Open Society Institute (FOSI). It will conclude on May 25.

Around 100 writers, intellectuals, theatre artists, singers and performers had gathered from across Pakistan to conduct a plethora of activities and sessions.

Opening Ceremony

The festival began with song performances by children from schools around the country.

Unesco Director Dr Kozue Kay Nagata said children are often made to read textbooks that are boring. He added said such textbooks push children away from learning instead of attracting them towards it.

Organisers Ameena Saiyid of the OUP, Baela Raza Jamil of the ITA and Nargis Sultana of the FOSI addressed the audience during the ceremony. They said the festival aims to preach the message that all children are equal, irrespective of their social standing or the type of school they attend.

The festival is also an attempt to promote book reading among children, the organisers said. "Books are your best friends," Saiyid said, addressing the children. "If you are friends with books then you would never be bored or lonely."

"I request the new federal and provincial governments, which will soon take charge, to increase the budget for education considerably," Scheltema said, before the festival was officially opened for the public with a launching of coloured balloons into the air outside the Pak-China Friendship Centre's building.

Fun and games and learning

In the first floor exhibition hall, children were kept busy with fun activities such as mural painting and pottery making. Audiovisual booths set up by the Citizens Archive of Pakistan also attracted the kids. In one corner, Kuch Khaas set up a sitting arrangement where children listened intently to stories and video presentations.

Fatima Khurshid, a housewife from Islamabad, who had accompanied her two children Abdullah, 7, and Irum, 4, said the festival is a great opportunity to attract children to reading and learning activities.

Laajverd, a group of art activists who run a project titled "Bacha Bulletins" also set up their art installation in the hall.

"Bacha Bulletins" focuses on young children from marginalised communities who are encouraged to explore their surrounding using storytelling and photography workshops. The material generated from the workshops is turned into newspaper comics that are printed in The Express Tribune on a weekly basis and also broadcast as an online radio show.

Meanwhile in the main auditorium, famous singer Khalid Anum held an interactive music session with the school children, which was followed by a puppet show by Uncle Sargam.

Upstairs, Mira Hashmi captivated the imaginations of a group of primary-age children, most of them wearing school uniforms, with her expressive and interactive storytelling. Her recitation of an Urdu story and a Japanese story translated into Urdu — complete with characters' voices and body gestures — engrossed the attention of the young audience.

Sweets and Spacecrafts

A children's picture book titled "Laddu" and a children's magazine titled "Uran Tashtri" or Flying Saucer were also launched at the festival.

Laddu, which is published by the OUP, is based on the adventures of the book's main character, a monkey named Laddu. The book is based along the lines of the minimalistic picture book series, "Miffy", drawn by Dutch artist Dick Bruna, said Rumana Husain, who wrote the rhymes for the book and was also part of the book's four-member illustration team.

Intellectual Discussions

Even though the festival was for children, the organisers had planned some highly intellectual session, which dealt with issues about children's learning but from an adult's point-of-view.

In a morning session moderated by Pakistani physicist and educationist A. H. Nayyar, Panelists Pervez Hoodbhoy, Zubaida Mustafa and Peter Jacob talked about the continued challenges of textbooks and curriculum.

While Mustafa and Jacob talked about primary education in mother languages, a visibly agitated Hoodbhoy criticised the content of Pakistani textbooks.

"I have seen a lot of textbooks being used in Pakistan which deserve to be thrown into the sea," Hoodbhoy said. "A book should make you to think and it should develop a sense of curiosity in you, but in Pakistan, textbooks are being written by inept and incompetent people."

He said content and the method of imparting education are the biggest problems, before launching into an impassioned speech about the education system.

Hoodbhoy told the children to remain skeptical of any claims they hear about and to use their own brains to differentiate between truth and lies. He asked them to read extensively and do their own research before reaching any conclusions.

Mismanagement

The festival drew a huge crowd and things went smoothly for the most part. But there was some mismanagement during the day, mostly because the large number of sessions planned by the organisers. In a single one-hour time slot, there were 12 sessions planned which is even more than the number of events at the recent Islamabad Literature Festival.

Because of the time conflicts, some events saw empty halls. Samar Minallah's "Films for change: Child Rights are human rights" sessions was aborted because it failed to get any audience. Similarly, Kishwar Naheed was listed on the programme at two sessions in the same time slot. She ended up moderating the "Tyranny of Language" session and the other session "How to write inspirational poetry for youth" was dropped. 

Published in The Express Tribune, May 25th, 2013.