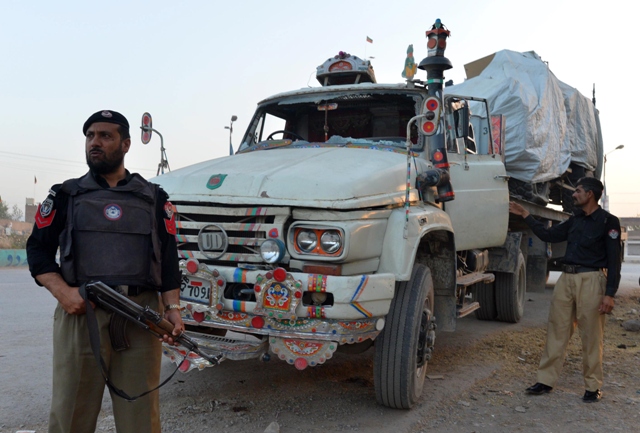 ---
PESHAWAR: Gunmen on Friday opened fire on a convoy of NATO containers in a town near the Afghan border, killing a driver and wounding a helper, officials said.

The attack took place at Shagai area, 20 kilometres (12 miles) southeast of Landi Kotal, the main town of the Khyber tribal region.

"Gunmen opened fire from the nearby mountains on the convoy carrying NATO military vehicles after it entered Pakistan from Afghanistan and killed a driver and injured one of the helpers," local tribal police official Khan Dad said.

He said two vehicles in the convoy en route to Karachi were damaged in the attack.

A local military official confirmed the incident.

Pakistan is a key transit route for the NATO mission in landlocked Afghanistan, from where supplies are driven to the border from the Arabian Sea port of Karachi.

From November 2011 to July 2012, Pakistan shut its Afghan border to overland NATO traffic after botched US air raids killed 24 Pakistani troops.

Pakistan and the United States have signed a deal allowing NATO convoys to travel into Afghanistan until the end of 2015.
COMMENTS
Comments are moderated and generally will be posted if they are on-topic and not abusive.
For more information, please see our Comments FAQ