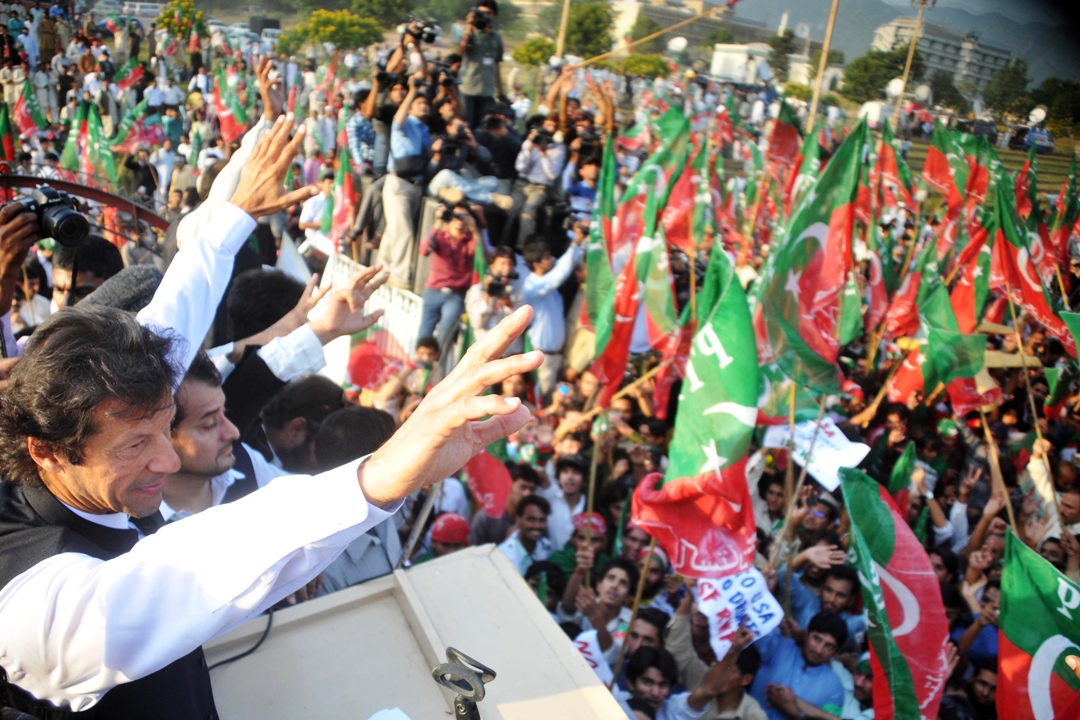 ---
ISLAMABAD:



Around 112 parties contested the 2013 elections. The Pakistan Muslim League-Nawaz (PML-N), however, emerged as the largest party – both in terms of the number of seats it won in the National Assembly, and the votes it bagged.




The PML-N fielded 220 candidates for 270 seats in the lower house of parliament. The party won 125 seats and secured 14,794,188 votes, according to the data gathered by the Free and Fair Elections Network (FAFEN).

The Pakistan Tehreek-e-Insaf (PTI) emerged as the second biggest party, securing 7,563,504 votes. Imran Khan fielded 232 candidates. The party, however, only won 27 seats in the National Assembly.

Votes Polled


DESIGN: FAIZAN SETHI

With 31 seats in the National Assembly, the former ruling party – the Pakistan Peoples Party-Parliamentarians (PPPP) – clinched the third position. It received 6,822,958 votes.

The May 11 election was allegedly tainted by a series of anomalies. Independent candidates emerged as the fourth strongest parliamentary force, bagging a total of 5,773,494 votes, and winning 32 seats in the lower house.

The Muttahida Qaumi Movement (MQM) fielded 205 candidates for the National Assembly, but secured 18 seats from Karachi and Hyderabad for the lower house with 2,422,656 votes.

Maulan Fazlur Rehman's Jamiat Ulama-e-Islam-Fazl fielded 131 candidates and won 10 seats. The party secured 1,454,907 votes countrywide.

The performance of the once ruling Pakistan Muslim League-Quaid was very unimpressive. In all, the party fielded 53 candidates but won only two National Assembly seats with 1,405,493 votes. The Pakistan Muslim League-Functional, which is limited to Sindh, fielded 28 candidates and won five seats, securing 1,007,761 votes.

The Jamaat-e-Islami (JI) fielded 166 candidates but won a dismal three seats from Khyber-Pakhtunkhwa only. The JI, allegedly known for its pro-establishment approach for arranging 'dharnas' against elected governments in the past, fetched 949,394 votes in the current elections.

Out of the 58 candidates fielded by the Awami National Party (ANP), the former ruling party in Khyber-Pakhtunkhwa, only one emerged victorious. The ANP managed to get only 450,561 votes. The party says attacks and threats from the Tehreek-e-Taliban Pakistan (TTP) was one of the main reasons why it could not carry out its election campaigns effectively.

The Muttahida Deeni Mahaz, an umbrella grouping of several religious parties, could not secure any seat in the lower house. The 87 candidates fielded by the bloc, however, won 359,589 votes.

The Pakhtunkhwa Milli Awami Party (PkMAP) won three seats in the National Assembly, fetching 211,989 votes. The party had fielded 30 candidates.

Sheikh Rashid Ahmed's Awami Muslim League Pakistan fielded 16 candidates and could win only one seat from Rawalpindi. It bagged 93,051 votes. The party with the lowest votes was Pakistan Awami Inqalab with a lone candidate receiving seven votes.

Published in The Express Tribune, May 22nd, 2013.