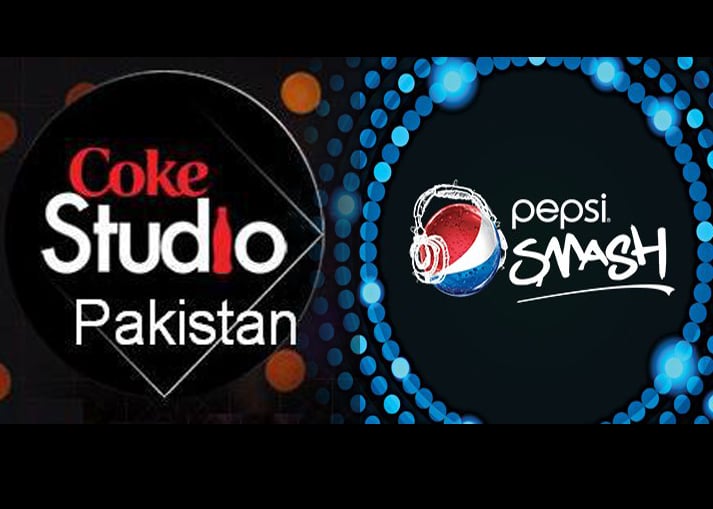 ---
KARACHI:



Promoting a brand through sponsorship of music, it seems, has become an important marketing strategy for the world's largest beverages manufacturers, at least in Pakistan. After phenomenal success of Coke Studio, a television music series sponsored by Coca-Cola Pakistan, the archrival PepsiCo has launched its own music show, Pepsi Smash.




The Pakistani subsidiary of the world's largest beverages company successfully positioned itself as a higher-end aspirational brand through its sponsorship of Coke Studio, now five seasons old. Starting in 2008, the music series helped the company's flagship soft drink gain a significant market share in Pakistan – the world's sixth largest consumer market, dominated by market leader PepsiCo.

According to a Wall Street Journal report of July 2010, Pepsi has lost significant market share to Coca-Cola because of the latter's sponsorship of Coke Studio. As of July 2010, Coke claimed 35% of all cola sales in Pakistan while Pepsi's market share was 65%, down from a dominant 80% in the 1990s that it mainly gained by sponsoring cricket.




Optimistic about future growth prospects, Coca-Cola announced this March that it would invest $379 million in three new bottling plants – one each in Karachi, Multan and Islamabad – that is in addition to another $172 million investment it announced in 2011.

The expansion plans come on the back of a strong growth in the company's topline and volumes. Coca-Cola's Pakistan arm earned over Rs50 billion in revenues for the financial year ending June 30, 2012, a 55% increase when compared with the previous year.

The improvement in distribution system and focus on consumer activation as well as promotion resulted in volume growth of 23% in the year 2012, according to Coca-Cola Içiçek, Turkey-based partner that has a 49% stake in Coca-Cola Beverages Pakistan – the Pakistani subsidiary of the US-based parent company that sells the product.

Coke Studio has helped the company dent Pepsi's lead in cola wars, however, the latter still remains the largest player in what it sees as one of the top 10 non-US markets in the world.

"It is safe to say that PepsiCo is Pakistan's most popular cola brand," Pepsico spokesperson Mohammad Khosa said. The company has a lot of other exciting brands including Mountain Dew, 7Up, Mirinda, Slice, Sting and Aquafina that are doing wonderfully, he said.

Khosa refused to reveal the exact revenue or market share, but sources confirmed that revenues of PepsiCo Pakistan and its eight bottlers stood at a combined Rs82 billion for the financial year ending June 30, 2012, up 19% compared to the previous year.

Coca-Cola declined to comment on Pepsi Smash. Critics, however, see it as a sign of vulnerability of Pepsi's lead. As opposed to the critics' view that PepsiCo is copying its rival's marketing strategy, Khosa said Pepsi Smash was launched to build on the brand's longstanding association with music.

"There are a number of brands linked with music in Pakistan, that does not mean that one brand is copying marketing techniques of the other, each programme has its own niche, genre and music philosophy," Khosa said.

Explaining, the PepsiCo spokesperson said music had been and would remain an integral part of the brand. "Pepsi's association with music stars from Vital Signs to Ali Zafar, music programming like Pepsi Top of the Pops, Geetar and Pepsi Battle of the Bands and launching various albums is a testament to the brand's longstanding relationship with the music platform in Pakistan," he said.

He further said the brand's partnership with music is truly global with various campaigns run over the years featuring iconic music stars like Michael Jackson, Britney Spears and more recently Beyonce. Additionally, he said, the company sponsored various music-based programmes such as The X-Factor, Pepsi Music and Pepsi Smash.

Launched on May 1, 2013 Pepsi Smash is a digital media-led music initiative that puts the audience in control, tapping the power of this new digital age at its best, Khosa said. It's too early to comment on sales impact of this initiative, he added.

Published in The Express Tribune, May 21st, 2013.

Like Business on Facebook to stay informed and join in the conversation.
COMMENTS (6)
Comments are moderated and generally will be posted if they are on-topic and not abusive.
For more information, please see our Comments FAQ