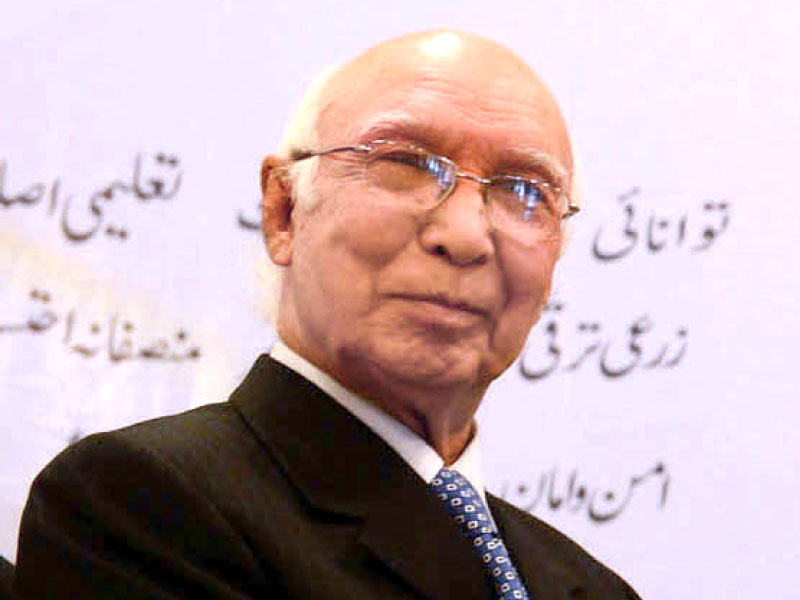 ---
ISLAMABAD: For the incoming government's top aide on the national economy and foreign affairs, it's impossible to choose between a stable economy and an astute foreign policy. Both are equally important and equally indispensable, says Sartaj Aziz, 84, the man who will set  the economic and foreign policy priorities of the Pakistan Muslim League-Nawaz government.

"Focusing on economic revival will help us increase exports and reduce expenditures," Aziz told The Express Tribune in an exclusive interview. "Only then can Pakistan present a strong case before the International Monetary Fund (IMF)," said Aziz, who has served as finance and foreign minister in the past.

"It is unlikely that the PML-N leadership will approach the IMF in two to three months. We will decide upon this later," Aziz adds. "In the prevailing situation, we may not be able to meet their conditions."

Aziz sees economic revival as a means to strengthen Pakistan internally and pave the way for better conduct globally. "We will focus on economic development to attract investment. This will help improve relations with other countries," Aziz said.




He admits the burgeoning power crisis has dealt a severe blow to Pakistan's already crumbling economy. "If we resolve this crisis, our economic growth will go up by nearly two per cent."

Aziz says his party is cognisant of the fact and has done proper planning to overcome the energy crisis. "This is a part of our comprehensive economic plan. Several groups are working on it and we will make announcements during the coming budget," he says.

Peace talks with Taliban

On the issue of dialogue with the Tehreek-e-Taliban Pakistan (TTP), Aziz refers to a statement by incoming premier Nawaz Sharif in which he said that his government would pursue talks only with groups that 'accept Pakistan's constitution and democratic system".

"It is premature to tell whether or not we will talk to a certain group," Aziz adds. "The PML-N government will formulate a formal policy after consulting all stakeholders, and this will take some time."

Afghan conundrum

On the foreign front, Aziz says the PML-N government will facilitate the withdrawal of Nato troops by 2014.

"We will sit with all stakeholders and chalk out a strategy for talks with Afghanistan and the United States to determine Pakistan's policy objectives," he says. "The civilian leadership, political leadership and other stakeholders will formulate a national policy and then we can talk to the Americans. It will not be a decision of an individual. It will need two to three months of homework to come up with a national policy."

About the telephonic contacts between Afghan leader Hamid Karzai and Nawaz Sharif, Aziz says Pakistan will play its role for a peaceful and stable Afghanistan. "Pakistan will do whatever it can for Afghan peace as instability in Afghanistan will have a direct impact on Pakistan."

Contentious drone strikes

Nawaz Sharif has said that his government would talk to the Obama administration about bringing an end to its remote-controlled war in Pakistan's tribal region. Aziz says the thorny issue of drones should not be taken in isolation. "First, we will formulate a national policy and then we will talk to the US on all issues, including the drone strikes. I hope relations with the US will improve during the PML-N government," he says.

Ties with India

Vis-a-vis relations with arch-rival India, Nawaz Sharif has said that his government would pick up from where the peace process was left before the 1999 military coup. Aziz says the PML-N government will do its part to lower tensions with New Delhi and normalise relations.

He says the overall foreign policy will remain the same. However, the PML-N government will try to ensure its proper implementation. "Our policy will be to ensure peace and to decrease extremist threats as we can set an agenda to improve the economy. At the same time, we will not compromise on our basic foreign policy principles. So it will need a thorough thinking and consultations in parliament to evolve a consensus," he said.

Published in The Express Tribune, May 20th, 2013.