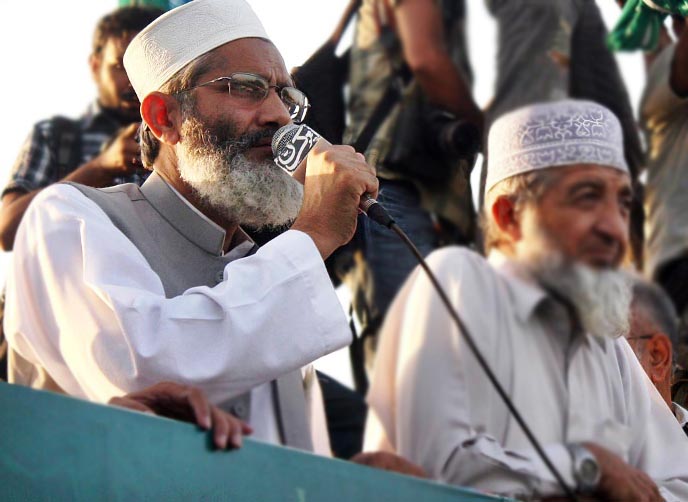 ---
ISLAMABAD:



Restoring peace in Khyber-Pakhtunkhwa will be a major challenge for the incoming provincial government, says Sirajul Haq, the finance minister-designate in the provincial cabinet.




"But it [the provincial government] will have little say on the issue," adds Haq, who was elected to the K-P Assembly from PK-95 (Lower Dir-II) on a Jamaat-e-Islami ticket.

In an exclusive chat with The Express Tribune, Haq said that resolving the security issue in K-P depends entirely on the will of the military establishment and federal government. "If they desire to end this bloody game, the issue would be settled within hours," he added.

If Tehreek-e-Taliban Pakistan spokesman Ehsanullah Ehsan could approach the media, then why was it impossible for the military to negotiate with the Taliban and end the bloody conflict, he said.

For peace talks to begin, Haq suggested that some Taliban prisoners could be released as a goodwill gesture. "But this decision can only be taken at the level of the federal government or the military command."




Haq revealed that before the 2008 elections, the Awami National Party had reached an agreement with the Taliban on the release of some of their prisoners. In exchange, the Taliban agreed not to create any trouble for the party during its election campaign. However, the ANP reneged on its promise due to the military's reluctance, and as a result it suffered countless attacks at the hands of the Taliban, he said.

Agreement to bar women from polls

Haq offered a different account regarding the agreement inked by political parties to bar women from voting in his constituency. He claimed that the deal was proposed by the Pakistan Peoples Party based on intelligence reports which suggested militants were planning to use female suicide bombers to attack polling stations on May 11.

"All parties reached a consensus in light of the reports," he added. "I was personally not in favour of disenfranchising local women."

Education and budget

As a cabinet member, Haq said his first priority would be to reopen the schools destroyed by Taliban insurgents in the province and to launch a microfinance scheme for graduates. "Under the scheme, loans will be provided to graduates according to their skills level," he said.

The JI leader, who will likely present the provincial budget for the year 2013-14, said the provincial budget could be termed a bureaucratic budget because the new finance minister and provincial government would have little time to introduce significant changes to it.

Published in The Express Tribune, May 20th, 2013.