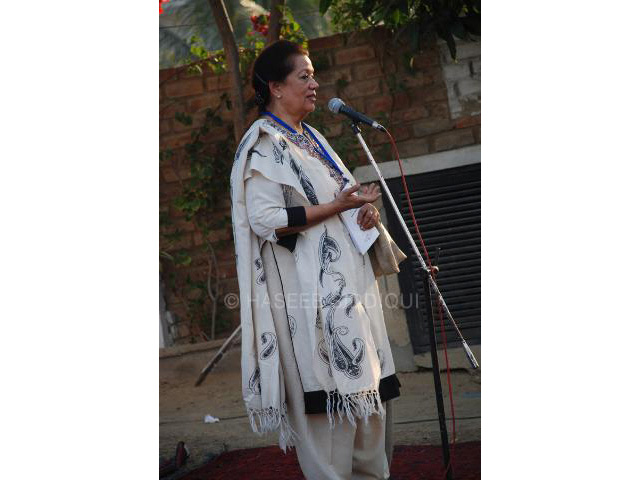 ---
KARACHI: Pakistan Tehreek-e-Insaf (PTI) leader Zahra Shahid Hussains' funeral prayers were offered at Sultan Masjid after Asar prayers in Karachi. Shahid was laid to rest at a graveyard in Defence.

Some 1,000 mourners including Hussain's family members, friends, well wishers and party workers attended her funeral prayers in Defence area Sunday evening.

At least 200 party activists also held a protest rally in central city of Multan and condemned Hussain's killing.

The PTI will take out protests over Shahid's killing in Karachi on Monday.

"Zohra Hussain's sacrifice will not go waste," PTI Chairman, Imran Khan said.

Background

The killing of Zahra Hussain, 59, vice president of the women's wing of Khan's Pakistan Tehreek-e-Insaf (PTI) in Sindh province, came on the eve of a partial re-run in the southern city of the May 11 election.

Hussain was targeted by three gunmen on a motorcycle outside her home in an upmarket part of Karachi late Saturday, the latest killing following an bloody election campaign marked by more than 150 violent deaths.

Former cricket star Khan was quick to pin the blame on the Muttahida Qaumi Movement (MQM) party, which represents the Urdu-speaking majority, and specifically its boss Altaf Hussain, who lives in exile in London.

"I hold Altaf Hussain directly responsible for the murder as he had openly threatened PTI workers and leaders through public broadcasts," Khan said on his Twitter feed, describing the killing as "a targeted act of terror".

"I also hold the British Govt responsible as I had warned them about Br citizen Altaf Hussain after his open threats to kill PTI workers," he said, adding that he was "shocked and deeply saddened by the brutal killing".

Altaf Hussain condemned the attack in a statement and demanded a "judicial inquiry to get to the culprits".

Firdous Shamim, a local PTI leader, told AFP that Zohra Hussain "was leaving her home for some work when three gunmen attacked her. She thought they wanted to snatch her purse and handed it over to them but they killed her".

Police said all three gunmen escaped after the attack.

"They shot her with one bullet near her chin and she could not survive," senior police official Nasir Aftab told AFP.

The motive behind the shooting was unclear and there was no immediate claim of responsibility.

Tensions have been running high between the PTI and the MQM, Karachi's dominant party, after Khan's party accused it of widespread vote-rigging. The MQM has denied the charge and announced a boycott of the re-run. Security was tight for Sunday's re-polling in one constituency following allegations of ballot-stuffing, with troops, police and paramilitary rangers   backed up by armoured personnel carriers.

The PTI and the right-wing Jamaat-e-Islami party have staged nationwide protests against the alleged irregularities.

The election commission ordered the partial re-run due to allegations of ballot-stuffing in a constituency known as NA-250 -- a largely affluent neighbourhood of the country's financial capital.

Karachi last year suffered record violence linked to ethnic and political tensions.
COMMENTS (37)
Comments are moderated and generally will be posted if they are on-topic and not abusive.
For more information, please see our Comments FAQ