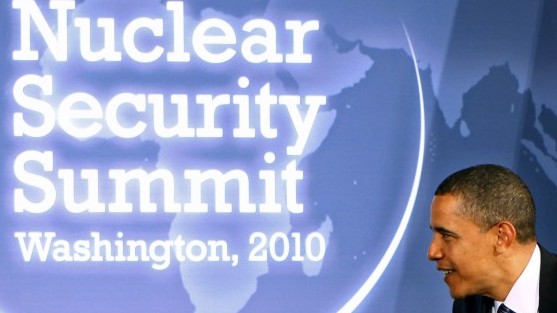 ---
WASHINGTON: President Barack Obama said on Sunday that efforts by al Qaeda to acquire atomic weapons posed the biggest security threat, and world leaders meeting this week must act with urgency to combat this danger.

Obama, speaking on the eve of an unprecedented 47-nation summit in Washington aimed at thwarting nuclear terrorism, said he expected "enormous progress" at the conference toward the goal of locking down loose nuclear material worldwide.

"The central focus of this nuclear summit is the fact that the single biggest threat to U.S. security -- both short-term, medium-term and long-term -- would be the possibility of a terrorist organisation obtaining a nuclear weapon," Obama told reporters.

"We know that organisations like al Qaeda are in the process of trying to secure a nuclear weapon -- a weapon of mass destruction that they have no compunction at using," Obama said before talks with South African President Jacob Zuma.

Nuclear non-proliferation experts say there are no known instances of terrorist groups obtaining highly enriched uranium or plutonium that could be used to make a crude nuclear bomb but note there have been 18 cases of nuclear material being stolen or going missing since the early 1990s.

"This is something that could change the security landscape of this country and around the world for years to come," Obama said, warning of the potential consequences if a nuclear bomb were detonated.

Obama's goal at the two-day summit is to get nations to agree to secure vulnerable nuclear material within four years and to take specific steps to crack down on nuclear smuggling.
COMMENTS
Comments are moderated and generally will be posted if they are on-topic and not abusive.
For more information, please see our Comments FAQ