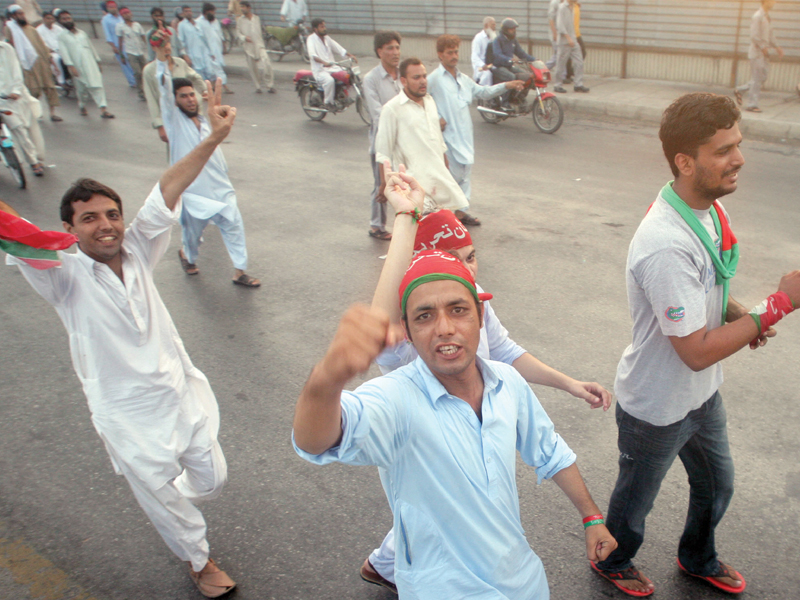 ---
KARACHI: "Karachi kis ka hissa hai? Ye Pakistan ka hissa hai! [Karachi is a part of Pakistan]" Flags of Pakistan and the Pakistan Tehreek-e-Insaf (PTI) and charged up chants of slogans greet the people arriving to join the dharnas which are being held daily.

Section 144 banning rallies and protests could not dissuade the citizens of Karachi who are making sure their voice is being heard across the country.

The first dharna at Teen Talwar saw a multitude of people, with a majority of what rival party leaders sarcastically called "Burgers" - a name often used to describe the residents of upscale areas. Yet, a closer look showed people representing less affluent areas, such as Hazara colony and inner areas of Gizri.

Day one of the dharna, held the very next day of the elections on May 12, was not only PTI's, supporters of other political parties and an independent candidate Jibran Nasir also raised their voice against rigging. Supporters of Imran Khan's party, who were still reeling with disbelief that the tsunami only reached Khyber-Pakhtunkhwa, started by chanting slogans of Naya Pakistan.

By late hours and after Altaf Hussain's speech, however, the dynamics began changing. The protest slogans became more streamlined, talking specifically about rigging. People kept pouring in till almost midnight - even families - despite the threats that came in the form of aerial firing.

The spirits soar higher

The second dharna saw more flags of Pakistan than the day before and the slogans were no longer only of PTI. In a festive environment, the crowd was defiant.

Interestingly, at Shahrae-e-Faisal, apart from the representatives of NA-250, many people from other parts of the city were also seen, including Urdu-speaking residents who are typically assumed to be supporters of the Muttahida Qaumi Movement. "My name is Hina Ansar.

Please give my real name in your story. I really don't care," said a lady at the dharna, who kept calling her sister in Gulshan to tell her where to reach. "Our entire family voted for PTI.

I was not allowed to vote initially because they knew who I was voting for. Why should I keep quiet? Where is my vote?"

A few yards away, Dr Arif Alvi and other PTI representatives sat in the middle of the road that is Karachi's spine.

More than a constituency

While the infamous and problematic constituency of NA-250 brought people out of their homes, this wave of activism has spread across the city, fuelled by news of similar activism in Lahore -only section 144 hasn't been imposed in Lahore as yet and over there it is primarily an anti-rigging agenda. In comparision, the dharnas in Karachi seem a catharsis of sorts - against what citizens believe is a violation of their mandate.

Altaf Hussain's words brought out a sense of ownership among the usually complacent and almost desensitised Karachiites. A large numbers of women, children and youth have been seen at these protests signal of a change in this perilous city.

"There is no doubt that MQM has built the flyovers in the city and carried out development projects - I have been an MQM supporter for years," said Zaheer Zaidi, a protester. "But we have not forgotten the incidences of shutter-down strikes, unrest and killings. I am here because I am afraid no more."

Published in The Express Tribune, May 15th, 2013.
COMMENTS (22)
Comments are moderated and generally will be posted if they are on-topic and not abusive.
For more information, please see our Comments FAQ