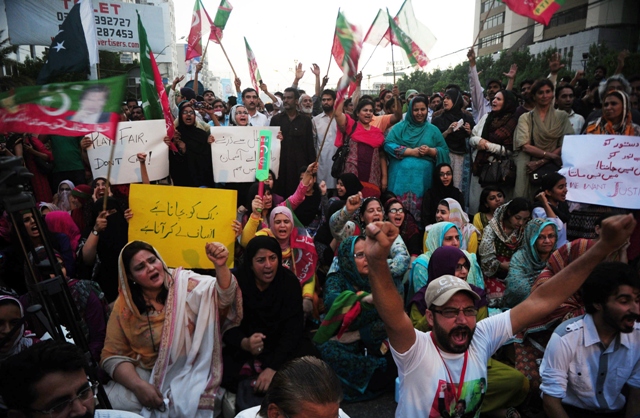 ---
KARACHI:



The police stood guard holding tear gas grenade launchers and rifles. The unarmed protesters faced them with flags and banners.




This is the scene you would have met if you ventured out to Shahrae Faisal on Monday. Here, protesters defied the ban on public meetings imposed by the government, and gathered in hundreds to block the Shahrae Faisal in presence of heavily armed police and Rangers.

On the second day of protests against the alleged hijacking of the elections in Karachi, Pakistan Tehreek-e-Insaf's demand remained the same. Arif Alvi, the party's candidate for NA-250, said, "We want re-elections in Karachi." The election commission has already announced that there will be re-polling at 42 polling stations in the constituency.

Clad in white shalwar kameez, Alvi sat with his supporters in the middle of the road and declared that the Constitution gives them the right to protest peacefully.

He said that PTI doesn't want any confrontation with Muttahida Qaumi Movement (MQM), which had been accused by several political parties of hijacking the elections in Karachi. "But we do want free and fair elections and MQM should agree to this." He added that PTI has submitted an application in Supreme Court for re-elections. Behind him, a group of energetic young men chanted, "Jeena hoga, marna hoga, dharna hoga, dharna hoga" [we'll live, we'll die, but the protest will go on]. One thing was clear: they weren't in a mood to end the protest till their demands were met.




The protesters started pouring in at 6:30pm at the Insaaf House near the PSO pump. As they came towards the main road, they faced a water tanker meant to block their movement. However, the protesters simply ran around it shouting 'nai chalay gi, nai chalay gi, gunda gardi nai chalay gi' [We won't put up with hooliganism].

Smirking at them, SSP East Imran Shaukat said the handful of police men would prove to be more powerful than water cannons. "We are enough for them, and we won't let them stick around for long."

But the people were not intimidated. "We are on the right path which is why we are not afraid," said Lubna Saeed. Waseem, another protester said, "I am 50 years old, and for 20 years I have been witnessing MQM's tyranny in the city. It is time to come out and tell them they don't own Karachi."

Not all people who turned up were PTI supporters or voters from NA-250. One such protester was Hasan Ali, a resident of North Karachi. "I don't belong to NA-250 and I'm not a PTI activist. But I'm here to fight for my rights," he said. "I not only protest against rigging in NA-250 but all constituencies in the city and demand fresh elections throughout Karachi." Even a sizeable number of Jamaat-e-Islami supporters turned up.

Amongst the crowd was Kaleem who was slapped by a police officer. Rubbing his face which had gone red after being struck by the bulky officer, he said that he was just asking them that why weren't they letting them protest. "I am ready for more slaps but I won't stop asking for free and fair elections."

Aqsa, a student who saw small children stamping the ballot papers at her polling station near the airport, said she will keep protesting out till the elections are held again. "Everyone has made videos of the rigging done by MQM and it has become viral on social media. They have been exposed."

Till the filing of the report, the protesters continued to block one side of the Shahrae Faisal as traffic passed slowly and steadily on the other side of the road. After requesting the protesters to disperse after the four-hour sit-in, PTI's Dr Arif Alvi announced that they will hold another protest at Native Jetty bridge today [Tuesday] at 6:30pm.

Published in The Express Tribune, May 14th, 2013.
COMMENTS (2)
Comments are moderated and generally will be posted if they are on-topic and not abusive.
For more information, please see our Comments FAQ