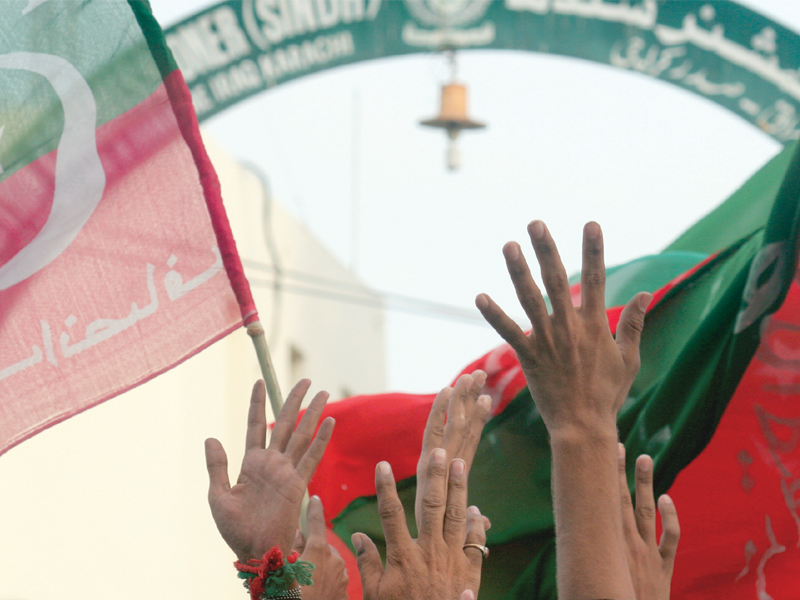 ---
KARACHI:



When the residents of Karachi took to the streets on Sunday evening they were not divided along party lines but united against the blatant rigging that took place on election day.




"Today, we have no political affiliations. We are here for our rights. We are here for Pakistan!" a student, Gilani, told The Express Tribune. Thousands of people gathered at Teen Talwar to condemn the events that unfolded on May 11 in the city.

What seemed to be a small gathering of upset youngsters soon turned into a grand rally, which was joined by the hundreds of activists and supporters from Jamaat-e-Islami, Majlis-e-Wahdat Muslimeen, the Pakistan Muslim League - Nawaz and Pakistan Peoples Party candidate for PS-109 Saniya Naz Baloch. Along with the PPP candidate, buses loaded with people from Lyari also joined the protesters. The crowd shouted slogans of 'Ghunda gardi nahi chale gi' [We won't tolerate hooliganism]. A majority of them held the Muttahida Qaumi Movement (MQM) responsible.


An aerial view of the protest at Teen Talwar. PHOTO COURTESY NADIR TOOSY

As the night progressed, the protesting crowd at Teen Talwar got larger in number, as more and more families joined the youth. Complaints had earlier been lodged to the election commission by some voters and political parties, alleging that certain polling stations were not given ballot boxes, ink, or, in some instances, sufficient security.

"We weren't allowed to vote!" complained first-time voter, Rabia Arshad. KU student Ahsan Farooq recalled his voting experience at Defence College for Women where polling did not start until 3pm. "We knew then that someone was trying to deny us our right to have our say."

After all the hype the ECP created about free and fair elections, Adil Basit, a 61-year-old resident of Defence, complained that May 11 was a huge disappointment. "There must be re-elections in all of Karachi and the army must be given charge of all polling stations."

His demands were echoed by the rest of the crowd. "This is going to be our Tahrir Square," shouted another young protester Anas Ahsun Mallick.

Rubina Sattar, 63, who was there with her family, also felt disappointed with the ECP. "We have been snatched of our rights once again," she said.

Independent candidate demands re-election

An independent candidate for NA-250, Jibran Nasir, cheered the people on as they shouted slogans against the MQM. "I have been a witness to rigging in my own constituency. Most polling stations I visited did not even have stamps until very late. Voting at a polling station in Defence Phase Four was even cancelled. And the ECP wants to call this a free and fair election?"


Thousands of Karachi residents gathered at Teen Talwar to protest the rigging during the elections on Saturday. PHOTO: AYESHA MIR/EXPRESS

Meanwhile, Nasir also accused his rival contestant, Dr Arif Alvi, Pakistan Tehreek-i-Insaf (PTI) Karachi president, of violating the ECP code of conduct by transporting ballot boxes to various polling stations, even though candidates were not allowed to do so. He demanded a re-election across the whole city.

Dr Alvi goes to SC

As he joined the protesters at Teen Talwar, Dr Alvi announced that the party will file a petition against the rigging in the Supreme Court after consulting their lawyers. He said he will go to court on the basis of a statement made by the ECP, accepting that it failed to hold free and fair elections in Karachi. He also demanded a re-election in the city.

Protest today?

There were unconfirmed reports of the protest ending at around 10:30pm and another one scheduled on Sharae Faisal today [Monday] at 7pm.

View a slideshow of the protest here.

ROs were threatened: ECP

The presiding officers and polling staff in NA-250 were directed to arrive at their respective polling stations along with the election material one night before the elections, said a statement released by the Election Commission of Pakistan.

They received threats and the election material was stolen from them by criminal elements, the commission stated, adding that the substitute officers, appointed by the district returning officers, were also threatened which is why they refused to perform their duties. The office of the chief election commissioner was also fired upon, it said.

The commission felt that Karachi's residents showed admirable resolve by waiting all day to cast their votes. They are conducting investigations and will take action against the people responsible.

The election commission said, nevertheless, that the elections in other parts of the country were free and fair.The exception to this was Karachi where the commission was compelled to stop polls in 43 stations of NA-250. The commission added that the date for re-polls in 43 stations will be announced soon and all possible measures will be taken to ensure that the unfortunate events of the previous elections are not repeated.

Published in The Express Tribune, May 13th, 2013.