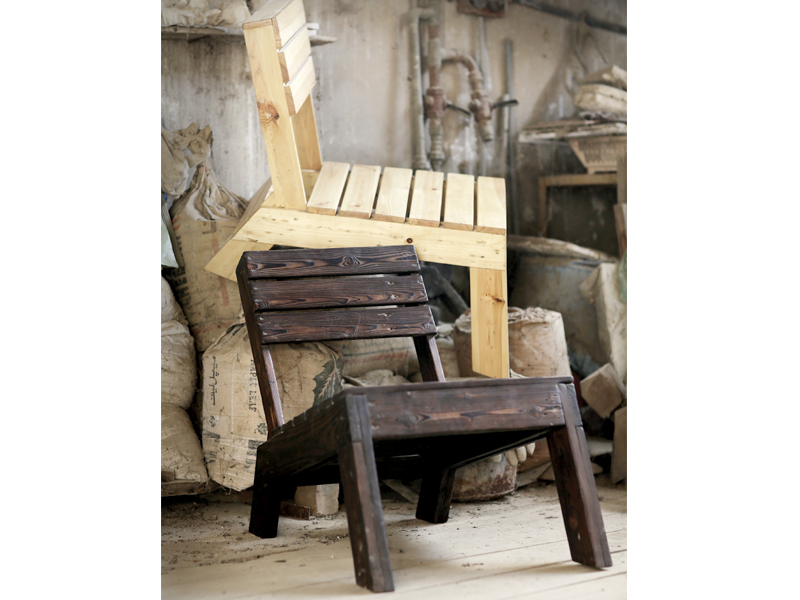 ---
KARACHI: In the cosy environs of Koel Gallery, two artists, Eibne Sajjad and Amina Pasha, told The Express Tribune the story of how they had breathed life into wood "which would have ended up on the streets".

As many as 43 pieces of furniture made by Eibne, Amina and another artist, Jamil Afridi, from reclaimed pinewood are on display at the gallery in an exhibition, Prefigure, till May 16.

"We have been making customised furniture for about three years now," said Eibne, adding that for the current exhibition they had only used pallet wood. "Pallet is a very sturdy form of wood, which is used in making the bases of transport structures such as forklifts."

Eibne felt that the need to reduce man's ecological footprint was an important message they were giving through their exhibition. "There has been an increase in deforestation worldwide," said Eibne. "Artists may do a great job designing and selling furniture pieces but at what cost?" he asked. "People mostly chop down wood from natural forests, but we have used 100 per cent reclaimed wood from regulated forests."

Every time a tree is chopped down in a regulated forest, it is replaced by another. "This is why we call it an eco-friendly line."  He added that pinewood they had used traced its origins to trees in North America and Europe. He felt that they had given life to the wood. "It would have ended up on the streets but it will now hopefully find its way into homes."




The artists began working on the first piece in their line, The Canteen Chair, last October. Eibne recalled how the trio had been constrained by the sizes of planks available to them. "Normally when people make furniture, they cut out the sizes of wood they need from bigger logs," he said. "But we had to make do with planks of particular sizes available to us." He felt that the whole process of designing became all the more exciting and labour intensive due to the constraints they had to work with. Eibne felt that his father's sculptural skills had an impact on their work. "We grew up around his work. All the furniture in our house was made by our father."

Eibne's brother, Sibte Sajjad, opened a furniture shop, The Elephant Warehouse, in 2008. "A year later, Eibne and I moved to Karachi and joined him," Amina recalled, adding that Sibte and Eibne's father was a sculptor who had gifted two furniture pieces he had made to her and Eibne on their wedding. Pasha pointed out that they didn't make furniture on a commercial scale. "Every piece has a particular feel to it and the designs are very minimalistic."

She felt that they had to go through a lot of trial and error while experimenting with the pieces. "We were making this kind of furniture for the first time and everybody contributed to each piece. An inch here or there makes all the difference." Amina felt that they learnt a lot from the various permutations and combinations of furniture they ended up making. Her favourite piece in the line was a chair titled, The blacksmith.

Amina went on to speak about the work of the third artist, Jamil Afridi, whom she referred to as 'Afridi uncle'. "His methods are very orthodox," she said, adding that it was as much of a learning experience for him to be working with this kind of wood and the size constraints as it was for them to be working with a senior artist like him.

After the exhibition ends, the furniture pieces will be available at The Elephant House, which also houses Roadside Cafe.

Published in The Express Tribune, May 12th, 2013.