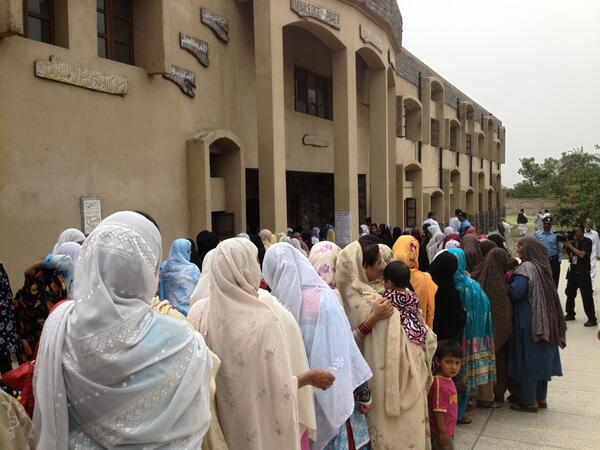 ---
Rawalpindi NA-55

People have started turning up to vote in Pindi. Youth presence has increased. There have been Incidents of violence in PP12 Ganj Mandi where PPP candidate Babar Sultan Jadoon fired shots at PMLN supporters.

Severe mismanagement is seen at Dhoke Mangtaal polling stations where people have waited for hours in line.

ECP code violations at almost every polling station with election camps just metres away from polling stations and political parties using parchi system to guide their voters.

NA55-Gordon College women polling station

Women, even middle-aged voters, leaning toward PTI/Sheikh Rasheed.

Mrs Fayyaz, a voter, says, "We voted for Khan sahib (PTI). We wanted to try a new political option and we didn't even care who our family's men were voting for."

NA-55 Govt Islamia College

Presiding officer says PML-N and PTI are almost in equal numbers here.

NA-56 ECP code violation

Political parties have set up their election camps less than 100m away from polling stations #95, #99 at Govt Girls Degree College and polling stations #102, #104 Govt Johar Memorial High school in Dhoke Ilahi Buksh in Rawalpindi.

Sub Inspector Amjad Ali of Punjab Police said, "we cannot move the camps away because there is no space to put the camps anywhere else."

It's a congested neighborhood.