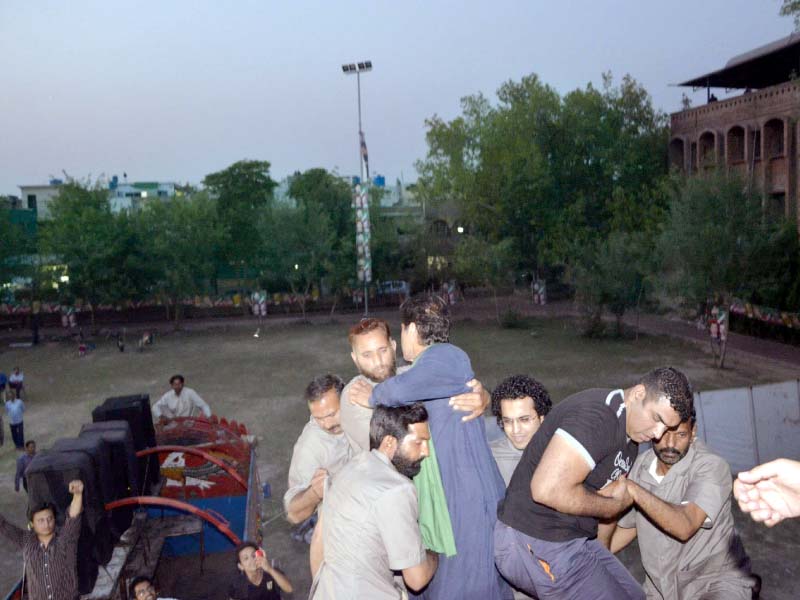 ---
LAHORE:



Cricketer-turned-politician Imran Khan's relentless campaigning for a 'Naya Pakistan' has sparked hope among his supporters that there will be a change if he wins the general elections.




But on Tuesday, four days before the historic polls on May 11, the whole nation gasped in unison when the Pakistan Tehreek-e-Insaf chief fell 14 to 16 feet off a forklift while being raised onto a stage at an election rally in Ghalib Market, Lahore. He suffered a fractured skull and spinal injuries and was immediately rushed to a nearby hospital.

The PTI leader was scheduled to address a public gathering in the NA-126 constituency from which PTI's Shafqat Mahmood is contesting.

An eyewitness and PTI member present at the rally said there were six people on the lift, three of whom were Khan's personal bodyguards. A guard lost his balance while standing on the edge of the lift when it was at a height of around 12 feet.

"The guard was holding Khan's hand and pulled him towards himself and the four people on the lift fell off. He first fell on the top of the lift and then fell on the ground, receiving the head injury.
He fell on one of the guards which saved him from receiving any serious injury," said Imtiaz Hussain Sherazi.

Party workers picked up the dazed Khan immediately to get him to a hospital.

"The workers carried him and put him in the back seat of a vehicle. Khan was taken to the nearby private Fazal Hospital in Liberty Market. He was conscious and looked towards people around him," said Sobia Khan, another PTI worker.

Khan was given first aid at the hospital and the wound on his head was stitched.

"He had a cut some six inches long on the lower part of his head. He was stable, conscious and moving all four limbs. He had severe pain in his back. There was no neurological damage" said Dr Shafique, who examined Khan at Fazal Hospital.

He was then transported to Shaukat Khanum Hospital, the charitable institution he helped build.

"Imran Khan is stable and healthy. He has a small skull fracture but no serious internal injury. He will be kept at Shaukat Khanum Hospital for one night and then re-examined in the morning," said the hospital Chief Executive Officer, Dr Faisal Sultan.

PTI leader Shafqat Mahmood said doctors had advised the party to not take part in the remaining election campaigning.

Speaking to a private TV channel while lying on the hospital bed, Khan said he had done his job and now it was the peoples turn to come out and vote for the change and make a new Pakistan.

Later, a PTI spokesman told a TV channel that Khan's scheduled address at a rally in Islamabad on May 9 would go ahead. But it was not clear whether he would appear at the rally or address it via telephone.

Politicians pray for recovery

Politicians set aside their rivalries to pray for a full recovery for PTI chief Imran Khan.

Muttahida Qaumi Movement chief Altaf Hussain cancelled his public addresses across the country following the incident. Calling him a national leader, the MQM leader urged people to pray for his recovery.

Pakistan Muslim League-Nawaz chief Nawaz Sharif also suspended his election campaign to express sympathies with Khan. He prayed for a quick recovery.

Punjab caretaker Chief Minister Najam Sethi arrived immediately at Shaukat Khanam Hospital following the Khan's accident to inquire about his health.

Later, speaking to the media, Sethi said a Rescue 1122 ambulance was present in Ghalib Market. But due to the size of the crowd, he was not taken to the ambulance. However, the superintendent of police Model Town personally took Imran Khan to Fazal Hospital.

He said the SP and other senior officers then shifted him to Shaukat Khanam Hospital in an ambulance with full security. All traffic signals were switched off to take him quickly to the hospital.

Tributes pour in on Twitter

As people waited with baited breath for news of Khan's health, many, including politicians, former cricketers, all prayed for his health on twitter and #PrayersForImranKhan and #GetWellSoonIK were the topmost trending topics in Pakistan.

PTI leader Asad Umar tweeted: "CT scan results show only a minor fracture. IK will be fine inshallah though he is in a lot of pain."

Former West Indian cricketing great Brian Lara said: "Imran Khan out of danger. Thank God! Get well soon great man. Continue striving for what you believe in."

Published in The Express Tribune, May 8th, 2013.