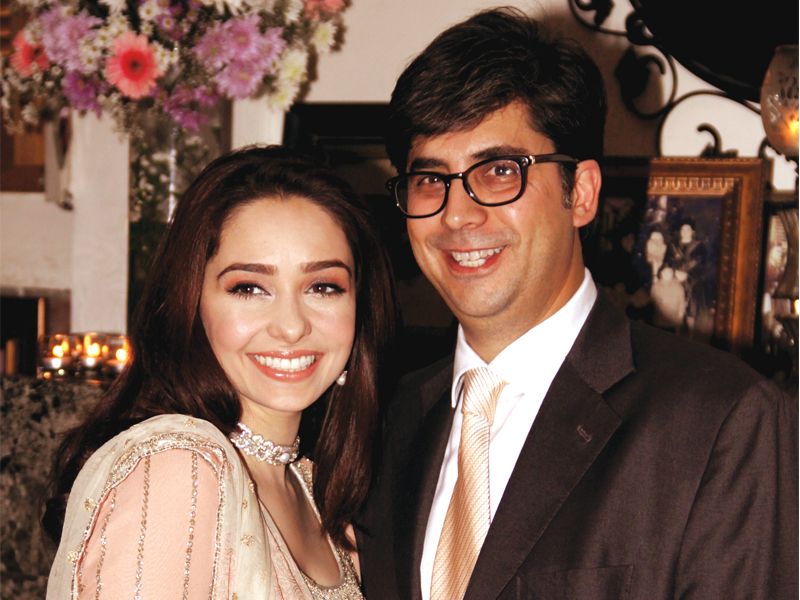 ---
KARACHI:



She wore a beautifully embellished peach jora and he, a loosely-fitted suit with a peach tie to match. She's married to the television and he, to the courtroom.




Despite belonging to completely different professions, they have similar stories and find comfort in each other's company. TV show host, model and actor Mehr Bano Kazim aka Juggun Kazim exchanged rings with top-notch lawyer and columnist for The Express Tribune Feisal H Naqvi on late Saturday afternoon at Cosa Nostra in the presence of about 50 close friends and family. One guest told us that she has never looked this beautiful and this happy!

"We were introduced by mutual friends, Sanam Taseer and her husband," Juggun says, narrating how she met Naqvi. She admits that the two did not get along right off the bat, saying, "We did not click when we first talked a year ago."

Juggun, who has a very vibrant TV personality, says that the two are completely different people. "I am a very serious and practical person, whereas Feisal is completely chilled-out — opposite of what we both may look like!"

But somehow, Cupid struck and the two started to get along. "We were having lunch one day and he took me by surprise by asking 'How would it be if we married each other?'" Juggun recalls.  "I told him I would think about it only if he proposes to me formally." A week later, Juggun went to meet his parents and soon after, she "started calling them mummy and daddy"!

But though she is delighted about having found her partner, the morning show host confesses that she had a strained previous marriage. "I had a terrible experience from my last marriage. I am in a better place — somewhere I hadn't been in a very long time," she says. Juggun, whose first marriage ended nearly seven years ago, has a son named Hamza. Naqvi is also divorced with two children. "Being with someone who has been married in the past and has children is good for me, because he can empathise with me," she says.


Mutual friend Sanam Taseer had introduced the two. PHOTO: SHAFIQ MALIK/EXPRESS

Juggun considers Hamza an integral part of her life. "After God, I only have Hamza as my support," says Juggun. "I wanted him to have a father who is loving, protective and caring. I have found a father for him in Feisal; he and Hamza connect very well."

She says she would never have remarried without her son's consent.  "Hamza comes before anyone else. We take decisions together. I asked Hamza what he thinks about Feisal and he said he really likes him and encouraged me to marry him."

As a single mother, Juggun had her apprehensions, but says that Naqvi made the transition easy for her. "Feisal is a father so he knows how to deal with Hamza. He is always nice to him and I could tell that he's not just faking it in order to get close to me. His love for Hamza is heartfelt," she says.

Talking about her relationship with Naqvi, she says "It's so good to be with someone who is supportive, loving and encouraging. I have shed 12kg ever since I've been with him!"

"A while back, I would be embarrassed if any friends asked me to model for them. I could not say no, yet I had to, because I wasn't in shape. But since I've been with him, I have started feeling good about myself."


Juggun says her son Hamza's consent was important to her, Meesha Shafi was amongst the few friends and family who attended the engagement lunch . PHOTO: SHAFIQ MALIK/EXPRESS

Contrary to elaborate showbiz weddings, Juggun says the decision to not have an extravagant affair is mutual. "We don't want a tamasha!," she begins. "We are both divorced; I have a kid and he has two. It will be very stupid if we have an elaborate wedding with a mehendi, mayyun, milaad and other functions." With a wedding event scheduled for June 30, the couple will also host a musical evening. The couple plans to honeymoon in Vienna, Austria, where Feisal has a house.

Juggun is adamant on not quitting her career. "If you find someone who is well-settled, you don't have to work to make a living. Now I can do what I want without thinking that I am doing it for a living."




When contacted, Naqvi was reluctant to give details but did say that he's happy with Juggun. "She's an absolutely fabulous person. I am really happy to be with her."

We wish them all the best in health and happiness!

Published in The Express Tribune, May 7th, 2013.                      

Like Life & Style on Facebook for the latest in fashion, gossip and entertainment.

 
COMMENTS (31)
Comments are moderated and generally will be posted if they are on-topic and not abusive.
For more information, please see our Comments FAQ