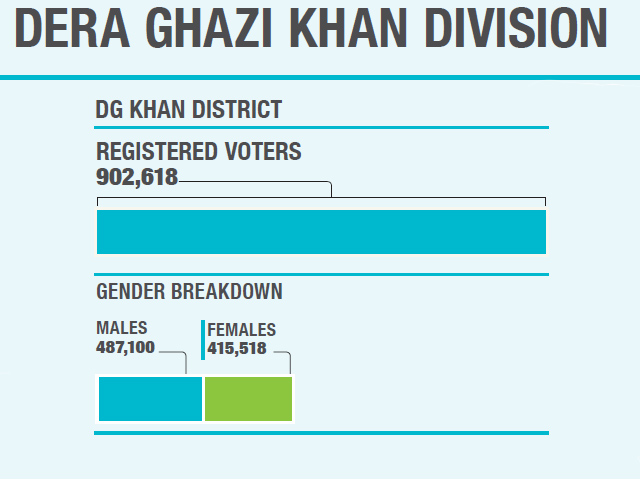 ---
LAHORE:



This is one place where the tsunami may not reach. After the departure of the Leghari brothers, even an energetic and motivated youth bank may not manage to bag seats for Pakistan Tehreek-e-Insaf (PTI).




For the PPP and PML-N, however, it's a very different story, and both parties will be going head to head in the race for a dozen National Assembly seats in the four districts that make up the now defunct Dera Ghazi Khan division.

While the division system has been abolished, the region comprising districts Dera Ghazi Khan, Rajanpur, Muzaffargarh and  Layyah is still colloquially known as the Dera Ghazi Khan division.

Selling points

The PPP is banking on the Benazir Income Support Programme (BISP) to draw in low-income female voters, especially with Bilawal Bhutto's recent announcement of increasing the per month stipend.

The PML-N's candidates will milk the soft-corner voters of this area have for them, thanks to the development projects and the creation of jobs by the party.

Former chief minister Shahbaz Sharif allowed each party MNA and MPA to induct around 200 people for various government jobs of grade four, from among their voters.

NA-171 (DG Khan-I)

PML-N has fielded former MNA Sardar Amjad Farooq Khan Khosa while PPP has fielded Khawaja Sheraz Mahmood who won this constituency in 2002 and 2008.

The third hot candidate is JUI-F's Mir Badshah Qaisrani, but the real fight is between Mahmood and Khosa.

NA-172 (DG Khan-II)

This is the Legharis' home seat where former president (late) Farooq Ahmed Khan Leghari often stood victorious. This time his son, Jamal Khan Leghari, is contesting as an independent candidate against his own uncle, PML-Q's Maqsood Khan Leghari and the PML-N's Abdul Karim.




NA-173 (DG Khan-III)

PML-N has effectively ceded this seat to PPP candidate Sardar Saifuddin Khan Khosa, and is indirectly supporting him in order to defeat one of Farooq Leghari's sons, Awais Leghari, an independent candidate.

NA-174 (Rajanpur-I)

The main competition is between the seasoned PML-N politician Sardar Jaffar Khan Leghari and independent Sardar Nasrullah Khan Dareeshak.

Shahbaz Sharif is contesting from PP-247 (Rajanpur) and, according to local political pundits, he will easily win this seat.

NA-175 (Rajanpur-II)

This is the stronghold of the Mazari family. Sardar Dost Muhammad Mazari who won the 2008 elections on PPP's ticket will contest as an independent candidate against PML-N's Dr Hafeez Khan Dareeshak.

NA-176 (Muzaffargarh-I)

PML-N has fielded well here, with former district nazim Sultan Mehmood Hinjra standing against PPP's Arshad Abbas Qureshi. PML-F's Punjab President Ghulam Mustafa Khar, after a gap of 13 years, is contesting from this seat.

NA-177 (Muzaffargarh-II)

Prominent faces like PML-N's Khalid Gurmani, PPP's Ghulam Rabbani Khar and independent candidate Jamshed Dasti will contest this seat. Khar could not contest the 2002 and 2008 elections, but his daughter Hina Rabbani Khar won the seat.  Dasti's claim to fame was quitting PPP and contesting against Hina. Dasti has done a lot of development work and public service in this constituency.

NA-178 (Muzaffargarh-III)

Muhammad Abad Dogar (PML-N), Nawabazada Iftikhar Ahmed Khan (PPP) and Jamshed Dasti (independent) are three major contenders here.

NA-179 (Muzaffargarh-IV)

PML-N has fielded Makhdoom Basit Sultan Bukhari against PPP's Moazzam Ali Khan Jatoi. PTI's candidate Makhdoom Jamil Bukhari is a relatively weaker candidate.

NA-180 (Muzaffargarh-V)

PML-N has fielded Basit Sultans' father Syed Muhammad Abdullah Shah against PPP's Abdul Qayyum Khan Jatoi. Independent candidate Ashiq Gopang is an emerging threat to both.

NA-181 (Layyah-I)

PML-N fielded Sahibzada Faizul Hassan against PPP's Sardar Bahadur Ahemd Khan Sehar. Hassan and Sehar are both traditional rivals. Sehar is confident that he will win thanks to PML-N's intra-party differences, and his development record.

NA-182 (Layyah-II)

PML-N has fielded Syed Saqlain Shah Bokhari against PPP's Malik Niaz Ahmad Jhakar. The JI's Asghar Gujjar can play his role as a divider of votes for both the key candidates.

Dr Pir Faqir Hussain Shah is contesting the election as an independent and although PTI's Iftikhar Babar Khitran can affect the vote bank for Pir Saqlain Shah, he himself cannot win the election.

Published in The Express Tribune, May 5th, 2013.
COMMENTS (5)
Comments are moderated and generally will be posted if they are on-topic and not abusive.
For more information, please see our Comments FAQ