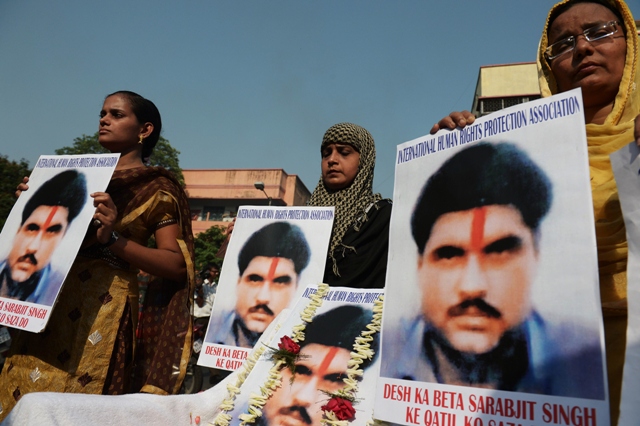 ---
NEW DELHI:



India erupted in grief at Sarabjit Singh's murder in a Pakistan jail, and quick to cash in on the orgy of sorrow, the opposition's demand for action against Pakistan escalated. Foreign Minister Salman Khurshid warned that the people to people process between India and Pakistan would suffer and the Bharatiya Janata Party said India should withdraw its envoy from Pakistan and declare Sarabjit a martyr.




Other top leaders from the ruling Congress party – Vice President Rahul Gandhi, Home Minister Sushil Kumar Shinde among others – paid condolences to his family.

In a significant shift from her previous stance that New Delhi had let Sarabjit, his family and India down, his sister Dalbir Kaur said she failed to bring her brother home alive.

Indian news channels outdid each other in demanding punishment for the murderers. More public anger is expected following the funeral.

While top government sources said emotion should not be the instrument of foreign policy, moderating statements were slow to come. The Shiv Sena warned there would be repercussions on Pakistani actors, singers and businessmen who live and work in Mumbai, and security in public places has been stepped up.

As India wept for Sarabjit, the scams that the United Progressive Alliance (UPA) is engulfed in – from the allocation of telecom spectrum to illegal allocations of coal mines – were put aside. But this is a temporary reprieve. Next week, as the cases come before court, the government will have a lot to answer for.

Published in The Express Tribune, May 3rd, 2013.
COMMENTS (11)
Comments are moderated and generally will be posted if they are on-topic and not abusive.
For more information, please see our Comments FAQ